This month, Sydney-siders were invited to do the unthinkable and awaken the Kraken with The Kraken Black Spiced Rum at an event at Luke's Kitchen with live art by Pamela Irving.
When I see people drink rum, I think of old men who drink from a boot at a seaside pub on a stormy night in Ireland – or pirates. But when I tried the Kraken Rum in a few different types of cocktails earlier this year with some friends, I couldn't believe that I actually enjoyed it, and didn't feel like a senior citizen with taxation issues. However, it does bring out the beast in me (you can interpret that however you like).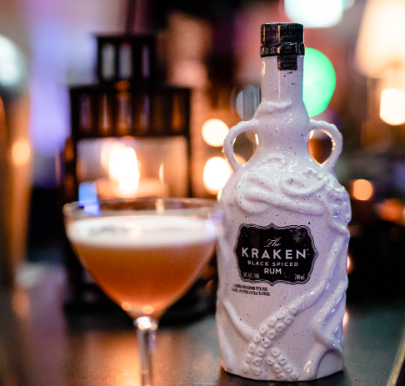 As it is told, the Kraken Rum is an imported rum from the Caribbean blended with spices. Named for the sea beast of myth and legend, it's bold, rich, black and smooth. You couldn't feel more mature in your twenties when drinking this at a bar on a first date. I love how adult I am to finally support rum as a liquor to mix my coca-cola with, but I've also fallen in love with the new artistic sea-bed salvaged white ceramic bottle splattered with black ink.
The restaurant – Luke's Kitchen – was transformed into a dark lair of artistic destruction where people attempted to awaken the beast in a night of ceramic smashing alongside award-winning Aussie artist, Pamela Irving who's renowned for her unconventional style. On the night, she created her own version of the bottle. How very eccentric for a Thursday night out on the town.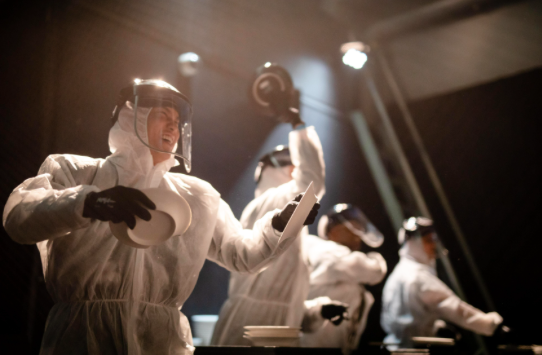 Pamela told Chattr that she describes her style as playful, whimsical, irreverent and quirky. "I am inspired by mythology, social media and contemporary stories. I take well known myths and play with their meanings and give them a contemporary context," said Pamela. "For instance, I have an avatar called Mr Hanky Panky. Recently, Mr Hanky Panky re-visted the Seven Deadly Sins. His take on the sin of "Pride" was to have him posing in front of the latest iPhone taking a selfie, as the sin of "Greed" he was eating bitcoins. I like to play with stories, old and new and give them new meanings. I work across media in mosaic, ceramic, paintings and bronze."
There were intricately crafted Kraken cocktails, Luke Mangan's 'awakening' canapes, ceramic destruction, live art from Pamela Irving and 'hard to drown out' live music performances. It was sensational. 
Pamela Irving revealed more about her collaboration with Kraken. "I think I am a great fit with the Kraken Rum brand.  My work is mythologically inspired so when I received a call from Kraken, I jumped at the opportunity. The story of the Kraken, its mystery and slightly subversive qualities suits my style of working," said Pamela.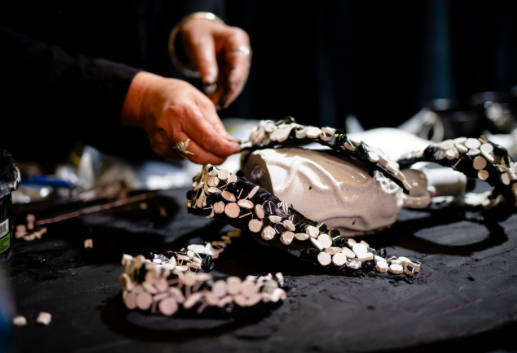 Before the event, Pamela Irving shared with Chattr her ideas and creative process for re-inventing the Kraken bottle."I presented a few drawings and we came up with a large Kraken bottle shape which will have an actual Kraken Rum bottle attached to it and tentacles will emerge from the silhouette shape, covered in mosaic. The whole background of the bottle will be covered with shards created by the participants who smash them," said Pamela.
"Mosaic is usually a very long process, so to create something while a whole lot of people are watching and smashing things will be quite an exciting challenge. I love the idea of the audience participation. It means that as an artist you don't have total control, the placement of the shards, the size and shape of the pieces I attach, will be somewhat determined by the audience."
It doesn't stop there for the Melbourne-based artist. She also creates paintings and public art. "I have a bronze dog called 'Larry La Trobe' which lives in front of the Melbourne Town Hall – he has been a big part of Melbourne for almost 27 years now. I also have a whole building covered in my mosaic figures at Melbourne's Luna Park and was recently commissioned to make a mosaic Mural for the Shanghai American School's Performing Arts Centre in Pudong, China," said Pamela.
You can see more of Pamela Irving's art on Instagram.