Sydneysiders are in for the treat of their life with the pairing of Ben & Jerry's delectable ice cream goodness and Bennett St Dairy's gooey chocolate chip cookie dough smashed together as a duo dessert!
Desserts are such a great way to treat yourself especially in winter (we need those extra calories to stay warm). This yummy treat will be available for only a limited time at some Sydney based Ben & Jerry's Scoop Stores and also through UberEats.
I recently found out that Ben & Jerry's sources the brownies for their products from Greyston Bakery in New York. This is inspiring as Greyston Bakery hires the 'unemployable' such as ex-convicts, homeless people, recovering addicts and pays them above minimum wage while giving them an opportunity to have gainful employment. That definitely makes me want to go out and eat a whole pint of Ben & Jerry's ice cream with brownies in it!
Bennett St Dairy's is a Bondi based Australian business who doesn't just do yummy cookie dough – they also create delicious farm to plate Australian breakfast and lunch classics with their own twist. You can get their famous cookie dough delivered right to your door so you can bake giant gooey cookies that will make you want more.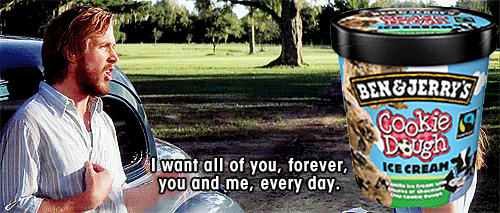 This is the first time that Bennett St Diary has collaborated with an ice cream store and wow Ben & Jerry's is such a legendary company to pair with, considering they're well known for their amazing cookie dough recipe! The co-owner, James Meek, at Bennett St Dairy said "We're proud that our cookie dough has captured the imagination of Sydneysiders and we're humbled by the continued support. We're long-time fans of Ben & Jerry's – they really put chocolate chip cookie dough on the map – so the opportunity to partner with them is epic. It's a match made in heaven – delicious ice cream and gooey cookie dough – what more could you want? My mouth's watering already – get involved while you can!"
For those foodies who want to get their hands on this mouth-watering limited-edition goodness the collaboration will be available from the following stores in Sydney:
Ben & Jerry's Petersham
Ben & Jerry's Darlinghurst
Ben & Jerry's Erskineville
Ben & Jerry's Rozelle
Ben & Jerry's St Leonards
Ben & Jerry's Mosman
Ben & Jerry's Scoop Store Bondi
Ben & Jerry's Scoop Store Manly
Ben & Jerry's Scoop Store Chatswood
Ben & Jerry's Freshwater
Ben & Jerry's Matraville
Ben & Jerry's Bexley
Ben & Jerry's Gymea
I know that I certainly can't wait to try out these heavenly sweet treats!