In 2015 Guantanamo Bay cost American taxpayers $450 million.
After Obama's renewed drive to close Guantanamo Bay, the offshore U.S facility is under the microscope once again.
So what is Guantanamo Bay?
The Guantanamo Bay detention camp is a United States military prison located at the oldest overseas U.S Naval Base, in Caimanera, Cuba.
In 1903, Cuba and the U.S signed an agreement that gave America access to 120 square kilometers of land and water for coal and naval stations. This settlement stated that "under the terms of this agreement the United States shall exercise complete jurisdiction and control over and within said areas". This 'legal loophole' places Gunntanamo out of Cuba's control, and as it's an offshore location it's independent of U.S court system.
The prison itself opened in 2002 and has since held nearly eight hundred prisoners.
But why is it such a big deal?
The majority of prisoners kept at Guantanamo Bay were found in Afghanistan, or along the Pakistan-Afghanistan border, in the attempt to find people linked with the terrorists who plotted September 11. This includes alleged terrorist trainers, financiers, recruiters, facilitators, bomb makers, and bodyguards to the late Osama bin Laden. The majority of prisoners have subsequently been transferred to other overseas prisons or released, with less than 200 prisoners remaining.
Without the basic, minimum protections of U.S law, including the right to be brought before a court, prisoners were denied habeas corpus, no longer allowed to challenge their detention, and therefore many were held without charge or trial.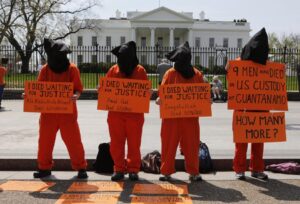 The US has since accepted that some of the inmates committed no crime.
"This is about closing a chapter in our history," Obama told the Washington Post. "It reflects the lessons that we've learned since 9/11 — lessons that need to guide our nation moving forward."
So what makes it so hard to close?
Guantanamo has held up to 800 prisoners at one time. There are currently only 91 remaining. Barrack Obama has credited former President, George W. Bush, for transferring more than 500 prisoners from Guantanamo Bay during his time in office.
However, as Dr Jorgenson explains, transferring the remaining prisoners will be difficult.
"Transfer restrictions mean at this point it's not legal for Obama to bring these prisoners into the United States. There's also a ban on funding new prisons. Obama has acknowledged he can't simply force that out of the way."
Many see the transfer of prisoners from Guantanamo as "bringing dangerous terrorists to facilities in U.S. communities." This has made Obama's proposal difficult to pass through Congress. 35 of the remaining prisoners are to be resettled overseas, while 10 will be required to face military tribunals. Obama has stated his intention to use the federal courts to put the remaining prisoners on trial. Those who are not accepted overseas are to be held in U.S prisons.
Featured image – International Business Times