In a pulsating Sydney derby that looked destined for trouble, this time the talking points were about the action on the field and not off it.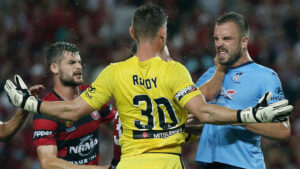 Two weeks after being handed a suspended sentence for the threat of losing three competition points, the Wanderers fans were relatively well behaved among the sold out crowd at Allianz Stadium on Saturday night.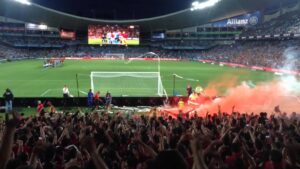 Both teams were giving it their all on the field, as the two sets of fans followed suit chanting for their respective sides for the full 90 minutes. After scoring the opening goal of the match courtesy of Dario Vidosic, everyone in the stadium looked to the away section to see if they would disregard the penalty handed down by Football Federation Australia (FFA) and light up a flare to celebrate. But on this night it would not be the case, showing the threat of directly affecting their team's chance of winning the championship as too much of a risk.
There was some late drama towards the end of the match when a rebel Wanderers fan made the rather foolish decision to try and infiltrate the Sydney FC supporters section, The Cove, and was not only met with some strong force from police, but possibly some sneaky punishments of their own from the home supporters.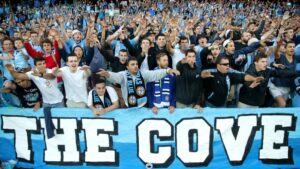 After being regarded as one the biggest sporting events in the calendar, it is refreshing to know that the action and the passion from all will be the talking points after the game, not the stupidity of a minority. Only time will tell how long the Wanderers, or other football fans, can resist the opportunity to light up the stadiums, and not in a good way.