When you're organising a camping trip at a music festival that's eight hours away, with ten other friends (nine of them being guys), you don't know what to expect. It could all go horribly wrong or it could be the best time of your life. You have to think about all the possible mishaps to avoid and try to be as organised as you can. Even though the Falls Festival was without a doubt one of my favourite experiences, there were always going to be some hiccups along the way. Here are the highs and lows (in order of appearance) of my first festival camping escapade with, I repeat, one other girl and nine boys.
Alcohol misadventure
On the car trip to the Falls Festival, blasting the Falls line-up including Anderson .Paak and Dizzee Rascal, we were attempting to devise a solid last minute plan to sneak in our alcohol. Just like 95% of all Falls Festival attendees, we're uni students with low incomes and unfortunately can't afford $15 vodka lime sodas for three nights straight. One person had an amazing plan (sarcasm intended) to pour all of our vodka into zip-lock bags. After hours of deliberation, we were all convinced that this plan may work. We stopped at the nearest Aldi to pour our alcohol into the zip-lock bags in the car park, right out in the open for all to see. Of course, my alcohol was the first to pop – almost instantly after locking up the bag. It was a ginormous puddle of alcohol that could not be saved, and my genius friend who came up with the plan said to me that it's fine, it's just "a shot's worth of alcohol that I lost." Sure. Well, only a short hour later when we arrived at the Falls Festival, he too had lost almost the entirety of his rum.
Dude, where's my tent?
As we all started to unpack our things and set up our tents, my best girl friend and I remembered that one of the boys had brought our tent for us. So, we asked him to chuck it over and we began unpacking the tent bag. There was no tent. My friend was in shock and whispered to me, "Where the fuck is the tent?" Of course, nobody cared enough to help us out after a long day of driving and it was no one's problem but ours. Except, one of the boys was kind enough to offer us his one-man tent. After asking him "No, are you sure??" constantly for fifteen minutes (when in reality we were relieved AF and definitely taking the offer), he said he would sleep on the outdoor blow-up couch in the gazebo area. After he said that, we genuinely felt bad. However, the joke was on us and everybody else; we had sore backs from sleeping in overheated tents when he had the most comfortable bed in the cool breeze for three days. I guess he deserved the good karma.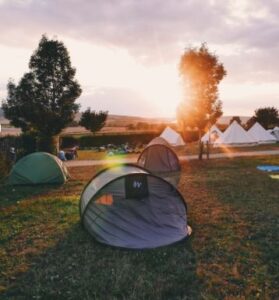 Side note: We realised at the end of the trip that the tent was in the boot the whole time.
Camping with a germaphobe
When you're camping with your best friend, you need to set some ground rules. You want to be as clean and hygienic as possible in the small space you're sleeping in together for the short week. Luckily, my friend is a freak when it comes to cleanliness and odour. She made sure we were serious when it came to deodorant, vagisil and hand sanitiser. She also made both of us use baby wipes on our feet when getting in and out of our tent. What could've been a 1-star accommodation rating, she turned into a probable 3-star, and I thank her for that.
Portaloo, I was defeated, you won the war
Okay, not trying to sound like a diva, but portable toilets are seriously one of my biggest fears. Sorry, but you're literally shitting into a hole after at least thirty other campers before you and it is stanky. Sure, portaloos are environmentally friendly for the masses who are camping at festivals – it's the only solution. However, this did bring down my experience to a degree. I almost teared up twice before going in to do my business; I also gave up a few times too and just held it all in. And hear this, some people actually use this as a place to have sex in…doin' the nasty in more than one way.
A NYE to remember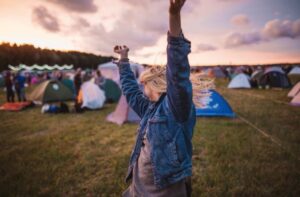 Despite portaloos and small tents, the actual music festival was insane. The first day of the Falls Festival was New Year's Eve. I think I speak for most when I say this: every New Year's Eve is a massive let down. However, for the first time in my life, this was by far an amazing night. For the whole day, everyone was so cheerful and lighthearted, drinking together in our gazebo and playing a variety of absurd drinking games. By the time it was close to midnight we were all together feeling euphoric, and good ol' Anderson .Paak was performing right before us.
Dizzee Rascal, where were you?
Backtracking just a little, we received some news about the line up just before heading out to the festival on New Year's Eve; Dizzee Rascal dropped out. He was supposed to be performing before Anderson .Paak. We were pretty angry, to say the least when we heard rumours circulating that he was in an inebriated state and couldn't go on. However, it turned out that he was genuinely sick with a chest infection, according to his Instagram video. As amazing as it would've been to see him perform live, missing him it didn't truly affect our time at Falls.
Surprisingly good bands
Personally, I believe the line-up for Falls Festival versus Lost Paradise was grim; the comparison is quite embarrassing. Lost Paradise had many of my favourite bands and there were only one or two at Falls Festival that attracted me. However, it didn't actually matter. Because my boyfriend and his mates have a much larger interest in Aussie rock, they actually hyped it up and unconsciously pushed me to take an interest as well. I suddenly don't mind DMA's and West Thebarton.
All for one and one for all
My biggest concern when planning this trip was the inevitability of getting split up. Thankfully, we mostly stayed together. Considering how many of us there were, this is pretty remarkable. There was the odd occasion where for some reason one of us walked off from the group and were lost for a couple of hours and found at 3am. Overall though, we all did pretty well.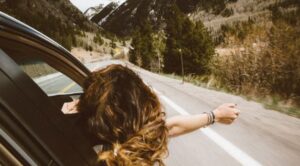 By the end of the trip we were exhausted but very content with our experience at the festival. We all got a little closer with one another and reminisced all the way home about the highlights and the hilariously trivial mishaps. What we also realised was that these sort of trips become harder and harder to organise as we get older, especially with a big group like this. And for that, we all cherish the memory of Falls Festival 2018/2019.