Spilt Milk's "No Dickhead" Policy is in serious question, after attendees were left outraged over a performance by US rapper YG. During his set, the rapper allegedly stopped performing, and instead called on women to show their breasts or he would stop his set altogether. When the females in the crowd complied, he allegedly then criticised their bodies and breasts.
So what happens when the "dickheads" are on the stage, not necessarily in the crowd?
Punter Taylor Jackson publicly called out the festival on their Facebook page the next day, saying that YG was the "scum of the festival" and it was the worst set she'd seen "in her life."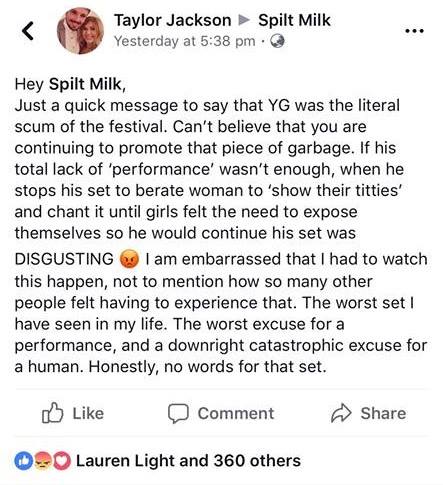 The post gained loads of traction on Facebook, with a lot of people supporting Taylor's comment. Some even demanded a refund because the performance itself was so poor. One Twitter user also publicly asked Spilt Milk if they thought sexual harassment was "okay in front of a crowd?"
Olivia Tartaro, who travelled from Wollongong to Canberra for the festival, said that the performance itself was terrible and YG "begging for tits just topped it off."
"He would rap like one or two verses then stop. I honestly wish we didn't have to pay for these big acts to pull this type of shit, it was honestly the biggest waste of time and overall gross," she said.
Canberra local Jordan Young said that the set completely changed her view of the rapper.
"He was one of the people I was really looking forward to seeing, but I had to leave after he started asking girls show their boobs. I really couldn't enjoy that."
Spilt Milk replied to Taylor's post, saying that the comments made by YG were "not okay" but they "cannot and will never control an artist's performance."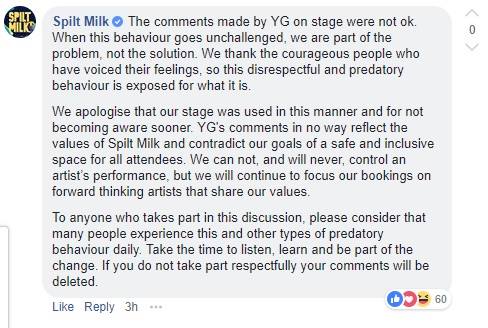 But Taylor argued that it's up to the festival to control what happens on stage.
"YG should have been taken off stage straight away. Spilt Milk have said that they weren't monitoring the stage, and that is a big issue here. Event staff need to be watching what is happening, especially with their 'No Dickhead' policy, this was a big slip for them."
Spilt Milk's comments beg the question of what we as punters, as well as the organisers, should deem as acceptable stage behaviour? And whose responsibility is it to make sure that music festivals are a safe place for everyone to enjoy, without fear of sexual harassment and abuse?
There is some truth to their comments: it is not a festival organisers place to control an "artistic" performance. But where do we draw the line between "art" and sexual harassment through a blatant abuse of power.
Live music shows already have a bad wrap for a culture of sexual violence. In 2017, there were three reports of sexual assaults at Falls Festival in Marion Bay. Earlier this year, Melbourne six-piece The Smith Street Band cancelled their upcoming shows after a punter was arrested for groping someone in the crowd. The band has been extremely vocal about keeping their shows safe. In 2015 they shared on Facebook that anyone exhibiting such behaviour should not be at their shows, or any shows.
At their Wollongong show in January, frontman Wil Wagner stopped the set after he witnessed inappropriate groping in the crowd, and only rebegan after it was clear that the behaviour was totally unacceptable. Overseas, Swedish women even set up their own male-free music festival after 23 sexual assault and four rape reports were made at Bravalla in 2017, leading to the cancellation of this year's event.
Something needs to be done about this epidemic of sexual misconduct that seems to breed at live shows. It's no secret that festivals are regularly fuelled by the mass consumption of drugs and alcohol, but we need to stop brushing this off as "something that happens at festivals."
If someone in the crowd finds your advances unwarranted or uncomfortable, stop it.
If you see someone doing something inappropriate, step up and help stop it.
And I can't believe I even have to say this: if you're being paid to perform in front of thousands of onlookers and you feel like you're entitled to see everyones breasts, STOP IT.
People travel far and wide and pay a hefty price to go to events like Spilt Milk. The very least they deserve is to get the performance they paid for without an artist like YG extorting them for a peak of their bodies.
Chattr has approached Spilt Milk for comment.