16-year-old Greta Thunberg has become the face of the fight against climate change. She has become an inspiration for thousands of young people all over the world who have joined her in the fight against climate inaction by governments and corporations. She has also been the target of criticism and childish, pathetic personal attacks. There is no denying that this rising star from Sweden has made an indelible impact on the global conversation on climate change and climate action. In this article I want to highlight seven times that Greta Thunberg has slayed, including:
She inspired thousands of school children around the world to protest climate change
Students took part in a march for the environment in February 2019. Image souce: KidsNews
In early 2019 Greta Thunberg inspired some 1.4 million young people all over the world to walk out of school and protest climate change inaction. Greta herself was inspired by Parkland students who walked out of classes to protest gun laws after a mass shooting
She won GQ's first ever 'Game Changer' Award.
In August of 2019 Greta Thunberg was awarded British GQ's first ever 'Game Changer of the Year' Award, with editor-in-chief Dylan Jones saying "The Game Changer Award was created for Greta Thunberg … her fearless dedication to raising awareness of the global climate change crisis makes her the absolute embodiment of this award."
She received a standing ovation after her EU parliament address.
In the few short months since Thunberg first started attracting global media attention, the 16-year-old Swede has addressed numerous prominent institutions, from her January 2019 TedX talk in Stockholm to her upcoming presence at United Nations summits in New York. But her April address to the European Union Parliament in which she urged dignitaries to "forget Brexit and focus on climate change" was something else. Greta Thunberg is a fearless speaker and none more so than when she's chiding adults for their incompetence in the face of the global climate crisis. Her speech received a well-deserved 30-second standing ovation.
She appeared on the cover of British Vogue as a 'force for change'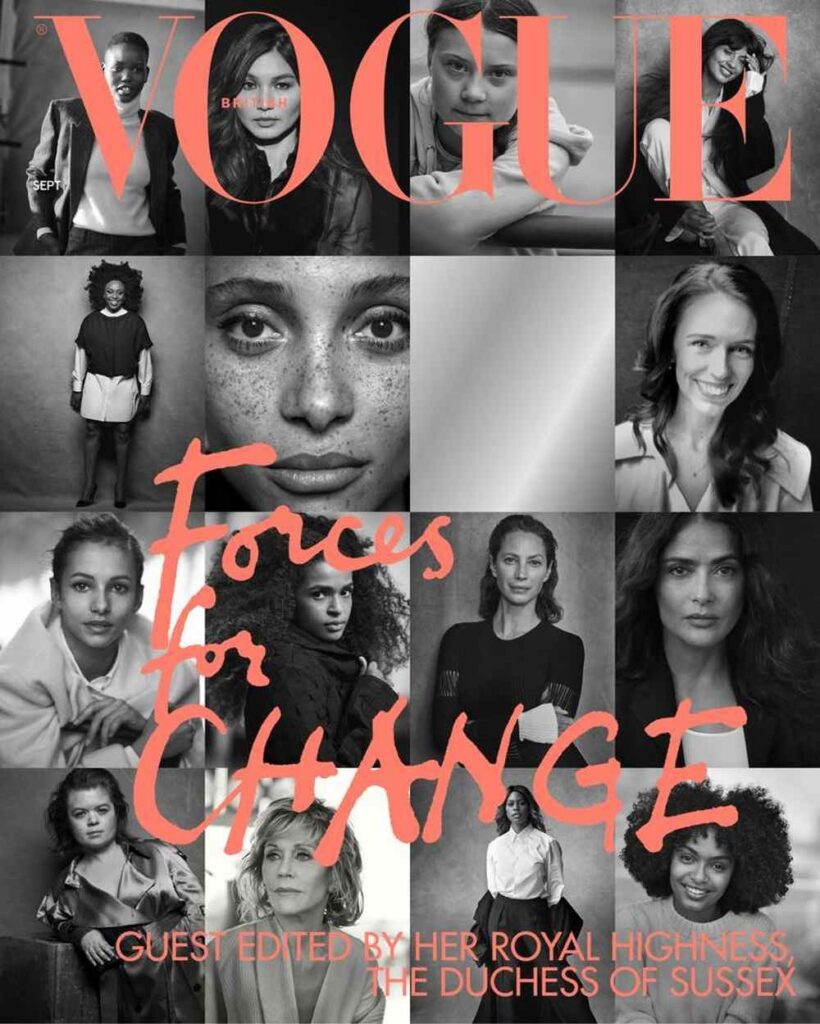 The September issue of Vogue is always a big deal, with it often being the largest issue in terms of page count. This year's September issue of British Vogue is an even bigger deal with the issue being guest-edited by Her Royal Highness, The Duchess of Sussex (Meghan Markle). Greta graces the cover alongside 14 other incredible women named 'Forces for Change'.
She has been nominated for the 2019 Nobel Peace Prize
" I have proposed Greta Thunberg because if we do nothing to halt climate change it will be the cause of wars, conflict and refugees. Greta Thunberg has launched a mass movement which I see as a major contribution to peace."
That's what Norwegian politician Freddy André Øvstegård said when he, along with four other Swedish and Norwegian politicians, announced that they had nominated the climate strike founder for the 2019 Nobel Peace Prize. While the world has to wait until December to find out if she's won, if Greta Thunberg is this year's recipient of the award then she will be the youngest ever recipient of a Nobel Prize. That title is currently held by Malala Yousafzai, who received the prize at the age of 17.
She made her musical debut with a political warning
Thunberg made her musical debut on a track called The 1975, a track which traditionally opens each of the eponymous British band's albums. Thunberg's voice, over minimal instrumental backing, says "We have to acknowledge that the older generations have failed. All political movements in their present form have failed. But homo sapiens have not yet failed."
All proceeds from the track will go to environmental group Extinction Rebellion. Thunberg's appearance on the track comes after the band's record label, Dirty Hits, committed to becoming more environmentally friendly. At the end of the track, Thunberg urges "everyone out there, it is now time for civil disobedience. It is time to rebel."
She travelled on a solar-powered yacht to attend a summit
One important way that Greta Thunberg has minimised her carbon footprint is by refusing to fly anywhere, preferring to travel by train or bus to attend summits, conferences and speaking events across Europe. But when she was invited to speak at the United Nations climate summit this year, she decided to set sail for a two-week trip across the Atlantic Ocean in a solar-powered, zero-carbon emissions yacht. The yacht also featured underwater turbines that generate electricity. Thunberg's appearance at the summit will be her first stop on a trip that will take her to Canada, Chile and Mexico, where she will travel by bus.
Greta Thunberg's meteoric rise to fame has blasted her into the path of fame and criticism. Thunberg's achievements and her absolute refusal to give any attention whatsoever to her detractors have made this young woman into a force to be reckoned with.
Featured image source: Wanted in Rome