The Vixen has left the building and we're all a little bit heartbroken after a lip-sync that appeared to be between a mother and her drag daughter. Asia is upset that the Vixen left but is now happy that she had to lip-sync saying the experience recharged her to take home the competition. After that performance, we can say that Asia is here to stay and to SLAY.
The bitch worked. It. Out. The other girls had better beware, because if they have to go up against Asia, they will lose. Period.
The Next Day
It's another day in the workroom and we are down to the final six. More than half of the girls are gone and it's kind of like a Where's Wally situation. Where did all the other queens go?
Ru enters today with another cryptic message for the girls (something to do with topping and bottoming I'm sure) and ushers for the pit crew to come in. Okay, its more like a choir of muscular, topless dudes lining up before the ladies as we begin to start today's mini-challenge. If this part of the show could be in 20-minute segments, I'm not sure that I would mind all that much.
Mini-Challenge: Match the Undies!
In this mini-challenge, the girls have to match the undies of the pit-crew, the girl who does it in the least amount of tries, wins! Seems easy right? Well, the girls end up getting a bit distracted by the elephant trunks in the room along with Ru's dirty one-liners and achingly hilarious laugh.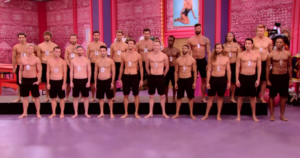 Each girl seems to be doing alright until we get to Monet, who gets so distracted she misses a pair that is completely obvious! She's just not on the ball today with her memory as this testi-ng is way to much for her bulging personality. Okur. I'll stop.
The winner ends up being Aquaria because she is the youngest so therefore has a memory and brain that is tainted by alcohol the least! Woo hoo! You go, you little star you.
We find out that the main challenge involves a Westworld spin off, being the new hit television show Breastworld. We are expecting hyper robot murder rampage realness along with some hilarious comedy acting mixed in-between. These queens are going to slay at this challenge!
Maxi-Challenge: Breastworld
As the winner of the mini-challenge, Aquaria was able to assign the roles of this production to the girls, however, she decides that it would be better to let her competitors decide. She swiftly regrets the decision as all the girls take the 'good parts' and she is left with a less prominent one. This is a competition hun, don't fuck it up!
I kind of feel sorry for Aquaria here as all the other girls have been giving her a hard time for the way she has been acting (and slaying this competition might I add) so I think that this gesture opened their eyes to see her human side for a change.
To start the challenge, Ross Matthews and Michelle Visage are directing the girls through the scenes, with the main strugglers in this challenge being Kameron, Cracker and, surprisingly, Miss Eureka. The flow of the challenge was interrupted by all three during the rehearsals as they just didn't seem to be committed, which was disheartening after seeing Kameron win the week before.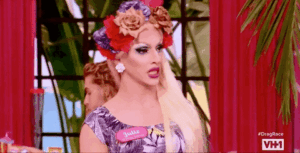 Monet absolutely destroys this challenge with her ad libs and total commitment to the scenes, giving us best friend who'll give you coke, a bong and a dude, leave you to your own devices and check on you in the morning. She is there for a good time and a long time for the looks of it, as she hits every single note.
Kameron again fumbles her lines at the end and we can tell that acting is not her strong suit. We'll have to wait and see what the judges say on the runway.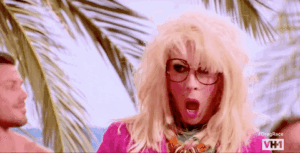 Breastworld Screening
Before critiquing the girls, the first episode of Breastworld is played and we get the full movie experience of what it would be like to live in a world full of gay robots. The results? FABULOUSNESS!
Kameron as Muffy delivers her lines with the amount of conservative 39-year-old mother that we would expect from her and hits her queues quite well. She struggles to perform very well in giving her emotional monologue but appears to follow through to the end.
The surprise of this challenge was Aquaria, she was freaking hilarious! Her mannerisms were giving me drunk robot realness with a mixture of crazy and malfunction being portrayed through her robot person, Dyslexa, and she really sold it OKURRRRRRRRRR *tongue pop*.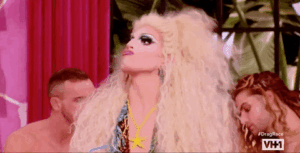 Asia and Monet also do extremely well with Monet giving us the comedy queen vibes that we have been waiting for and oh boy did we live for this performance! She was just so funny, right in the moment and engrossed herself into the character and setting, with Asia doing the same. Para Sailin was AMAZING. Asia did an awesome job this week, looking, speaking and being the part.
Eureka was hitting the jokes and notes of her part, however, seemed a little less animated than usual but still cracked me up. It's surprising that she doesn't know how to say 'Ivvvyyyyyyyyyyyyy Winterrrrrrrrrrrrs' properly though, that's literally my bedtime story to myself.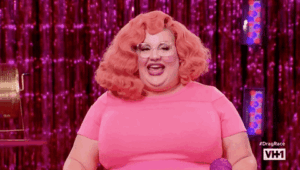 As the cruise director, Miz Cracker delivered her lines quite well also, but not being committed to them and getting inside her own head seems to be the problem that she is facing throughout the competition.
Runway: Silver Foxy
Okay, this runway was EVERYTHING! Come on old ladies, lets get your super granny freak on!
Miz Cracker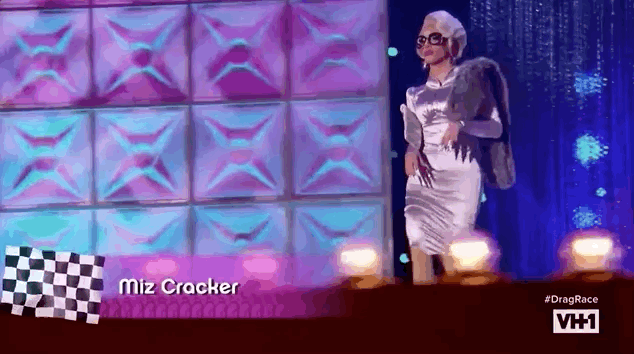 Stunning. One of the most well-constructed looks of the night, she appeared to be giving us a Joan Rivers type of face with all of the old business woman glamour that we expect from our favourite salty cracker. Simple yet elegant is how we should describe it, as her silver foxy outfit really did seem ageless. I also think she may have killed her cat for this runway, or just forgot that it was there. Who knows, but her pussy was definitely ON FIRE.
Asia O'Hara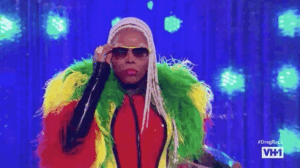 I didn't like it, nor did I understand what she was going for. It seemed like normal Asia to me, with the description she gave after the runway, I enjoyed it a bit more, but still. Girl, that hair and the body suit. Naw. Too many body suits from miss Asia this season and I'm just getting a bit bored of what she's doing here.
Monet X Change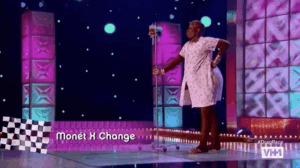 Dark comedy realness with death knocking on this bitch's door! The IV drip along with the dropping off her saggy boobs was HILARIOUS and had us LIVING. I cannot understand how she does it, but she pulls it off so well. She wears it well. Her hair is thinning, life fading away and telling a great story with this look that is worthy of Miss Monet, get your life while you can girl!
The judges along with myself agree that Monet needs to turn up the glamour factor here, final six and we haven't seen much versatility in the hair department. We're waiting for a good X Change here.
Aquaria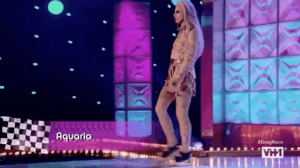 Who doesn't want to meet a punk rock old lady! I know I do! I like the look but agree with the judges, not the best for this challenge. I love the subtle touches of her earlobes being at the bottom of her face along with her make-up, which is beat for the gods.
I really enjoyed her performance on stage also and would have to say that I would wear the shoes she wore on the runway. Skechers? Comfy AF.
Eureka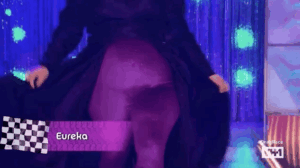 I actually loved this look even though it appeared lazy. Eureka is giving me old lady reading her book in a rocking chair realness with her flowing garments really extenuating her body. She actually reminds me of one of my favourite teachers from back in high school, I'm unsure if that's a bad thing, but I really enjoyed this look. Miss Claus going to the club realness me thinks.
Kameron Michaels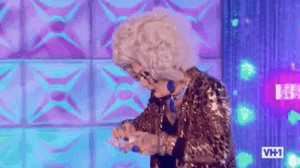 Okay. Camp. Okay. Werk.
Kameron, I love your runway looks and this is no exception. This was so clever and so well thought out. My sides hurt from beginning to end with the style of the hair to the shaking of the legs having me in stitches. Her jittery actions along with her pill popping antics gave the judges a unique runway compared to the other girls and definitely unlike Kameron to put forward.
The face mask and makeup along with the golden jacket gave me bingo night extravaganza where oldies go and bet on their favourite numbers to win a ripe banana. I cannot begin to express how much I enjoyed this look. Superb.
The Lip-Sync
We find out that Asia's performance in the Maxi-Challenge snags her a win which I am confused over due to her runway being subpar. I believe Monet should have won this challenge.
Kameron's poor performance in the challenge landed her in the bottom two, along with Eureka's disappointing runway look. This will be a lip-sync for the ages. If you haven't seen Kameron lip-syncing before, you're in for a treat. She is amazing.
The two battle it out in a fierce one on one lip-sync, both commanding the attention of the judges with the words of Patti Labelle's classic "New Attitude," which has us gagging. Both end the lip-sync in a double split to the drop and we are all living for this performance, not wanting it to end and seeing one of these girls go home.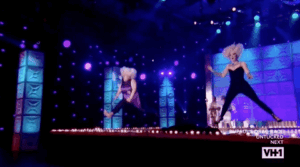 Ru has to make her decision and decides that Kameron has won the lip-sync. At this point, we are shocked, only to discover that Ru is also saving Eureka from elimination also. It was a performance worthy of a double-shante and the girls now know not to underestimate the quiet ones. Kameron is here to PLAY.