We return to a high-tension paradise with Jakey the Snakey on edge. He spots Thomas and is surprised to see him back from Canada so soon and then realises Thomas is staying, leading to a little tantrum with Megan.
It's kind of ironic really. Jake hates the feeling of being led on, even though he did the exact same thing to Florence a few weeks ago. Oh well! Can't teach an old snake new tricks. Thomas dropped like an atomic bomb into paradise, breaking apart one of the strongest couples. Well, at least Canada wins something in the end.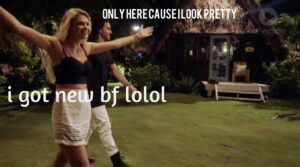 We wake up the next morning with Megan still being confused about Thomas and Jake. Megan lets the Tom Bomb go and tells Jakey the Snakey about her beachside pash with the Canadian and he is not happy. Jake is about to cry but then Megan lets him know that she is fully involved with him and doesn't want anything to do with Thomas. The child gets what he wants, no drama, we're all a little bit disappointed.
Thomas also looks way too similar to Fabio for us to take him seriously. The hair, the face and the body. It is uncanny. His brain also seems the same because he lets Apollo know that he'll be giving her his rose UNTIL Megan lets him know that she isn't interested.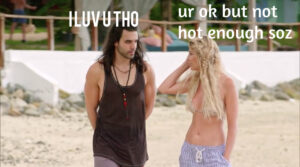 Then Rachel the bunny boiler begins to talk about her love for American Jared. We can see that cyclone Leah is approaching and we're starting to think that they may need to invest in another island. This island is too plagued with disasters and drama.
Leah then talks about how she wants to leave and Tara offers to call her a Fuber in paradise so that she can leave.
Grant and Ali begin to admit their feelings to each other and tell each other that they love each other. Across the country, Australians in unison yell one thing at their screen: "WHAT!?" They've been on this bloody island for a total of two weeks and they already love each other? If love is this easy, how come I can't get a text back? This world sucks.
Leah is sixth time lucky with being heartbroken as Rachel kidnaps American Jared and takes him on a date. Leah effectively throws a tanty, tells the producers she wants to leave and we kind of hope this blows up into something more.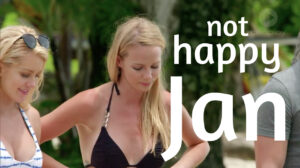 Meanwhile, Jared and Rachel begin their date with everyone on the island of Fiji and have a kava ceremony. Effectively, this drink is kind of like weed that tastes like mud (I'm getting this information from my parents, don't blame me if I'm wrong). Jared downs it like a tequila shot on the weekend, while Rachel was being a bitch with her liquor. Mumma raised a quitter with this one.
Jared and Rachel end up hitting it off. He likes it when she pays attention to him which is adorable. Jared decides to give his rose to Rachel and we're all kind of giddy that Jared is finally happy.
Leah then becomes irritable for like 5 minutes and leaves to go have a cry, comes back and wants to stay. When the lovebirds return from their date, Leah looks really pissed off, so nothing is out of the usual paradise day.
Cue Osher, bearer of bad news and rose ceremony announcements, into paradise where he begins to stir the pot.
Leah quickly steals Jared away for a quick chat. Substitute teacher of paradise, Sam, breaks down the math of this episode. The jealousy triangle is quite complex where Leah is only jealous when Jared is with Rachel and that's when she shows the most affection for Jared. Again, I signed up for love and drama, not for trigonometry.
American Jared shuts Leah down when he mentions that he's not really that into her. Ouch. Keira mentions that Leah is probably just manipulating him and we can all see it clear as day. Leah is like a puppet master and American Jared is her play toy at the moment.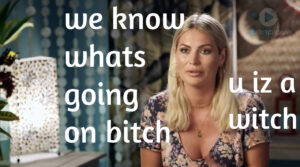 We then kind of find out that Leah is the witch of paradise, stirring her boiling pot of men that she has lured into her cavern. Jared tries to let Leah know that he's not at all interested in her, but she takes it as a good thing and keeps trying to pursue him. If she survives, it will be a miracle.
We're then rushed into the rose ceremony and we have no clue what's going to happen tonight, everything is so up in the air.
 Thomas ends up choosing Rachel which mucks up EVERYTHING up for American Jared as that was his choice. Jared is way too nice for these circumstances. Eventually, Jared utters his fatal last words and picks Leah. Why are we here? Love doesn't exist.