Before I start, I just want to openly say that I am a vehement anti-monarchist. I strongly believe all countries should run on democracy without public figureheads such as the British Royal Family being able to pull the strings. 
On January 8th, 2020 the Duke and Duchess of Sussex (better known as Prince Harry and Meghan Markle) revealed that they will be taking a step back from their duties as senior members of the Royal Family. They followed this statement with news that they would be splitting their time between the UK and North America (where Meghan is from).
With reference to the tragic passing of his mother, Princess Diana, Prince Harry expressed his concern for Meghan after numerous attacks from the media and the public: "My deepest fear is history repeating itself. I've seen what happens when someone I love is commoditised to the point that they are no longer treated or seen as a real person." 
Even though I'm anti-Royal, I can still admit when someone in the Royal family does the right thing. I am incredibly pleased that this split from the Royal Family has happened. Good on Prince Harry for putting his family first!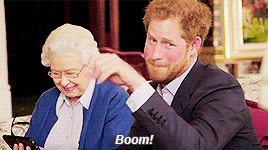 However, there is a profound polarisation of opinions on this topic, which can be seen from the differences in Tweets regarding the news, starting with the hashtag #Megxit. The media are using this hashtag to encompass Prince Harry and Meghan Markle leaving the Royal Family. However, this hashtag existed long before the couple left. Most of the tweets accompanying the hashtag are racist, sexist and deeply malicious. It is used mostly by trolls and people who hate Meghan. I'm calling Meghan and Harry leaving the 'Royal Exodus' – it seems more fitting. 
Prince Harry made the decision to leave and yet Meghan seems to be copping the backlash. This is illustrated through the suggested tweet hashtags under #Megxit.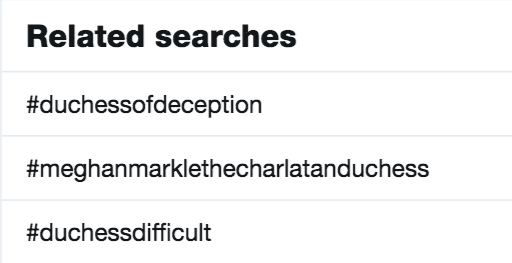 I seem to be on the losing side of this argument. I believe the Royal Exodus is the most feminist moment to ever happen in the history of the Royals.
To understand why I think we have to imagine ourselves in Prince Harry's position. He lost his mother Diana, Princess of Wales at an early age. This was largely due to the negative behaviours of paparazzi. Ever since Harry married Meghan she has been under even harsher scrutiny from the public and the mass media worldwide. You may be thinking that Kate, Duchess of Cambridge endured similar negative press when she married Prince William, but data shows that Meghan has more than double the bad press Kate experienced.
Some examples of the differences in the way the British press treated both women can be found here. My personal favourite of those examples is below. I mean wow, they're really reaching there to make her look bad, right!?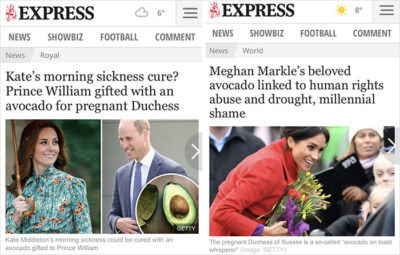 Now that we've established that poor Meghan can't even eat avocado without criticism, imagine how upset the couple must be at the malicious attacks on her character, ethnicity and profession? Prince Harry is watching all this unfold in front of his eyes and he's seeing a pattern, the same pattern that led to his mother's untimely death. He's smart enough to realise that if the British media keep on attacking his wife, the mother of his child, it will take its toll on her overall wellbeing. Imagine poor baby Archie growing up with all that negativity! He's going to love his mother and be so upset to see how the world is treating her. It will take a toll on his wellbeing and mental health.
All of this also affects Prince Harry himself, he shouldn't have to watch the media who so clearly adored him his whole life rip to shreds the women he loves! So, he did something about it, he took a stand. He stood up to the Royal Family and to the world and proclaimed the Royal Exodus in order to remove his wife from any further harm. 
The entire world expected Meghan to give up everything to be with the man she loves. Her home, her country, her family, her friends, and her career. To give up everything she knew and was comfortable with, to fly to England and live the Royal life to support her husband, and she did so willingly. After seeing the pain his wife has had to go through, Prince Harry did the most feminist thing he could have done. He gave up everything he knew, his home, his family, his country, his friends for the women he loves and now the world is going mental. 
Expecting a woman to give up everything to be the 'perfect' wife is so deeply ingrained in society that no one questioned it when Meghan did it, but now a man (a Prince no less) is doing it for the woman he loves and everyone is mad about it. Wow, so much sexism is instilled in the monarchy, even in this day and age. 
Honestly, Prince Harry is a feminist icon to me right now. I hope he continues to put his wife and son's needs before the expectations of the UK and the world.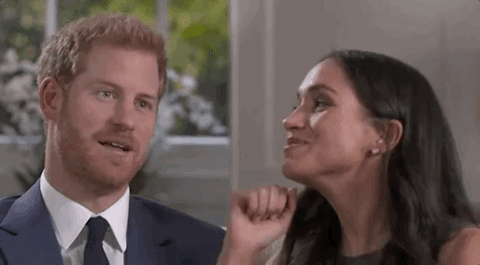 Feature image: Mirror Online