Just when you thought artist Scott Marsh couldn't get any more on point he reveals this little gem and proves he is not just a controversial one hit wonder.
Scott Marsh is the artist behind the infamous Kanye Loves Kanye mural which was previously located on the exterior of a building in Chippendale, Sydney. The mural, which quickly amassed huge crowds of people to the area was later painted over after Kanye's managers paid to have it gone. It was not cheap for them either with Marsh asking for no less than a pretty penny and a lifetime supply of Yeezy Boosts.
In its place now, exists a shitty copy of the original piece with Kyle Sandilands kissing Kyle Sandilands. This was not the work of Marsh, but a publicity stunt paid for by the Kyle and Jackie'o radio team.
But now, Marsh has returned with this glorious satirical work of everybody's favourite villain and Australia's resident one-man fun-police, Mike Baird.  This mural could not be more perfect, putting every ridiculous element of the Lock Out debate into one beautifully crafted masterpiece.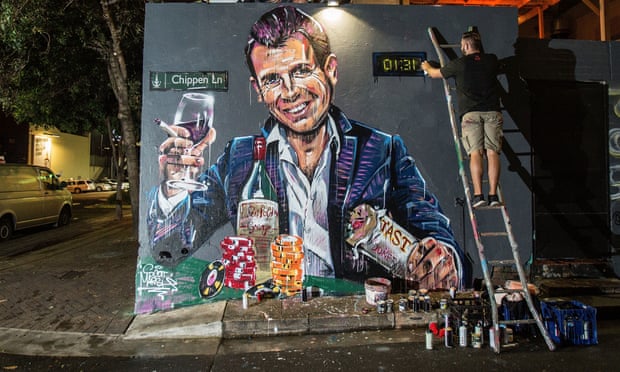 We have Baird enjoying a sneaky little bottle of Penfolds Grange (in a glass bottle) past the 1:30 lock out curfew, which of course is perfectly legal in his one true master, the casino, but illegal for the rest of Sydney.  But the best part of all is the fucking kebab: a delightful homage to the cherry on top of Mike's outrageousness.
What is the significance of the Kabab you ask?
Well earlier this month Mike was roasted on social media after he posted a status about a tasty kebab he had in Bethlehem. Meanwhile, kebab stores in Australia are closing down because he placed a ban on late night food vendors in King Street and Newtown. You stay classy, Mike.