So. You're going back to school or uni and you're looking for the absolute must-haves that will get you through the semester. I get it. I Google the same thing every February, looking for the perfect list of uni essentials which will keep me organised, motivated, and prepared. Well, I've learned some lessons in my time and I'm here to help!
No matter your needs, budget, or aesthetic, this list will have you feeling ready to take on whatever this semester may bring.
The Actual Uni Essentials
The Bag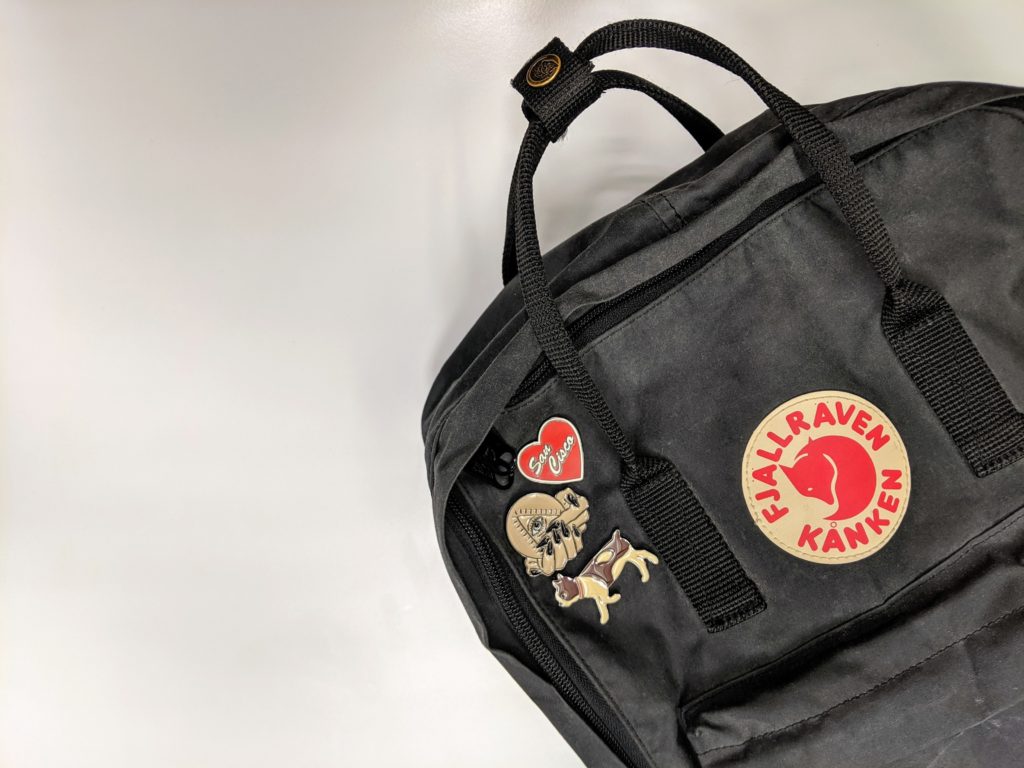 It's important to have a good bag when you're at school or uni—you don't want something which will break two days into the semester and you don't want something which will have you hunched over in pain.
My go-to uni bag is the Fjallraven Kanken backpack. Call me basic, but hey, it's a good bag. It's the perfect size for all my essentials, it's made of durable and lightweight fabric, and it's built to last (without hurting your back). It has a pretty big price tag, but it's not so bad if it's the last bag you ever buy.
If you're on a budget, Kmart has a large range of bags perfect for uni students. Pick up a stylish backpack, an oversized handbag, a large tote, or anything in between—they were my go-to bags before the Kanken and they did the job!
Devices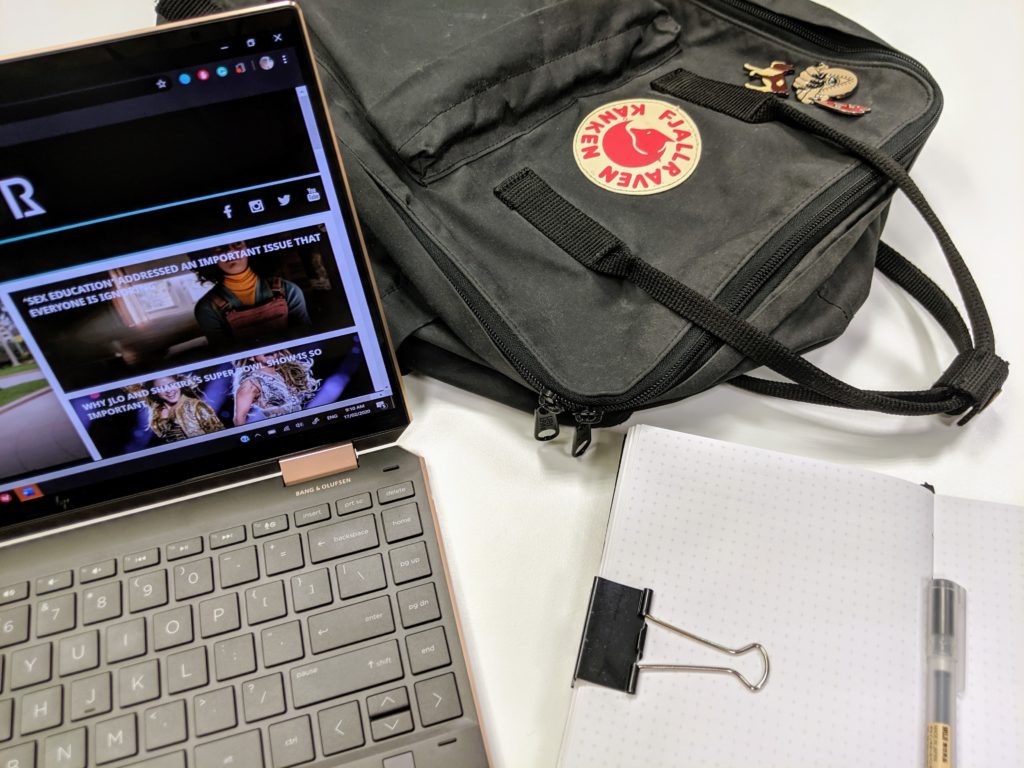 Devices are generally pretty essential these days, even at schools. My laptop comes with me wherever I go—as a writer and digital marketing major, it's a core item in my everyday life.
My laptop of choice is the HP Spectre x360—it's light, sleek, beautiful, and extremely powerful. As a 2-in-1, I have the flexibility to write notes using a stylus, watch videos in laptop or tablet mode, or annotate texts without needing to print them. In my opinion, the Spectre x360 is the ideal laptop for a university student whose needs vary widely. If budget is no concern, then I'd recommend checking it out.
If you're looking for a laptop alternative (or your main priority is art), then the iPad Pro or the Surface Go/Pro might be the solution. With fantastic user-friendly apps like Procreate or Autodesk Sketchbook paired with the Apple pencil or Microsoft Pen, your art (or even your digital bullet journal) will be on a whole other level. While these tablets don't have the complete functionality of a laptop, it's a great alternative when paired with the right accessories.
Don't forget your charger!
Notebook and Planner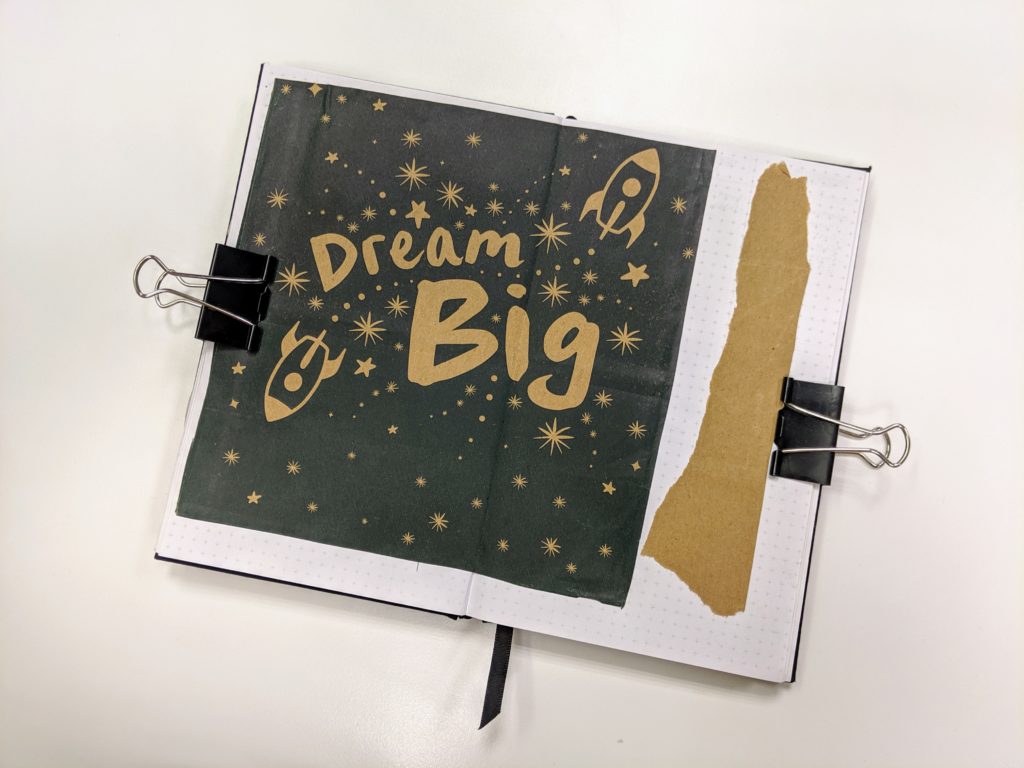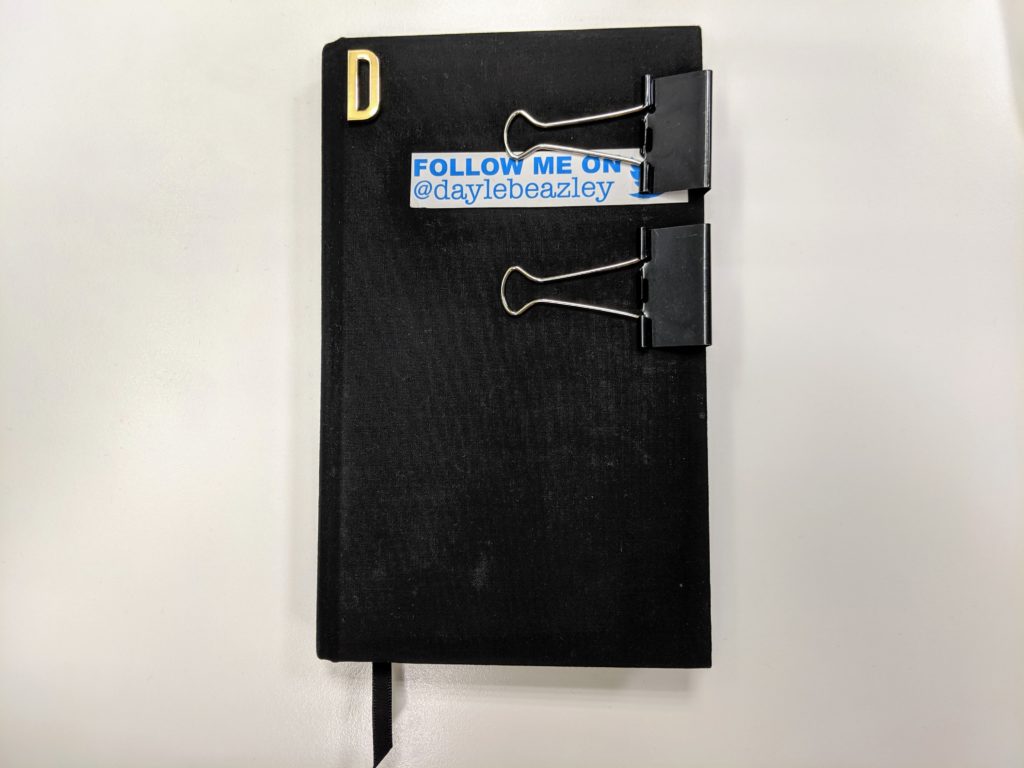 Grab yourself at least one notebook to, well, take notes. Even if you're taking notes on your computer, have a notebook near-by just in case your laptop dies or if you just want to scribble on some paper for a little while. Don't forget your planner too! That way you can always jot down your deadlines and plan your day so nothing is forgotten or left to the last minute.
In my case, I take down most of my notes on my laptop so I don't really need a notebook per class. So, I use my bullet journal as my everything-notebook so I have my planner and my random notes all in one. Some people might not like how messy or unstructured that may be, but at least I'll always have it together. Bonus tip: Use bulldog clips to keep your pages flat. Thank me later.
If you want a good-quality notebook with no pen bleed-through, pick up a Clairefontaine notebook from your local Officeworks. Otherwise, if you just want notes which taste like real notes, just buy yourself a cheap notebook and planner from Kmart or Officeworks. I'd recommend a 4-subject notebook for portability, but it's all the same at the end of the day. Grab a pen and you're good to go!
Water Bottle
Reuse an old plastic water bottle, buy yourself a Hydroflask (and I oop), or pick up something from Kmart. It doesn't really matter what water bottle you buy, just as long as you're not becoming dehydrated or buying more and more plastic every day.
Food
C'mon. Grab yourself some food before you leave the house—make a nice lunch or at least some snacks. Nobody should be buying over-priced food from uni every day. Nobody.
The Slightly Less Essential (but handy to have)
Tech Organiser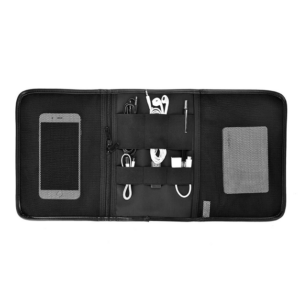 Get something small and compact to keep all of your tech under control. In my tech bag, I keep a USB-C charging cord, a portable charger, laptop charger, wireless earphones, regular earphones, and a USB. You have to keep your tech charged, especially when you're commuting or having long days at uni or school. By having a tech bag, my cords aren't getting lost, tangled, or damaged at the bottom of my backpack. I've got this one from Target and it fits all of my technology-related uni essentials perfectly.
Pencil Case
Make sure your pencil case is filled with all the stationery that you need and love. Grab yourself some smooth black pens (I love the 0.38mm Muji ones), a highlighter or two, a pencil, and some post-it notes. If you have a lot to paste into your notebook, don't forget to grab yourself a glue stick (or some glue tape) and some scissors. Make sure you listen on your first day of class because the teachers will give you a list of stationery products you need.
Non-Essential (but bring them just in case)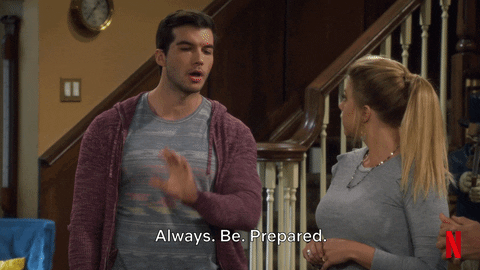 Utensils
If you're trying to make sustainable changes, grab some cutlery from home, a reusable straw, and wrap it in a handkerchief. Ta da! You're ready for a day of food without creating as much waste. I always make sure this is little kit it sitting in the bottom of my bag just in case.
Travel Mug
Plan on getting a coffee at uni? Chuck your KeepCup (or KmartCup) into your bag and enjoy that small discount from the cafes while also doing the environment a favour. Go you!
That's the end of my uni essentials, but what does everyone else bring with them? I asked my followers on Twitter to let me know what they bring to uni every day, and here's what they said!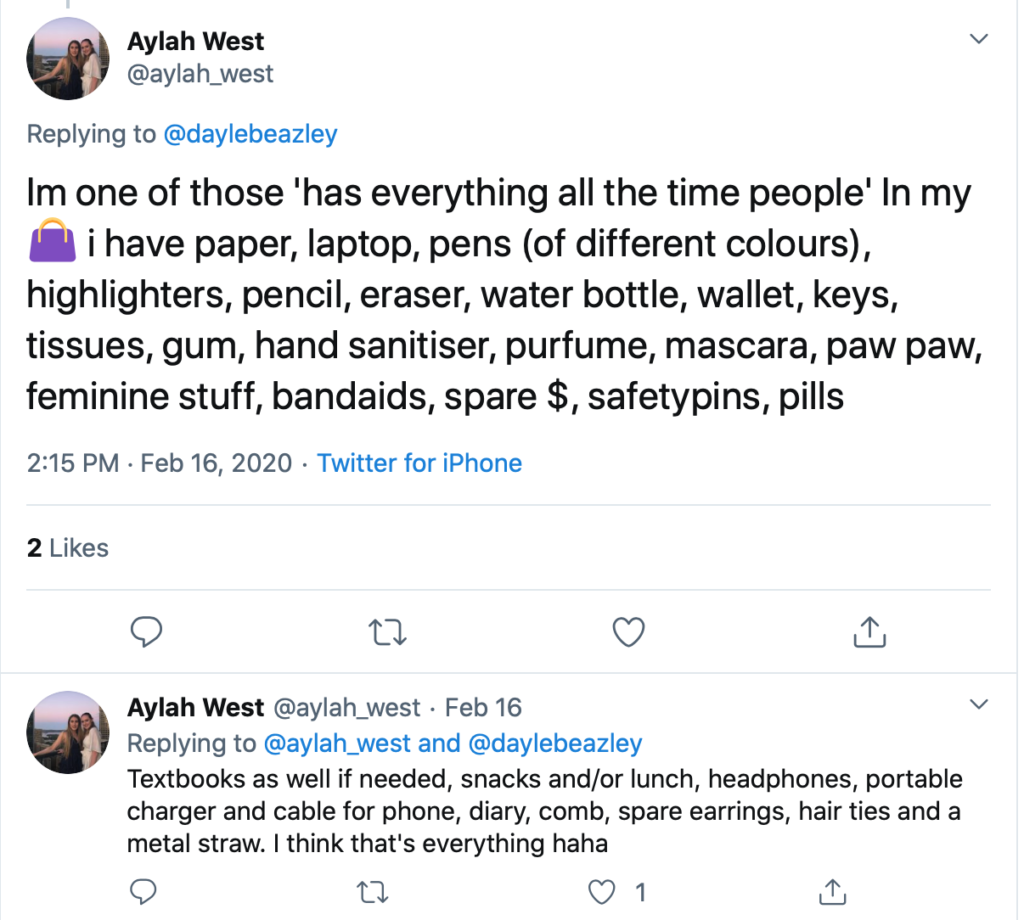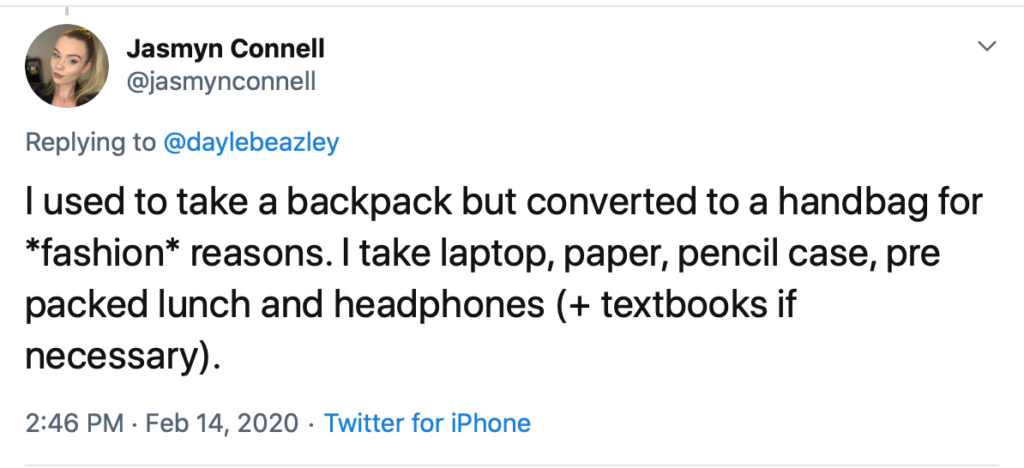 What are your school or university essentials? Let us know in the comments below!