Everyone's favourite social media service Snapchat has continued to advance AR technology and is doing amazing things in 2020.
Snapchat and Tik Tok star Dixie D'Amelio and viral trend creator of the Renegade dance, Jalaiah Harmon have teamed up with Official Lens Creator's. The collaboration will see D'Amelio and Harmon along with Official Len's Creator's launch the first full body tracking Lenses for Snapchat.
D'Amelio and Harmon teamed up with two of OLC's creative tech wizards Abass Sajad and Jinnie The Wew. Sajad in the past has created Lenses such as UFO Sky Invasion and Donut Halo. Jinnie The Wew is known for the creation of Foggy Mirror and Mirror Split.
The two have created some of the most popular Lenses on Snapchat. So it was only fitting for them to work with Snapchat goddesses Dixie D'Amelio and Jalaiah Harmon.
The new feature will allow Snapchatters to express themselves through their unique creativity and style with Lenses that will be able to track their entire body movements.
The latest update to Snapchat's Lens Studio, the creation hub for all AR experiences on Snapchat, makes it possible for anyone to create Lenses that will move with a users entire body.
The technology used to create Lenses is quite advanced. The technology tracks 18 joints across the whole body, building from an 8-joint 2D upper body tracking Lens template already available in Lens Studio.
The latest update will allow users to add and control AR effects which can make your next viral dance that much more visually exciting.
To debut this revolutionary technology four inspiring Official Lens Creator's were paired with four Snap Stars to make customised full-body AR tracking Lenses. These Lenses expressed each Snap Stars unique creative style and expressions.
Along with Dixie D'Amelio and Jalaiah Harmon, who were paired with Abass Sajad and Jinnie The Wew respectively. Snap Stars Loren Grey and Sarati were paired with Lens creators Max Van Leeuwen and Robin Delaporte to be the first Snap Stars to show off the latest AR innovation.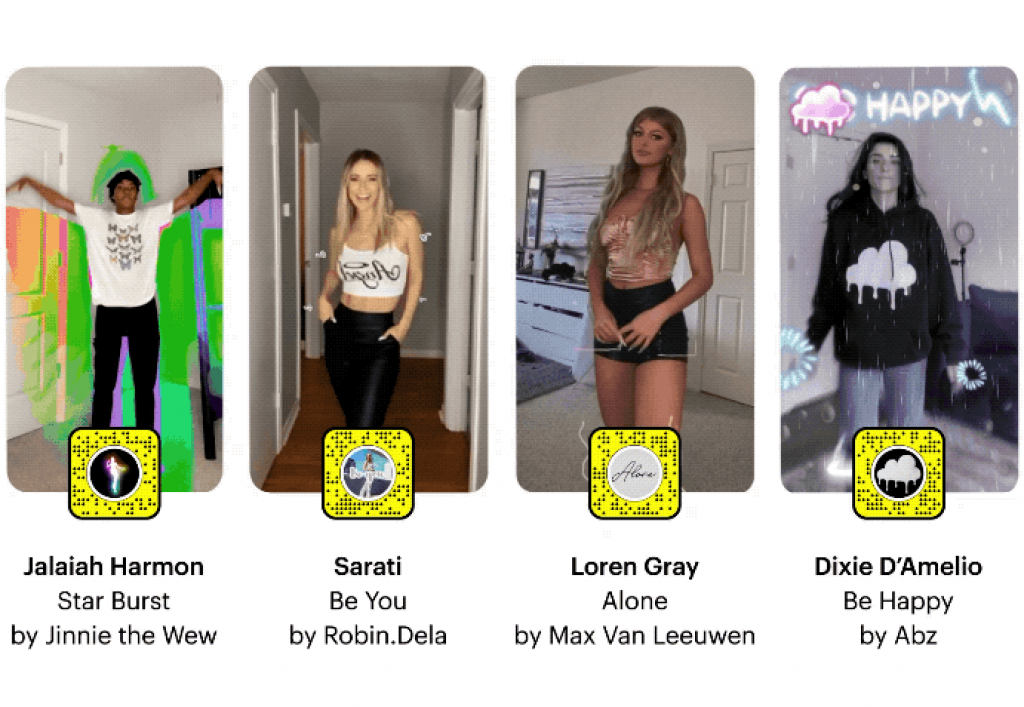 Official Lens Creator's Abass Sajad and Jinnie The Wew spoke on what inspired their creative decisions when developing the Lenses.
Abass Sajad stated that:
"I built a Lens to complement Dixie D'Amelio's new song "Be Happy." The song is a reminder that you're in control of your own happiness, so we designed the Lens so that your movements control AR weather effects, which reflect different kinds of feelings".
When describing the meticulous nature of his technical process Sajad highlighted that:
"To keep the Lens natural, I drew all these effect animations by hand, frame by frame. It was great to collaborate with Dixie and we're happy with the final Lens, so I can't wait for people to try it!"
Jinnie The Wew spoke on how he and Jalaiah bounced ideas off each other:
"Jalaiah liked the concept of a Lens that followed and amplified your movements – so I took this concept and ran with it. We really wanted the colors to pop and be super vibrant, so we designed it to create a rainbow aura to emphasize your movements".
When reminiscing back on the experience Jinnie expressed his gratitude:
"It was awesome to collaborate with Jalaiah to share new ideas to elevate the quality of the Lens, and it was amazing to see the Lens come to life through her dance style".
These amazing AR integrated Lenses brought to life by the creative and technological whizzes at Official Lens Creator's in collaboration with the four amazing Snap Stars will give users a unique AR experience the next time they post a Snap.
Show off your amazing dance skills while you use these incredible Lenses and tag us in your next post!
Featured image: Source