On a scale of 1 – extremely sexually adventurous I'd say I'm probably as out there as a thirteen-year-old who still giggles while reading Dolly Doctor. So, when you have a media pass for Sexpo, and inevitably a date with a range of dildos, vibrators, sex swings and anal plugs, a girl can't help but feel a little overwhelmed and, frankly, kind of uncomfortable. I'm no Carrie Bradshaw, but here's a little peep into Sexpo Sydney, the closest I've come to Amsterdam since returning to Australia.
Upon arrival at the sex exhibition that has been running for twenty years, I was greeted by Wonder Woman, who looked significantly different from what I remember from my childhood comic books. With Double F's, smoking a cigarette and sporting a pink g-string, she stood outside the hall that held adult toys not for the faint hearted. Little did I know there is literally a sex toy for everything you can imagine (and they make them super cute, pink and fluffy – not scary at all.)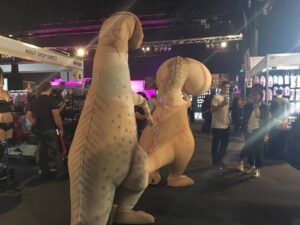 One observation I was able to make quite early on is that Sexpo is mainly for the girls. A large majority of the adult toys are for female pleasure, or for couples to enjoy together. There were stands of flavoured lubricant, glow in the dark condoms, sex swings, dildos, vibrators (or a combination of both, the infamous Rabbit) and shock stimulation. There was giant penis imagery everywhere, people walking around in penis outfits, a giant 'shafter ride' and carnival style games where your strength is measured on a scale on a dick, and you have to throw a dildo through a hole cut through a cardboard female.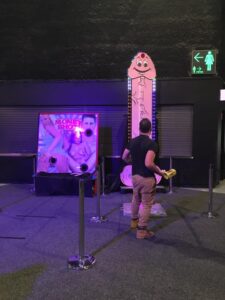 The staff at David Jones could learn a thing or two about the staff who work at Sexpo. They were not only extremely approachable but also very willing to tell you which hole you put this in, and what position to tie your sex swing on your bedroom door.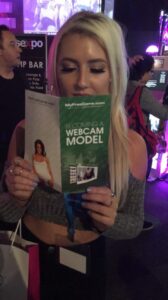 Pricasso deserves a special mention for the amazing and confident specimen he is. With a clever play on words, you already know he's all about art, but with a twist. Pricasso swaps his paintbrush for something a little more …natural (and I'm not talking about his talent). Although I wasn't lucky enough to have my portrait painted – as he was booked up, and rightfully so – I did bear witness to many singles and couples having their face painted on cardboard and canvas by Pricasso's 'Prick.'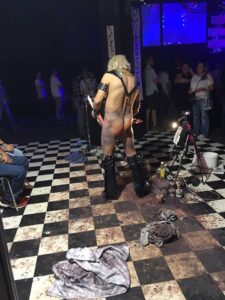 After a little googling and stalking, I found out Pricasso has been painting portraits with his buttocks, penis and scrotum for over 8 years – and is always a hit at any event. Now, you'd think the sheer idea
of him painting with his God-given gifts would be enough, but his art is actually quite spectacular!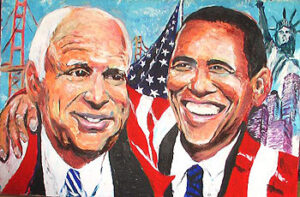 I brought my boyfriend along with me, not against his will, but one of the funniest parts of the day was watching him squirm and nervously laugh at various points of the day, and for good reason. In a world where speaking about sex is so taboo, one can't help but feel a little sinful walking through an array of plastic penis' and bright pink, purring bunnies. As the day went on the mood changed, groups were conversing with each other over lunch (and butt plugs), people were more hands on in the shops and market-style stalls, and everyone was having a genuinely good time.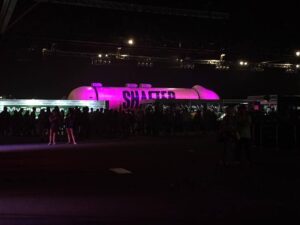 Once the walls came down, everyone came out of their comfort zone and celebrated being a sexually aware human (because you and me baby ain't nothin' but mammals).
I left Sexpo feeling sexually aware, comfortable and independent (with probably too many bags of products – sorry Mum.) Not only did Sexpo promote the idea of safe sex, by handing out free condoms and lube, but it encouraged everyone to embrace the sexual beings we were born to be, and most of all be comfortable with ourselves and our bodies. Although I'll still probably giggle at Dolly Doctor, I would definitely attend Sexpo again and recommend you all do if given the opportunity to dive outside of your comfort zones.