I'm lying in bed listening to the wind, the crackling sounds of a campfire and people talking. While thinking about the amazing day I had, I curl myself up in my blanket and look at the wooden walls of the log cabin I am staying in. I had no idea I would travel here.
Thing is, I travel the world alone and I have been for some time. Since I was young, I had a crazy desire to travel and do irresponsible things. It was a dream. I have always been a shy girl; I lived in a small traditional town and had a normal not-that-exciting life. It wasn't bad, not at all. I definitely had fun experiences in my small town such as going out with friends or having days at the beach and trips with friends and family. But are these the crazy experiences you remember when you are an 80-year old, sipping tea and looking back at life?
Things changed when I was at the Solar festival with my friends. This festival is one of the biggest Dutch electronic music festivals. It's set on a camping ground and lasts for 4 days in a row – similar to Australia's Splendour in the Grass. Festivals always make me feel good; I get this adrenaline-filled happy feeling in my body and I love some good house music! On the last day of the festival, I was in my tent scrolling through Happn, a dating app similar to Tinder or Bumble. While I had no intentions of hooking up or dating, I do think it is entertaining to scroll through these apps every now and then. If I happn (haha!) to find my Prince Charming on one of these apps, I won't complain! As I was scrolling, I received a match on the app with a super handsome guy called Rick. Of course I wanted to know more about him! He sent me one right away, asking if I was at the festival. I wanted to meet up, but his location stated he was really far away from me.
"I was at the festival," he said, "but I live in Geneva."
Did he came to the Netherlands just for this festival? And the better question was: Am I ever going to be able to meet him?
"So when are we going to meet then?" I asked. His crazy reply: I should come and visit him in Geneva!
I don't know what happened; it must have been the adrenaline from the festival and chatting to Rick, but I immediately packed my bags when I got home, booked a ticket to Geneva and flew there the day after. Rick was surprised, but super excited. He told me he didn't expect me to come to Geneva at all after his crazy impulsive invitation. This was so not me, and way out of my comfort zone! But it was such an incredible feeling to be spontaneous.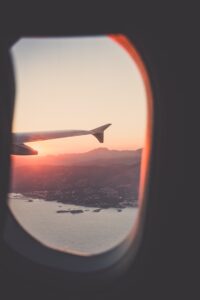 I was nervous to meet Rick at the airport, and luckily he was as handsome and sweet in real life as he was online! We drove to his house, which was situated close to the amazing Lake Geneva, changed into hiking gear and made our way to the Alps in France to hike and explore the mountains. We had conversations about our lives during long walks uphill, lunchbreaks with the most beautiful views over the mountains and stayed in a log cabin. I had never been in the mountains like this before, let alone with a man that I had never seen before! I felt amazing over there: free, excited, and as if I could conquer the world. No, I am not talking about the Alps; I mean this place – the place outside of my comfort zone.
After my time with Rick in the mountains, I was addicted to the sensation that came with traveling and new experiences. Unfortunately, I was not addicted to him (haha!) This marked the start of my changed life, full of excitement, meeting amazing people and the feeling of be truly alive. I have grown so fast as a person; I now realise that there is so much more out there. I am no longer insecure and small-minded; I am a young woman that believes she can conquer the world! I am not telling you that you should take a plane to a random Happn match (but do it if you want to). But don't be afraid to travel alone and experience things for yourself.