Harry Potter fans have been given their first glimpse of Jude Law playing Dumbledore in the trailer for Fantastic Beasts: The Crimes Of Grindelwald.
The trailer opens with an enchanting shot of Hogwarts (yes friends, HOGWARTS). We then see a mysterious, anticipation-building shot of the back of Jude Law's head. The trailer then cuts to a shot of Newt Scamander (Eddie Redmayne) before shifting back to Dumbledore (Jude Law). Dumbledore is dressed in a very fashionable looking hat. We're a little sad he's not wearing those fabulous wizards robes he donned in the Harry Potter films. But we're content with fashionable for now.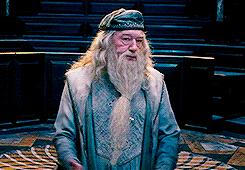 Dumbledore speaks twice throughout the trailer. Firstly we hear him insist, rather majestically, to a bunch of intimidating Ministry officials:
"If you'd ever had the pleasure to teach him, you'd know Newt is not a great follower of orders."
Later on, to the sound of heavy drums, he urgently declares to Newt:
"I can't move against Grindelwald, it has to be you."
The snippets provide some evidence that Dumbledore will play a large role in the film. This is something all Potter fans are sure to be excited about.
The rest of the trailer consists of a variety of shots of all the main characters from the original film, including Johnny Depp as the dark wizard, Grindelwald (despite the controversy surrounding his casting in the film). Also returning for the sequel will be Katherine Waterston as Newt's love interest Porpentina Goldstein, Dan Fogler as Newt's No-Maj friend Jacob Kowalski, as well as Alison Sodol as the gorgeous Queenie Goldstein, and Ezra Miller as Credence Barebone. Of course, there are also some cool looking beasts (including a glimpse of a fan favourite).
Fantastic Beasts: The Crimes of Grindelwald is the sequel to 2016's Fantastic Beasts and Where to Find Them. It will follow on directly from the first film, with Newt being sent on a mission to stop Grindelwald. 
You can check out the trailer for the film below.
Fantastic Beasts: The Crimes of Grindelwald is due to hit cinemas in November this year.