Nespresso just recently launched the limited-edition collection of my dreams. When you combine two of my favourite things, coffee and fashion, with the Ultimate Nespresso x Chiara Ferragni Collection. This limited-edition collection features world-renowned Italian digital entrepreneur Chiara Ferragni's stylish flair and the prettiest pop of pastel pink. Chiara Ferragni's iconic design features a range of eye-catching accessories as well as the star of the show, the Nespresso Vertuo Next machine. The fashionable range is the perfect gift for coffee lovers who love a pop of colour and a bit of fashion with their morning coffee.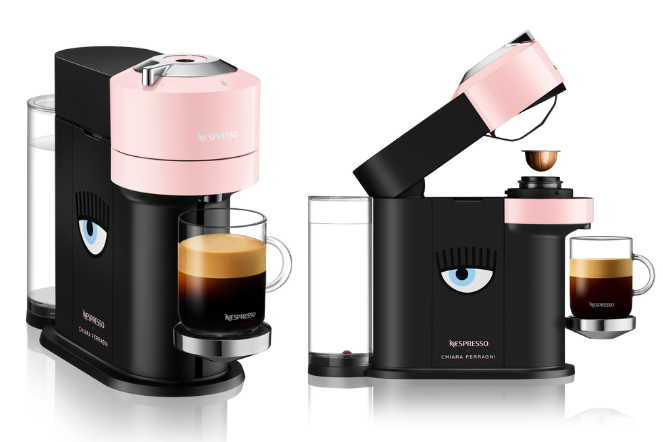 Chiara's distinctive wink logo is perfectly displayed across the range, specifically curated with Chiara's personal taste in mind. Chiara Ferragni's well-known eye for detail, creative ideas and active support for female empowerment are key components of the Nespresso brand and are all brought together in this collaboration, serving up coffee with style.
Chiara Ferragni said, "As an Italian, I am a big coffee drinker and have been a fan of Nespresso for a very long time. Nespresso really represents a contemporary way of living with its practical and smart approach to high-quality coffee. This is why I am so thrilled to work on this collection, filled with fun and luxurious designs. When I first met the brand, they introduced me to a lot of initiatives regarding sustainability and recycling, that I deeply want to be a part of and contribute to in the near future."
View this post on Instagram
Vertuo Next Premium
Nespresso x Chiara Ferragni is only available in the Vertuo Next Premium Range which is Nespresso's most luxurious machine to date with a refined finish and chrome accents. There is a metal outer cup support. Besides the aesthetic style of the machine, the Vertuo is an extremely intelligent system that individually read each coffee machine capsule. This means that every coffee is extracted perfectly as intended, delivering the ideal in-cup result. The unique barcode on each capsule contains bespoke extraction parameters, that regulate the flow and volume of water, temperature, infusion time and even the speed of the capsule rotation. Now available in a beautiful pastel pink colour, with Chiara's iconic logo, emblazoned on its side for a limited time only. The intuitive one-touch machine can prepare a range of different coffee sizes, for every taste or moment with friends and family all year long.
Limited-edition machine and accessories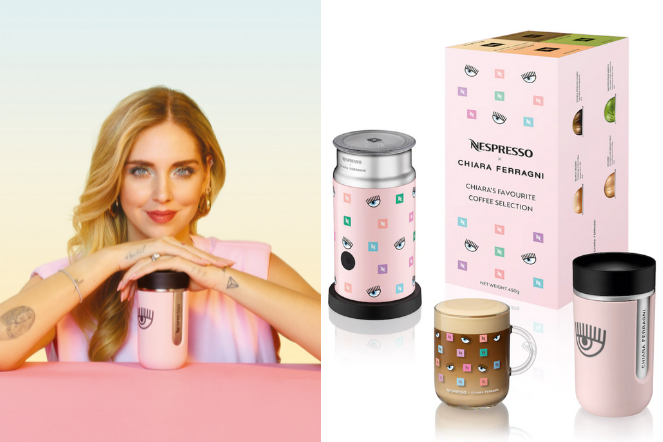 Love a luxurious milky coffee? Nespresso x Chiara Ferragni Aeroccino is for you, with a pop of colour to your kitchen the limited edition milk frother offers a quick and sleek way to prepare hot or cold milk froth, creating custom lattes, cappuccinos and endless coffee creations. This accessory will elevate your coffee game for a quality coffee experience.
The cutest mug I've ever seen, the Nespresso x Chiara Ferragni Coffee Mug is embellished with Chiara's iconic wink logo and Nespresso's monogram, which has been stylishly revisited with Chiara's favourite pop colours designed to indulge in coffee moments and savour a cup in your home. Or if you're on the go, no need to sacrifice style or lack of pastel pink, Nespresso x Chiara Ferragni Nomad Travel Mug has been given a twist with her signature eye design. This limited edition Nomad Travel Mug is a fan favourite and a must-have travel accessory for your commute to work or a companion to keep in your car for travel. 
Finally, Chiara has included her very own selection of perfect café-style quality coffee with the limited edition Nespresso x Chiara Ferragni capsule collection consisting of Bianco Leggero, Melozio, Double Espresso Chiaro and Master Origins Mexico. If you're looking for a tropical twist Nespresso and Chiara have reimagined her own signature iced coffee recipe, combining her favourite iced espresso with a rich coconut flavour. To re-create this recipe at home, coffee lovers and fans of Chiara Ferragni can even add a touch of cotton candy to make the recipe bold and sweet. 
View this post on Instagram

This collection is truly any pink lover's dream and besides the aesthetics of how beautiful the machine and the accessories are, it makes a killer cup of coffee you can savour in many ways throughout the day. Get ready for a caffeine high and don't miss out on pieces of this stunning collection before they're sold out for good! 
The limited-edition Nespresso x Chiara Ferragni collection will be available on www.nespresso.com/au and in select Nespresso boutiques while supplies last. 
Follow @nespresso, @nespresso.au and @chiaraferragni to keep up to date with #NespressoxChiaraFerragni.