Tumblr recently announced that it will be removing all adult content from its site on the 17th of December, which is coincidentally International Day To End Violence Against Sex Workers. Many sex workers, premium adult content producers, artists, educators, bloggers and Tumblr rebloggers are not impressed with this decision.
Tumblr CEO Jeff D'Onofrio said in a statement:
"There are no shortage of sites on the internet that feature adult content… We will leave it to them and focus our efforts on creating the most welcoming environment possible for our community."
However it would seem from the backlash that the Tumblr community will become significantly smaller as much of their content is no longer welcomed.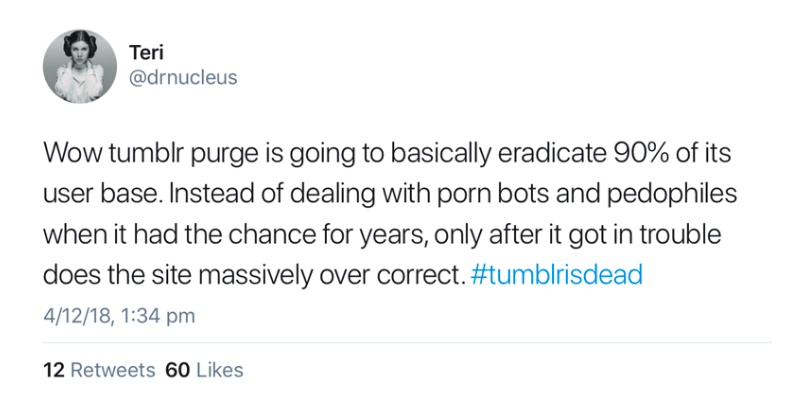 Many users of the popular platform recognise that Tumblr has had problems with illegal activity such as child pornography, suspected groomers, and porn spam bots that post links to sites infested with viruses. These users also state they have made numerous attempts to report these illegal posts and problematic accounts to Tumblr for removal, only for no action to be taken. Tumblr should be able to continue in a way that is consistent with what their users love. However, rather than fixing their reporting system to more effectively remove the accounts that are going against Tumblr's current community standards, Tumblr has decided to axe all explicit content. Not only will this impact sex workers such as porn producers and cam artists, but will also models, photographers, writers and artists who use the site to promote their erotic fiction, nude artworks, photographic art and other lewd content.
Although Tumblr states the adult content will not be removed until the 17th, its algorithms are already flagging items for removal, and many of them could not reasonably be considered adult content at all! There are some artists that have had all their drawings of fully-clothed females flagged for removal. Some flaggings are even more ridiculous.
Tumblr is not the only social platform to implement poorly thought out algorithms to enforce community standards. Facebook community standards are regularly violated with rape threats, murder threats, hate speech, and targeted harassment. However, when posts like these are reported they are regularly given the 'all clear' and not removed; yet when a woman jokingly says "men are scum" in a status update, it is removed within mere moments. Removing a post for making a comment as benign as "men are scum" while allowing content that works to marginalise vulnerable groups and promote violence – despite reports from users of the platform that the content violates community standards – points towards a sub-par auto-moderation system. We must really question this reliance on digital algorithms to automatically remove content. Seeing visuals, like this child's drawing of a Disney character innocently reimagined into a farmer, along with many other innocuous posts, being flagged as explicit demonstrates that Tumblr perhaps is not as ready to make these brazen changes to its platform.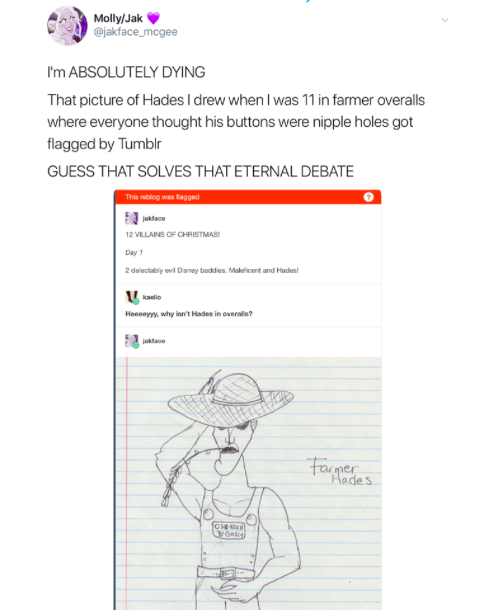 Many have drawn attention to Tumblr's lack of consistency with flagging, with one user even pointing out that a reblog of a post from Tumblr staff themselves, detailing the impending ban of adult content, had been flagged as explicit content for removal. Not even Tumblr is safe from its harsh algorithms! In the wake of FOSTA/SESTA it is understandable that Tumblr is scared of losing its platform altogether if they don't crack down on the explicit content; especially given the app was already recently removed from the iOS App Store due to illegal content (child pornography).
While it seems Tumblr wants to do the right thing by enforcing this ban that will ensure the platform is completely devoid of explicit content, many devoted users of the platform feel that Tumblr has gone too far in the opposite direction and this step will only do more damage than good. They should have taken steps to remove the offending material earlier rather than after they already got into some serious dog shit over it.
A myriad of tumblr users I have spoken to over the time that I've been an avid user of the platform (over 10 years), have expressed that it is the big mish-mash of stuff on Tumblr, the sort of 'anything goes' feel about it, is what attracted them to the platform and keeps them coming back. A friend of mine expressed in conversation once that it's her ability to scroll from a cartoon gif, to a series of pornographic photos, to a humorous thread that makes little to no sense is what keeps her scrolling regularly. You never know what's coming next. Of course this ban will not only negatively impact sex workers who are already significantly marginalised, but also a vast community of creative people who have explored explicit themes through their writing, painting, drawing, photography and other various projects. It will impact those that use Tumblr to educate and raise awareness on vital issues such as safe sex and consent. It will lead to certain news stories not being able to be shared on the website, and we will lose a bunch of content that is not explicit at all in nature like a child's sketch of a Disney villain dressed in overalls (long live farmer Hades)!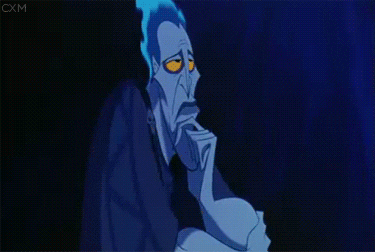 Tumblr has been a much loved institution since it's inception little over a decade ago, but now it seems it will soon be put to rest with Vine, MySpace and other platforms that did not know how to listen to it's users, and instead went up in flames all on their own.
If you have any questions about this subject or simply want to mourn (or celebrate) the death of Tumblr, please feel free to contact me on twitter – @ephy_92
First edit by Emma Rothwell.