New South Wales holds its breath today as the hot, dry and windy conditions give rise to what the Rural Fire Service (RFS) has referred to as unprecedented fire danger across the Greater Hunter and Greater Sydney, and Illawarra and Shoalhaven.

New South Wales premier Gladys Berejiklian announced we're in a state of emergency and the RFS have issued a state-wide fire ban and a catastrophic fire danger rating to much of the area. This rating is equal to Victoria's tragic Black Saturday bush fires back in 2009. Meanwhile, the Australian public debate on climate change has never been more urgent.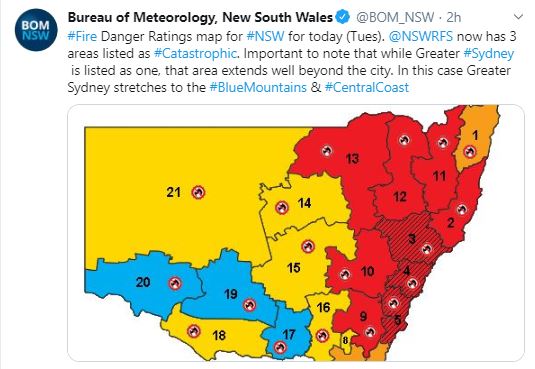 These "mega-fires" have been linked to climate change. In a nutshell, the impacts of climate change cause Australia's safe burn-off period to be shorter and its fire danger period to be longer. The increase in average temperature over the past few decades in Australia has been linked to the growing severity of natural disasters. Yet our politicians refuse to listen to the science and wave aside the increasing number of protesters.
It's hugely disconcerting that the leaders of our country remain blind to climate change and its impacts, particularly when three people have already been confirmed dead and the worst of the fires are not over.
People wouldn't need sympathy, understanding and shelter if our government had effectively responded to the threat of climate change years ago and reduced the potential for conditions like this to develop.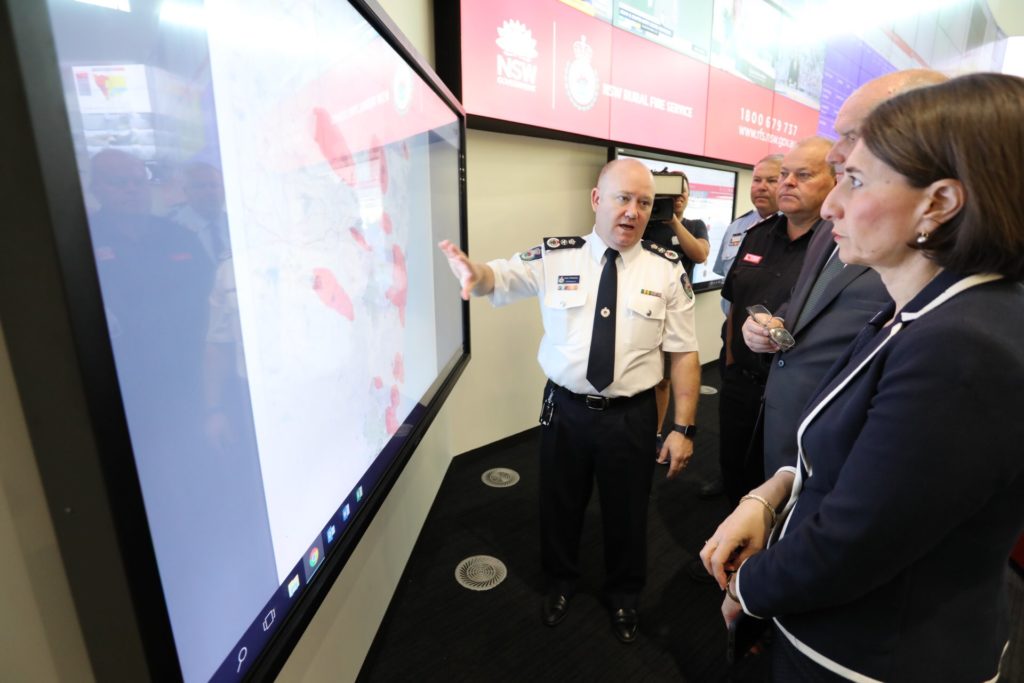 Adam Bandt, the Greens member for Melbourne, said the NSW bush fire disaster is a direct result of the Australian government's inability to develop responsible climate policy.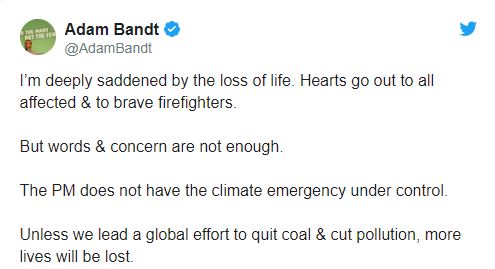 Michael McCormack, the deputy Prime Minister, responded to Bandt's criticism in a way that demonstrates not only his inability to respond to the issue at hand, but also his childlike and Trump-ish immaturity.
"Comments coming from a little Melbourne apartment, from a little individual, with a little mind should not be accepted or tolerated at this time."
Is this how our leaders construct debate these days?
"I abhor the comments made by (Adam Bandt), who should be ashamed of himself for coming out and saying in any way, shape or form the Prime Minister or the government should be responsible in some way for the lives lost."
Bandt seems nonplussed by McCormack's comments and reiterated his argument in response:
"They have ignored some pretty clear warnings and attempts to meet from former fire chiefs . . . this is about saving lives and Michael McCormack can call me whatever names he likes. The first duty of government should be to protect its people and do everything it can to minimise the risk of loss of life and Michael McCormack and Scott Morrison are failing at that."
McCormack is being widely criticised for his stance on the link between the fiery disaster and climate change. Yesterday on an interview with ABC national radio, he claimed:
"What people need now is a little bit of sympathy and understanding and real assistance, they need help, they need shelter . . . they don't need the ravings of some pure enlightened and woke capital city greenies at this time when they are trying to save their homes."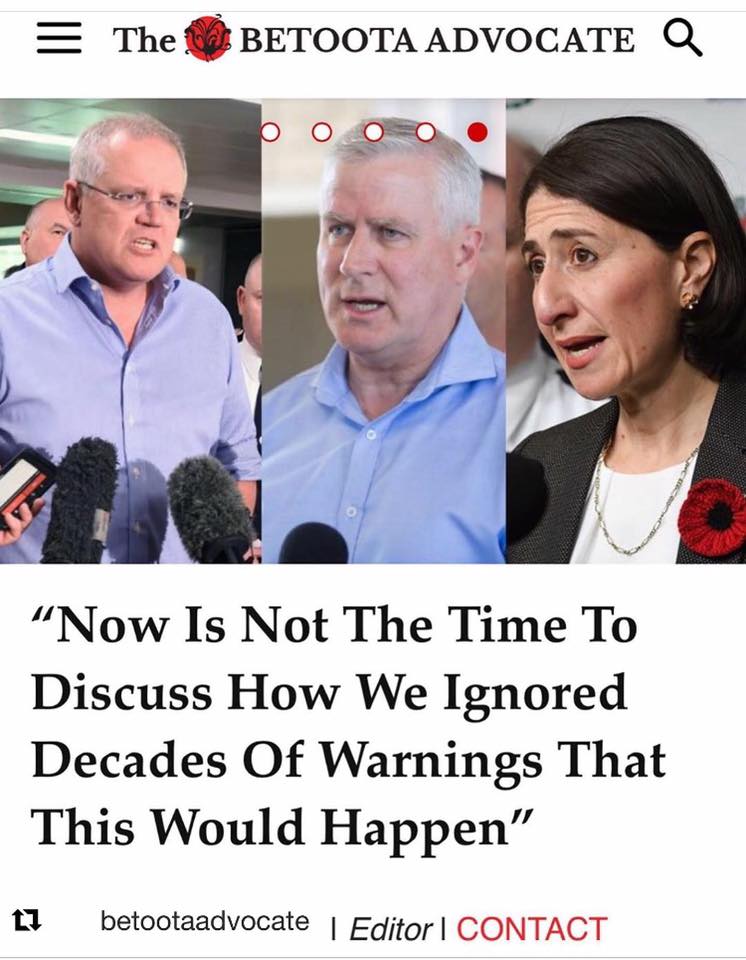 Prime Minister Scott Morrison's response to the issue is disappointingly (though perhaps not surprisingly) similar. When asked by reporters and heckled by protesters regarding the impact of climate change on the NSW mega-fires, Morrison asserted he was focusing on the needs of people who had suffered at the hands of the fire. Oh-so-diplomatic.
He is also facing strong social media backlash after a Tweet he posted offering "thoughts and prayers" to those suffering in the face of the fires, rather than acknowledging climate change as a contributing factor to the severity of the situation. This is particularly disrespectful following the deaths of three people thus far due to the fires.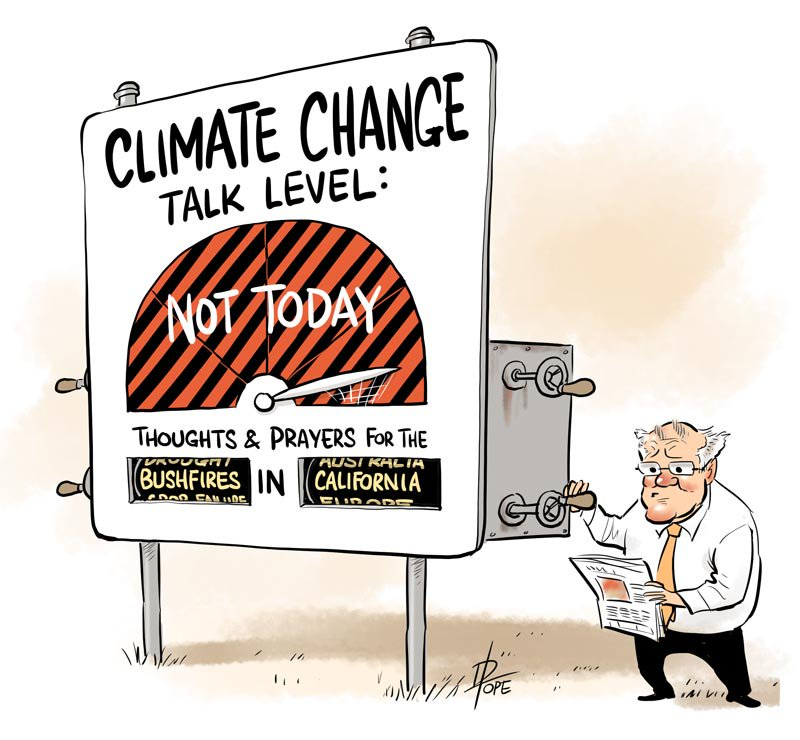 At the time of writing, 54 fires are burning across the state, with more blazes predicted. Temperatures of 37 degrees Celsius and winds across the state reaching 70km/h have the potential to blow embers up to 30km away and spark new blazes. The quality of air in Sydney and surrounding areas is deteriorating and almost 600 schools have been closed.
Stay alert, keep calm and follow any advice from the RFS that comes throughout the day. For live updates, see coverage from The Guardian or fire maps on the RFS website.