In episode 8 of RuPaul's Drag Race Season 10, we enter the workroom and we are Monique Heartless. Bitch didn't know the words! So The Vixen gets to wipe down the message of another girl after her lip-sync win. After ru-turning after last week's episode, The Vixen continues to attack Eureka and lets her know how she really feels. I mean, I guess we all saw this coming: it isn't RuPaul's best friend race!
Once all that fighting is out of the way, another day begins AND KAMERON BEGINS TO TALK. We didn't even know she had a voice! Did someone die or is Kameron actually going to get air time this episode!?
The alarm sounds, which saves Asia from having her arm broken by Kameron after being challenged to an arm wrestling contest. Cher as Chad Michael appears on screen and the girls are LIVING.
Mini-Challenge: Slap out of It
Ru enters and tells the girls the mini-challenge today is good old fashioned bitch slapping fun with inspiration from Cher in Moonstruck.
Whoever can serve the sassiest roast and give the most gag -worthy performance of being slapped by mother Ru will win the mini-challenge. It sounds simple, right? Well, RuPaul fucks it up  and ends up ACTUALLY slapping Asia, which results in Asia winning the challenge, so Ru can avoid being sued. Smart move, Mumma Ru.
Asia's winning line was: 'You hit like a girl – too bad you don't look like one.' We were GAGGING. No wonder Ru was so pissed. Miss Asia snatched her wig, gave it back, then snatched it again.
Notable performances also included Kameron, with 'They call you mother. But at your age, shouldn't you be grandmot-', and Miz Cracker giving us a performance worthy of Shakesqueer on Broadway.
Main Challenge: Cher The Unauthorised Rusical
The girls played different ChERA's of the pop icon Cher for the main challenge. Their assigned roles were as follows:
Kameron Michaels: 1960's, "

I Got You Babe

" Cher

Monét X Change: Cher's '70s, very cringey Native American "

Half Breed

" look

The Vixen: '70s Cher from 

her performance

with the Jackson Five

Aquaria: Disco-era Cher

Asia O'Hara: Moonstruck, movie-star Cher

Eureka: 

Rock-star

Cher

Miz Cracker: '90s-comeback Cher
Everyone seems content with their roles until mother Ru drops the bomb that they will be singing live. Not only are the queens scared – but we are as well. Jesus, please spare us of any ear-numbing voices!
The girls turn up to their rehearsal session with Todrick Hall. They're all in the same boat; rocky, nervous, and with a downright terrible knowledge of their lyrics and choreography. To be honest, this looks like a train wreck ready to happen and Kameron is the driver.
With the unauthorized Rusical beginning, we're at the edge of our seats, just waiting to see who is going to royally fuck up. Someone always does!
We start off with Kameron. Surprisingly, she does an amazing job not only with her lyrics but her tone, chorography, humour and just about everything. She also closed the show and did a shockingly good job with it all. Her confessionals were up 10000% which was probably due to her stunning performance in this week's challenge.
Monet was also fabulous in this challenge, giving us cultural appropriation realness with Cher's 'I'm Cher Bitch!' personality. The look was right, the voice was there and the comedy was worthy of Monet X Change. She slayed on the runway and she was Cher BITCH!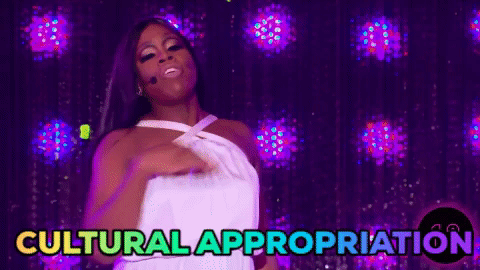 The middle of the Rusical ended up rocky. The Vixen was up next. She absolutely nailed her choreography but didn't give us any Cher. She was flubbing her lyrics, gave us none of the Cher mannerisms that we love and was forgettable (like Kameron Michael's forgettable episodes one through seven).
Aquaria scrapped her way through this challenge. Her look appeared more Madonna-inspired, however she was able to incorporate her own spin through hitting her dancing and giving the judges comedy to direct away from her voice and overall performance.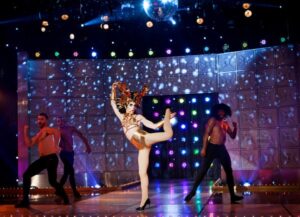 Funnily enough, season 10's Beyoncé impersonator also didn't do very well impersonating another queen. Asia O'Hara completely flopped in this challenge. She forgot her words, was stiff in her choreography and ironically had more of a Beyoncé-like persona. She tried to recover through taking the piss out of herself, but it wasn't enough to save her bland performance. You'd better work on the runway, bitch. It was a disaster. We're going to need Cherapy after that one.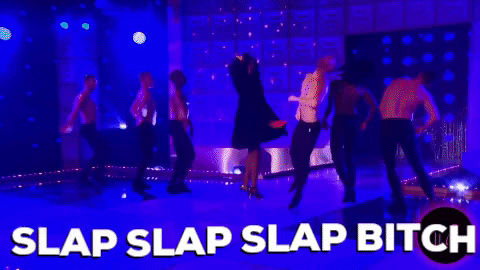 Eureka was the final queen to bless our screens. Despite a rocky beginning, she eventually reminded us why we love her so much. I wasn't too sold on the outfit she was wearing, but her performance made up for her lack of energy at the beginning of the number. She was funny, eccentric and really did exude Cher vibes in her performance!
Runway: Glittertastic
This was my favourite part of the night. The girls gave us glittertastic realness with shiny fashion that has us screaming VANJIE forever.
Kameron Michael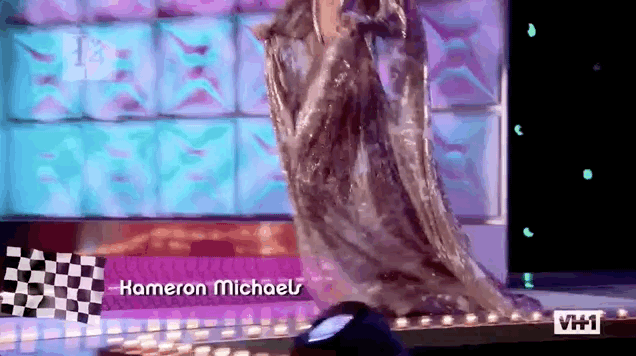 Kameron is giving us glitter god realness with an emphasis on her femininity. She looks divine with a face beat harder than Cracker to Kameron's Instagram account. The bitch is beat.
It is probably my favourite look from Kameron this season, next to her mermaid eleganza. This bitch is going places.
Finally, Kameron is getting some of the recognition she deserves! After weeks of getting a smaller slice of the airtime then Vanessa Vanjie Mateo (who was literally the first queen to exit), she is finally starting to come into her own. I think she can make it all the way.
Monét X Change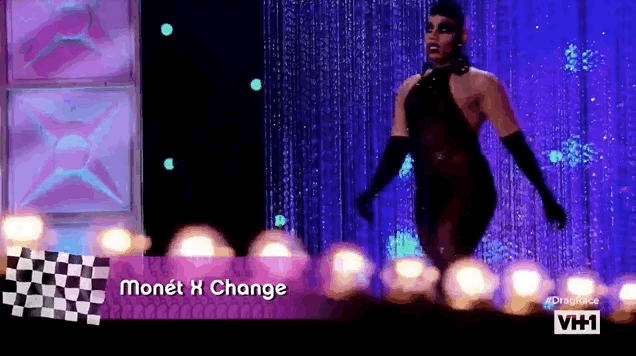 To be honest, I didn't see the tape on Monet's look this week. If it wasn't for the little imperfections I would absolutely LOVE this look and body suit. Sparkles, body-ody-ody and hips to slay the gawds. Good look.
The Vixen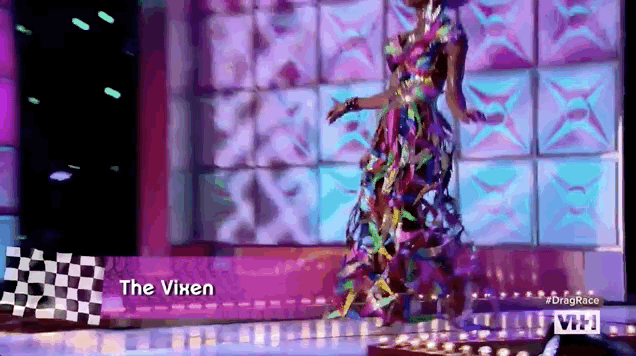 This was most likely the strongest look from The Vixen in the competition. It's clean, beautiful and polished giving us a glitter eleganza extravaganza that none of us expected from her. It is definitely a nice well-constructed dress that is full of colour and really really fun. The hair is a little off for me, but it doesn't detract too much from the overall look.
Aquaria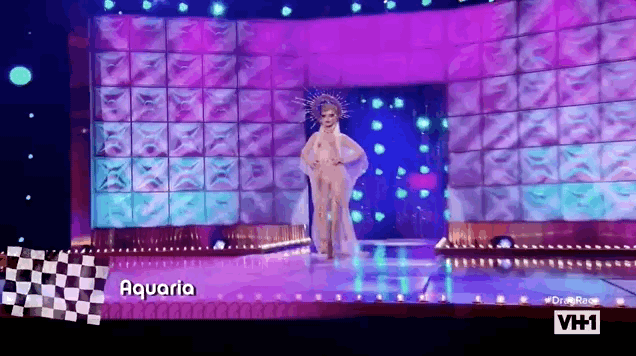 Okay, the bitch is committed, let's get that straight. Her look is polished, and I get glimpses of Aja's look from All Stars 3 in the Andy Warhol ball except BETTER. Aquaria's eyes were covered by veils of rhinestones, she was giving us maximum Catholicism with her golden halo and can we just talk about her body suit… YES GAWD. Brilliant, fantastic, glitter extravaganza and I am completely living for it.
Asia O'Hara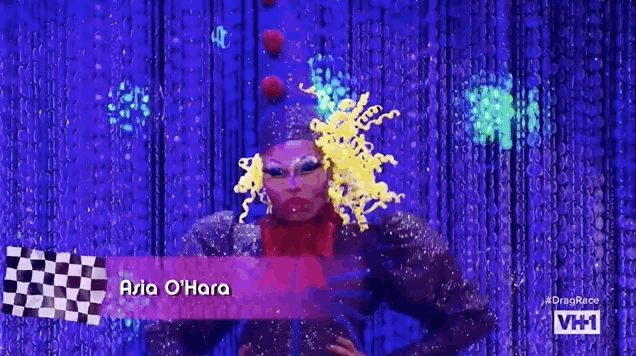 This was fun and fabulous, one of the reasons that I love Asia O'Hara. Like the judges, I agree that her shoe could have been a glittery one rather than the matte-suede that she decided to go for. However, I do think that this is one of her strongest looks. Asia has shown us such versatility this season and definitely deserves to be where she is.
Eureka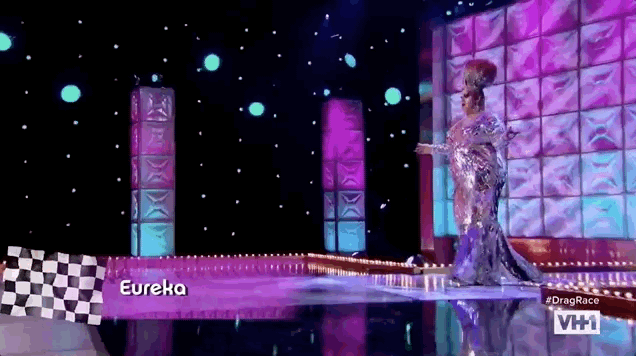 I kind of expected this from Eureka. The overdrawn lines have become kind of meh and her look resembles others she has already worn on the runway. I'm kind of getting bored with it honestly as some of her looks are melding into one and just aren't memorable any more. Interesting choices.
Miz Cracker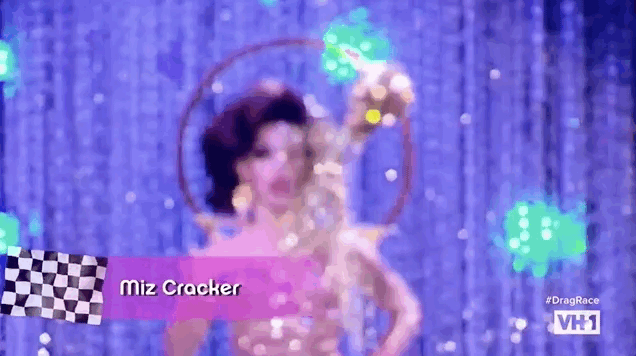 Telling us stories is Cracker's brand and boy was this one… a cracker? Her look is stunning and probably the best of the night. She is sparkling from head to toe in a golden copper dress which was outstanding on its own. The x factor was the ring with the skull which was strapped to her back causing her to appear infested by gold. It was kind of reminiscent of the Greek mythology story of the Mitus touch and is one of the only looks which actually told a story, it truly is one of her most spectacular looks. Everything was turning Cracker and we were living.
The Lip-sync
It was no surprise that the bottom two would be Asia O'Hara and the Vixen. The song? "Groove Is in the Heart" by Deee-Lite which is one of my ALL TIME favourite songs, so needless to say that this shit was gonna go off.
Both gave it their all, however, The Vixen seemed quite reserved after falling into the bottom for the third time. She knew it would take a miracle to save herself from elimination. Sadly, she was not able to save herself and swiftly sashayed away leaving Asia victorious.