It's likely you've heard that the Super Bowl was on recently. I don't know about y'all but I couldn't give a hoot about sport. However, the half time show is something I enjoy annually.  This year the show was shared by Latina pop queens Shakira and JLo. 
This choice in the current political climate of Trump's inherent racism gave the Latinx community some much-needed representation. I was extremely happy to note that all of the back-up dancers for both singers were also Latinx. Unfortunately, some viewers were not as overjoyed as me and have hit out on social media calling the performance 'over-sexualised'.  
If you haven't had a chance to watch the offending show you can do so here.
What seems to have upset people the most is a combination of JLo's pole dancing and crotch-grabbing with Shakira's belly dancing and tongue-wagging, as well as the ass shots of both women. The justification people are giving for being outraged is that it's a 'family event'. 
For example, check out the following tweets:

There are thousands of tweets like this in the Twittersphere right now. I'm just confused about how watching clothed women dance is more provocative than the porn at the tips of your kids' fingers? Or the games like GTA where you can literally murder prostitutes? Or even the ads from the Super Bowl which sometimes promote drinking and betting? I think in reality y'all are just frightened of empowered women who own their sexuality at such an older age than you're comfortable with. I would also like to point out the SKILL and STRENGTH required to dance on a pole or belly dance. These women put their all into this performance and it was spectacular in my opinion. 
Also, the moral ambiguity of parents not wanting kids to see pole dancing when a good amount of these mums pole dance in fitness studios, is hypocrisy at its finest. So it's okay when middle-class white ladies want to pole dance for fitness, but when a strong Latina woman wants to demonstrate her strength and perform it for entertainment it's suddenly not okay? Wow, talk about double standards and racism. 
Now let me tell you something, I can't believe I have to keep saying this, but IT IS NONE OF YOUR BUSINESS WHAT WOMEN DO WITH THEIR BODIES! For those who found the outfits and performance too 'sexy', I've got one word for you: cheerleaders. Yeah, those young fit ladies who wear equally sexy outfits but who happen for the most part to be… you guessed it, white.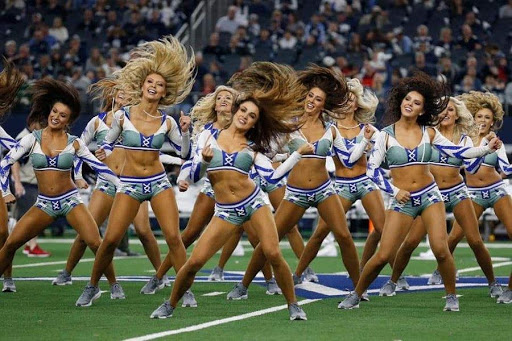 I have no doubt in my mind that if Shakira, 43 and JLo, 50 were white 20-30 something year old's there would be barely a whisper of controversy. Or, let's address the double standard if they were men. In 2019 Adam Levine took off his shirt and performed half-naked at the Super Bowl, and yet 2 Latina pop stars in (let's face it) very average outfits for their genre were too sexy? Hmm… seems like Latinx intolerance to me in the toxic American culture where they are seen as second-class citizens. 
Which leads me to the fact that this half time show was not just great representation for the Latinx community, it also highlighted the current American border crisis – illustrated by the children in cages during the performance. This represents the children being torn away from their families and left in detention centres that have been described as cage-like.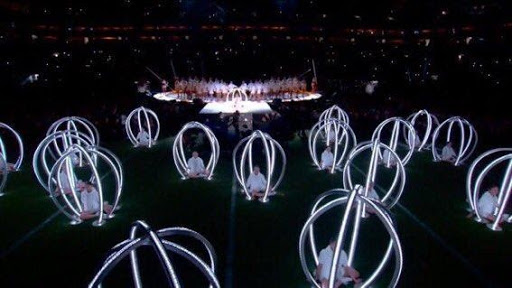 JLo's 11-year-old daughter Emme joined in near the end of the performance. She had to crawl out of her cage, and while she sang 'Born in the USA/Let's Get Loud',  JLo flipped the American flag she was wearing and revealed the Puerto Rican flag. It was a strong homage to remind people that Puerto Ricans are US citizens and their voices deserve to be heard.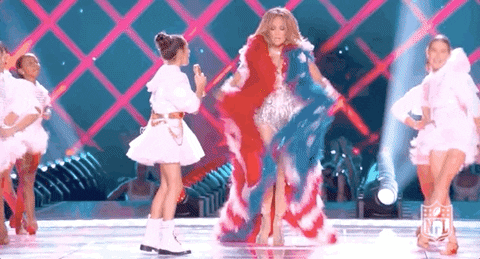 JLo wasn't the only one who had subtle messages in her performance, Shakira was there to represent too. One Twitter user said: 
"You really have to understand how huge Shakira's performance was for the Middle Eastern community. She had belly dancing, a mijwiz and a derbeke, performed "Ojos Asi" which was one of the few Shakira songs to have Arabic in it, did a Zaghrouta, all love on the biggest stage" – @DanielGHajjar
These two women were honestly sensational. High energy choreographed dancing, beautiful costuming, skilled stunts, bold political messages and an overwhelming message of unity regardless of ethnicity. I personally think that the abject racism, sexism, and ageism Shakira and JLo have received from the media is disgraceful. Haven't we as a society moved past dragging down strong women who are comfortable in their bodies and own their sexuality? I think the performance was liberating, and to those who think it brings attention to the sexualisation of women, I hate to break it to you, but two Latina superstars performing fully clothed has nothing to do with the current crisis in sex trafficking where 80% of victims are children. There was no sexualisation of children in the Super Bowl performance guys! 
Let's face it, if Shakira and JLo had come out in something that wasn't sexy, everyone would report that they were prude or not confident enough to show their bodies off at their age or some other total bullshit. Women are judged constantly; our bodies, our clothes, our mannerisms. It's time to stop, other women are just as guilty as men. Don't let your internalised misogyny win – break the cycle and let other women be free to do what makes them happy. 
Feature image source: Showbiz Cheat Sheet