You know those awkward family reunions that happen every few years and then suddenly one year you realise you're the weird relative pinching cheeks and gushing, "Look how big you've grown!" Well seeing Finding Dory thirteen years after the original Finding Nemo film was kinda like that. Except with fish.
And settling down in my seat to finally see Finding Dory, popcorn and drink in hand, this was pretty much me…
Finding Dory endeavours to patch up the hole left in our hearts by those few simple lines: "I suffer from short term memory loss. It runs in my family. At least I think it does… Where are they?" And if your problem with Nemo was there simply wasn't enough Dory (aka the insanely awesome Ellen Degeneres), then this is the film for you! But if you need more convincing: baby Dory, guys. She's a-dory-ble! Taking place only a year after the first film, this time we're on an adventure with Dory as she begins to remember her past bit by bit, setting her on a course to find her long-lost parents. All she wants is to know where it is she came from (I mean where her home is …not like …where fish come from if you catch my drift).
This story really is the missing piece of this franchise and once you see it, you really won't mind the giant hiatus between films. Especially considering the animation is on point! Thirteen years is an eternity in technology and Pixar said creating a realistic and engulfing underwater world has become much easier. Animation buffs will absolutely love the work that has gone into one of the new characters, Hank – a super cranky but secretly sweet octopus. His introduction scene took two years to create!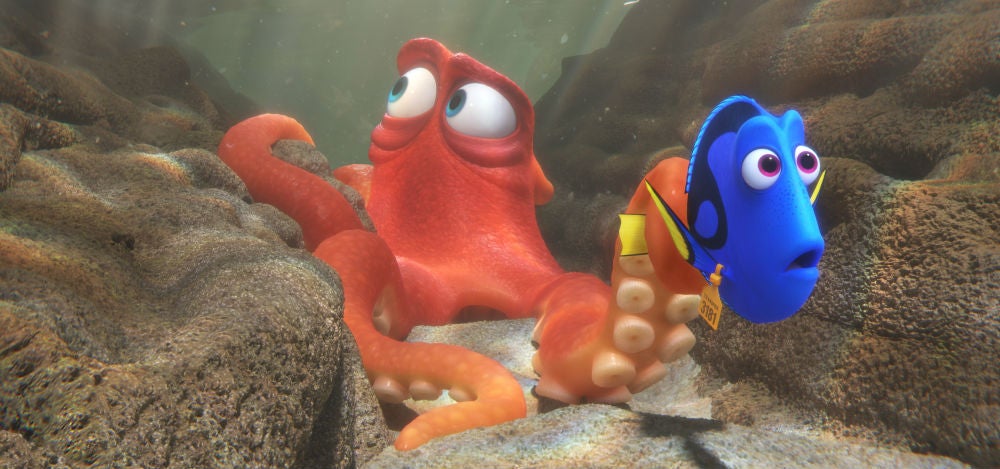 Finding Dory is a beautiful combination of new and old, past and present. There's just enough of a reminder of the previous film to have the twenty-something year olds bouncing in their seats excitedly with some throwaway lines and epic cameos of fan-favourite characters. (I was nine when Nemo came out …this is childhood!) But it's not so much that it completely overshadows the stellar new cast and characters we're introduced to – like Destiny (Kaitlin Olson), Bailey (Ty Burrell) and Hank (Ed O'Neill)! Each and every character has their own charming quirk and personality that fits perfectly in this established world.
The pacing of this film is spot on, keeping you on the edge of your seat in hopes of a happy ending for Dory, but slows down where it needs too for some gut-punching emotion not out of place in Pixar films. While director Andrew Stanton shied away from using too many flashbacks in the first film, they work perfectly here. It's like the audience is experiencing Dory's past at the same time she remembers it, desperate for every little nugget like she is!
This movie will definitely make you laugh, will no doubt bring tears to your eyes but at the end of the day, like with so many other Pixar movies, Finding Dory will leave you with one very important message that everyone – kid, teen and adults – should take note of. Don't let anyone tell you you can't do something! There's always gonna be a way around the adversaries in life. When in doubt, be like Dory and just keep on swimming.