Adam Sandler has been given countless titles throughout his career—comedic genius, SNL legend, and even Hollywood's most bankable star. Not in a million years would I imagine that Sandler could be considered one of Hollywood's most compelling dramatic actors. 2020 saw the release of Uncut Gems in Australia and saw Adam Sandler take on one of his very rare dramatic roles. Uncut Gems, directed by the Safdie Brothers, is without a doubt one of the most engaging films in recent history. From the butterfly effect of wrong decisions made by Sandler's character, Howard Ratner, to the thrill of seeing Ratner make those same questionable decisions but somehow come out on top.
There is something undeniably interesting about seeing Sandler take on this role. From his outstanding charisma as a diamond district jeweller to his stereotypically heavy Jewish-American accent, Uncut Gems sees Sandler transform himself and breathe new life into his career. Two core components aid Adam Sandler in successfully playing Howard Ratner in Uncut Gems. The script, and of course Sandler's commitment to the role.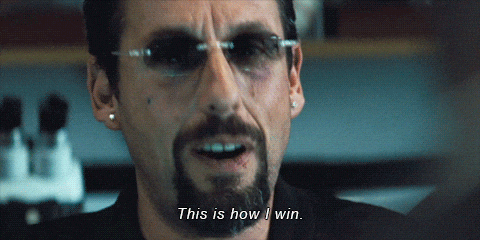 The Script
The Safdie Brother's penned an original script without having to transport viewers through space and time. Instead, they transport viewers to 2012 New York. The script sees Sandler play a diamond dealer who should be making copious amounts of money in his line of work as a jeweller. Howard is as broke as your average millennial, but not because of Uni fees and bills, but because of his insane habits and demons. Sandler's character is in his late 40s and is still hanging onto his youth. He's married with three children yet has a mistress and finances her entire life. On top of that, he still goes clubbing like he's 20 and for some reason brags to his kids that he's having a late night. Instead of sorting out and confronting his midlife crisis, Howard chooses to find a way to make extra money—accepting money from loan sharks and paying back loan sharks by selling other people's jewellery. He inevitably creates countless enemies who want their money and their jewellery back.
Regardless of all these nefarious actions penned in the Safdie Brother's script, Sandler's likeable performance makes the audience feel as though all his actions are no fault of his own, and that any punishment he receives is not justified. Simply put, the Safdie Brother's wrote a script that makes audiences fall in love with and sympathise with a total douchebag.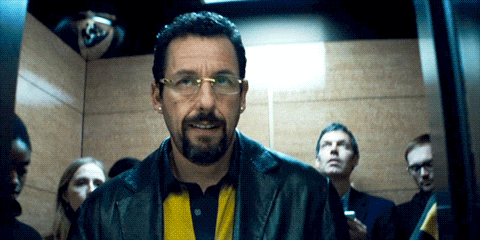 Sandler's Performance
Sandler's performance is an awe-inspiring dramatic acting masterclass.  Sandler in his previous roles seems to play a version of himself and his laid-back delivery in previous films highlights a sense of familiarity. It's almost as though he's been playing Adam Sandler in every film. For the first time since Punch Drunk Love, Sandler seems as though he has been consumed by a role. From his slim figure to visualise a character too stressed out to sit down and eat to his undoubtedly consistent accent (which for the first time doesn't sound like Sandler attempting an impression of an ethnicity). Sandler feels and sounds like an actor engrossing himself so much into a role that he developed this accent, tone and cadence in speech solely for the character of Howard Ratner.
Sandler appeared effortless and comfortable in this role in Uncut Gems. He seemed in place amongst all the drama. In all honesty, everyone I showed the trailer to was left speechless and told me they "don't believe Sandler as a serious dramatic actor." For those of you who think the same, I implore you to set aside a couple hours one weekend for Uncut Gems. You will not be disappointed at the lengths Adam Sandler takes to convincingly transform into a diamond district jeweller from New York who goes by the name Howard Ratner.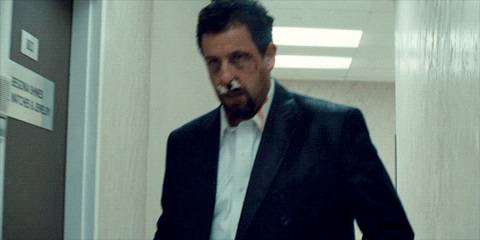 This role was created for Sandler and I personally could not imagine any other actor in the role. The amazing script by the Safdie Brother's along with Sandler's dedication to the role results in one of the most amazing dramatic thrill rides in years. Four words: Go watch Uncut Gems.
Featured image source: IMBD.