International Women's Day is a call to action for accelerating women's equality, with the 2021 campaign theme being 'Choose To Challenge'. A challenged world is an alert world, and from challenge comes change. 
Over the years magazines have played a significant part in impacting and accelerating female empowerment through feature stories and powerful images on their magazine covers. In honour of International Women's Day, Readly has taken a look back at the most kick-ass magazine covers featuring women. 
Glamour College, 1968
In 1968 Glamour featured Harvard undergraduate student Katiti Kironde on their cover, who was the first black model on a cover of a US major magazine. At a time when a nation was in the midst of the civil rights and black power movement, featuring Katiti on the cover was an iconic shift in the fashion industry and America as a whole. This issue remains Glamour's best-selling issue.
More recently, during the course of 2020, Poynter.org reported that in the 90 days following the death of George Floyd while in the custody of Minneapolis police, mainstream magazine covers celebrated Blackness about three times more than in the previous 90 years combined.
Demi Moore, Vanity Fair, 1991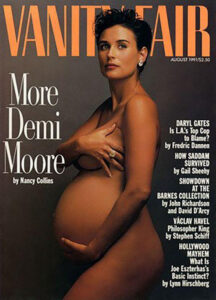 In 1991, Demi Moore's cover photo whilst seven-months pregnant was deemed 'scandalous and 'indecent' by many. It is reported that many retail outlets wrapped the magazine in paper, calling it borderline pornographic. As a result of the cover, a movement started to challenge and change the way people looked at women when they are pregnant, along with a positive societal trend that has made pregnancy photos fashionable.
Anita Hill, People Magazine, 1991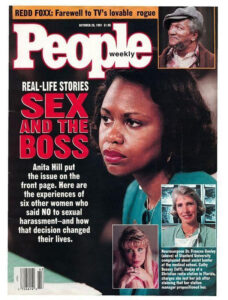 Another cover that accelerated female empowerment in 1991 was People magazine's cover of Anita Hill, who testified in the Supreme Court on sexual harassment against soon-to-be confirmed Supreme Court Judge Clarence Thomas. Because of Anita's testimony, the way workplace harassment was talked about and viewed in America was changed forever. Anita chose to challenge and because People magazine covered the story and placed her on the cover, more women felt empowered to come forward with their own experiences.
Ellen DeGeneres, Time Magazine, 1997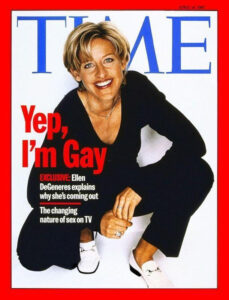 In 1997 Ellen DeGeneres made world news by 'coming out' on her TV sitcom. This was followed up by the cover story in Time magazine which changed the LGBTQ conversation forever. Up until that point there were no female gay lead characters on U.S. television. However, she chose to challenge societal norms and with the help of a magazine cover got her message out to the world.
Dixie Chicks, Entertainment Weekly, 2003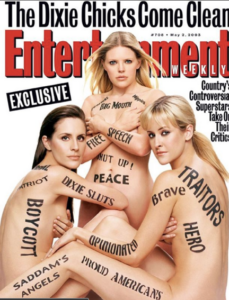 What was meant to be a moment of freedom of speech in 2003, led to a period of hate mail, death threats, radio station boycotts and song bans for the Dixie Chicks. At a concert in London, lead singer of the group Natalie Maines spoke out against then-President George W. Bush, saying "Just so you know, we're on the good side with y'all. We do not want this war, this violence, and we're ashamed that the President of the United States is from Texas."
On a subsequent cover of Entertainment Weekly the band is featured naked with actual comments they received written on their skin. The magazine cover marked a historic moment in music, when women with influence chose to speak their minds and refused to apologise. In 2006 the band released the single 'Not ready to make nice' which was written about the incident and remains one of their highest selling songs.
Are you Mom Enough, Time Magazine, 2012
In 2012 Time magazine sent keyboard warriors into a frenzy with their 'Are You Mom Enough?' cover. There is no doubt that Time crafted the cover to be provocative and controversial, as the article itself is not about Jamie Lynne Grumet, who appears on the cover with her three-year-old son. Rather it is about Dr. Bill Sears attachment parenting theory. Jamie was however approached by Time because of her then blog in which, among other things, she wrote about breastfeeding which included details of her own experiences. The combination of the controversial image couple with the cover story heading made for a powerful magazine cover.
Caitlyn Jenner, Vanity Fair, 2015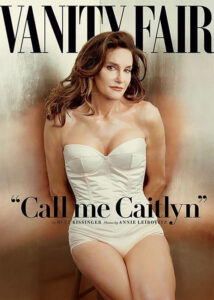 "Wow" was definitely the word on most people's lips when they saw the 2015 Vanity Fair cover which featured newly trans woman Caitlyn Jenner. The cover captured the moment in time when she announced her new name to the world and what a way to do it. This cover goes down in history as one of the best magazine covers for women's empowerment.
New York Magazine, 2016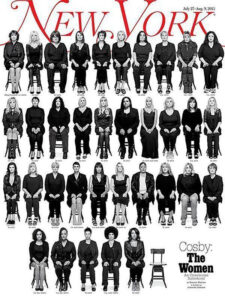 In July 2016, New York Magazine published a haunting cover which featured the 35 women that accused Bill Cosby of sexual assault. The added element which made the cover so striking was the one empty chair which symbolised there were likely more women. It was saying "is this your chair?" A powerful image and magazine cover which remains with you.
The "Silence Breakers", Time Magazine, 2017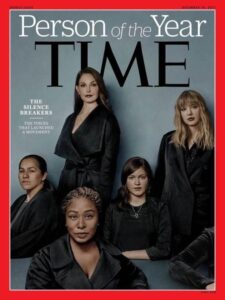 In 2017 Time Magazine's awarded their Person of the Year to women who had spoken out against sexual harassment and sexual abuse in the workplace and to the #metoo movement. The arm that you can see in the bottom right of the cover represents the unnamed women who also came forward anonymously with reports. These brave women spoke out and launched a movement that let women know across the globe that they're not alone.
Breonna Taylor, O Magazine, 2020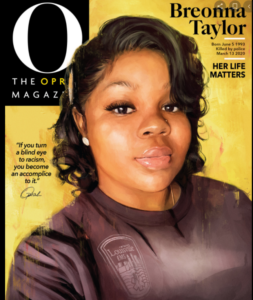 The September 2020 issue of O Magazine featured a cover illustration of Breoana Taylor who was fatally shot by police in her home in March last year. Breonna's death sparked outrage with people calling for the officers to be arrested and charged, along with the start of a #SayHerName campaign. Breona Taylor's O Magazine cover was the first time in 20 years Oprah had not appeared on the cover, symbolising the significance of her death.