Remember how 2016 was the year of reboots? Well, it appears 2017 is heading pretty much the same way. Charmed, originally a show about three witch sisters, will be getting a 10 episode reboot at The CW.
Jane the Virgin showrunner Jennie Snyder Urman, along with Jessica O'Toole and Amy Rardin, are the brains behind the 'reimagining' of the show.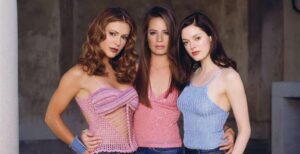 The reboot will be set in 1976. We wonder if this means we'll be getting a prequel!
Alyssa Milano, who starred as Phoebe Halliwell, spoke about the possibility of a reunion previously.
She said, "We are all open for it! It seems like that's going to happen any second. I just feel like with all these reunions, and we still have such a cult following, that I feel like someone's going to put that together at some point, and we're all totally on board for that!"
Stars of the show also reacted on Twitter, wishing the reboot luck.
We wish them well.

— Holly Marie Combs (@H_Combs) January 5, 2017
#Charmed fans! There are no fans like you. You're the best of the best.

— Alyssa Milano (@Alyssa_Milano) January 5, 2017
We can't lie, we are absolutely loving the reboots coming out at the moment. The 90s and early 2000s nostalgia makes us swell up inside with joy. There isn't even a release date and we are already counting down the days.