Graduating is starting to feel like it will be my ultimate demise. My determination to finish is slowly diminishing as the thrill of throwing my cap up in the air and screaming YAASS is being overtaken by thoughts of debt, low job prospects, and full time work. But I refuse to give up: not all hope is lost! I'm focusing on an optimistic outlook, so here are a list reasons why uni has gotten better.
I've decided to focus on the more attractive side of being in my final year, and one of them is not having to try and look attractive at all!
I don't need to stress over what I wear anymore. At the start of uni, fashion seemed to be a top priority as students were suddenly overwhelmed by a lack of uniform. By now I've got a good knowledge of who is in my course and we've decided we're in it together, we've also decided we're going to look like shit too. Sure, I have days where I may want to dress it up because I have no other social life going on. But when I can, I will look like utter crap to remind myself and my peers that I have slept in, done an assignment last minute  'till 2am, and yes, still eat frozen meals #nofilter #naturallook.
Avoiding going out during student nights is far easier.
I love a good night out where a few 'tac voms' are needed to kick on, but by the third year, the mountainous work load you have can be a saviour. The previous first and second year 'no excuses' policy since because you didn't have that much work to do, is long gone! Bring on pyjamas and bed by 10pm.
Final year students live in better housing.
I got my fun out of living on campus for two years, and I'll certainly be crashing at friends' places there on nights I get a little messy. However, I embarked on open house inspections and landed a sweet deal with more privacy, less controversial, and a lot more spacious place (now I can decorate the way I want)!. Final year students may have more work, but we do it in a nicer environment.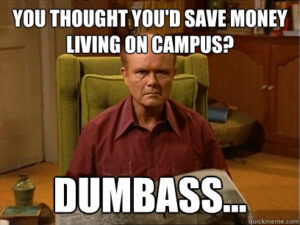 My last year at university is looking to be chaotic with the work load, but still full of the excitement I have looking forward to when no more essays are due. Sure, the possibilities are endless and both positive and negative, but graduation is going to happen anyway. So, I might as well down a shot of tequila and hit the books, because by now I'm a pro at balancing a hangover and a deadline: work smarter not harder.