The spectacular hardcore band hailing from Perth, Cursed Earth, just released a new 7 inch EP (extended play) which boasts two extremely fast, hard hitting tracks that are sure to get the blood pumping and the anger flowing.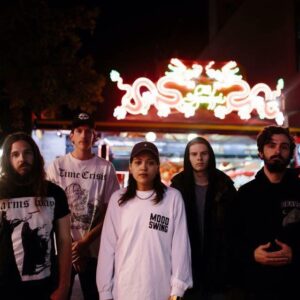 Enslaved by the Insignificant, which released on Jan 29th through Deaths Grip Records in Australia and Holy Roar worldwide, gives new and old fans alike the option to purchase the record on flexi vinyl, which comes in a variety of colours, or to download the songs online. Taking it one step further, the band included their whole discography with the digital download, which have been remastered and remixed. For $8 you get every song this amazing band has ever produced. Does it get any better than that? You can download Enslaved by the Insignificant here.
Cursed Earth are bringing their own style and flair to Australian hardcore and metal and are doing it in some of the best ways possible. Through intense vocals that erupt over the blasting drums and vicious guitars, rife with breakdowns that will leave you hammering the play button.
Read this amazing review by KillYourStereo here.
Support Australian music as much as possible and make it so bands like Cursed Earth can continue to produce amazing tunes for everyone. Some other Australian bands that you should check out are Time Crisis, Justice For The Damned and IDYLLS. 
The support of local bands could also see the growth of local venues as we are in desperate need of more bars and clubs opening up in Sydney and the more support the venues get the more live music we can enjoy.