I've never been much of a thrill-seeker, or a fan of heights. But for some reason, 2020 putting the world collectively through the wringer, really has made me revaluate what it means to experience new and exciting adventures, right in my own backyard. So, when the opportunity arose to test out my new-found adventurous side I jumped (quite literally) at the opportunity to experience Sydney Tower Eye's SKYWALK. Which is the highest outdoor viewpoint (268m) above Sydney, with the CBD directly beneath your feet. You walk across a crystal-clear glass platform, while a friendly guide points out iconic landmarks and shares the best of local Sydney history and stories!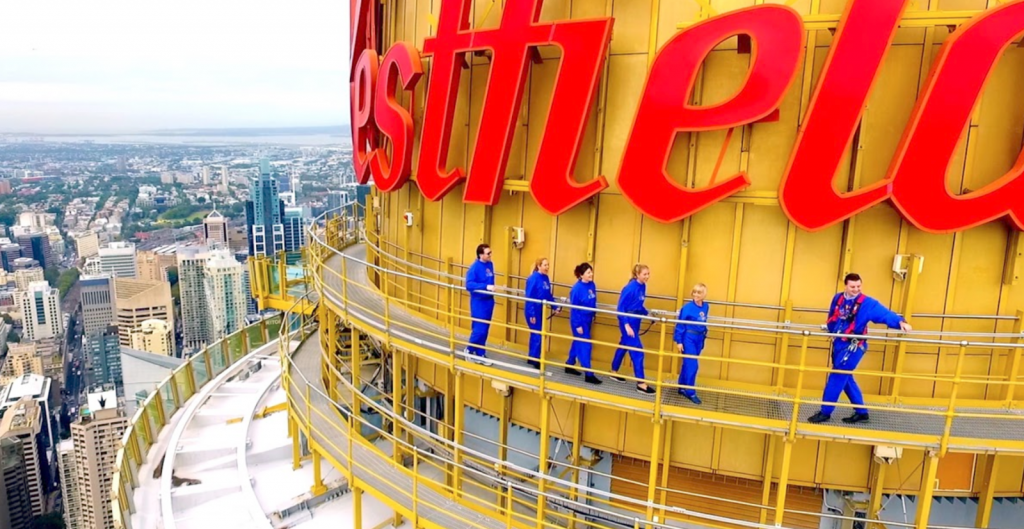 Standing tall above the city skyline, the Sydney Tower Eye Observation Deck and SKYWALK is Sydney's ultimate viewpoint located at the tallest building in the city. With breathtaking 360-degree views of up to 80km! With the CBD directly beneath your feet, it's easy to spot all of Sydney's famous city landmarks, like Hyde Park, Darling Harbour, Circular Quay and the Harbour Bridge. Now the best part you ask? You step out onto a glass floor viewing platform for your very own birds-eye view of the bustling city below.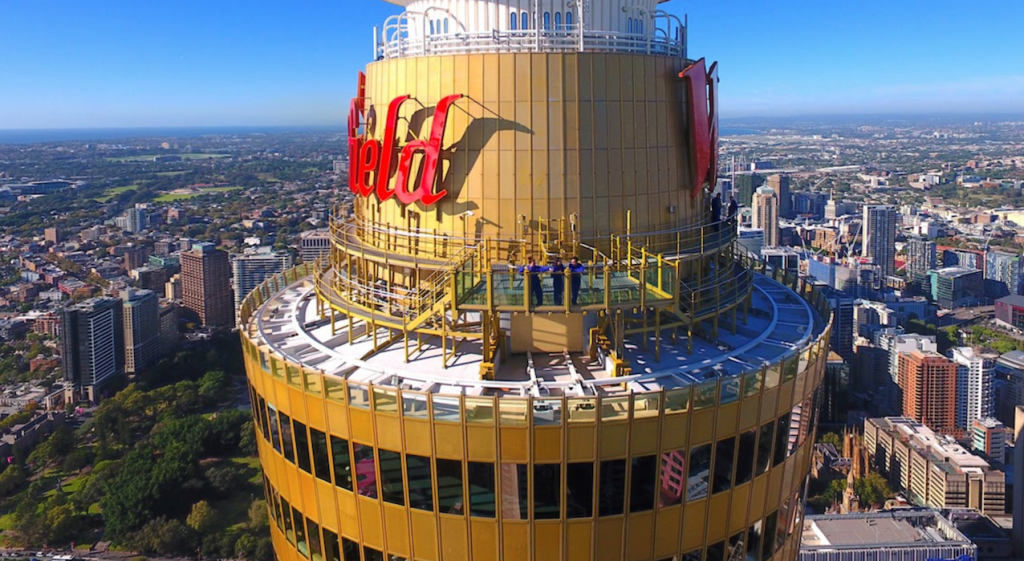 The idea of stepping out onto a glass platform in the open air on the tallest building in Sydney spoke to me in this post-COVID world. Call me a risk-taker because I've run out of shits to give and I'm truly ready to take on whatever life throws at me! Friends, colleagues, and family were quick to judge the SKYWALK and asked me if I had any final words and if my will and assets were prepared (just in case). I thought…what's their issue? It can't be that scary? For someone who isn't exactly thrilled at the idea of heights, I seemed to be the calmest in the midst of the "good luck" storm surrounding me. It now makes me laugh, because I'm here to tell the story, and I'd recommend it to every one of my naysayers because there was nothing scary or daunting about it.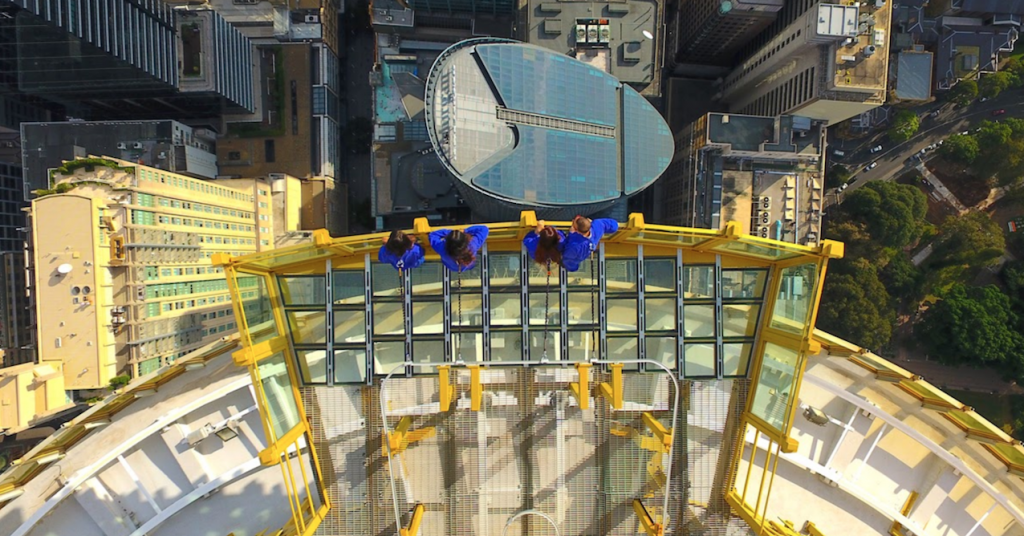 My experience was absolutely fantastic and it was thrilling to take on this adventure on my own! The 60-minute experience includes a fully-guided SKYWALK. I could probably see my apartment from up there if I tried! Being so high up made me see things from a different perspective of just how tiny us humans are to the rest of our surroundings, staring down at the ant-sized people. Not to get too deep, but the clarity and perspective up there really gives you a sense of how big the world is and the fragility of the tiny ant people below. It really made me appreciate the absolutely breathtaking city that Sydney is, surrounded by crystal clear blue water at every angle and the architectural beauty that envelopes the city. Did I mention you can even see the Blue Mountains?!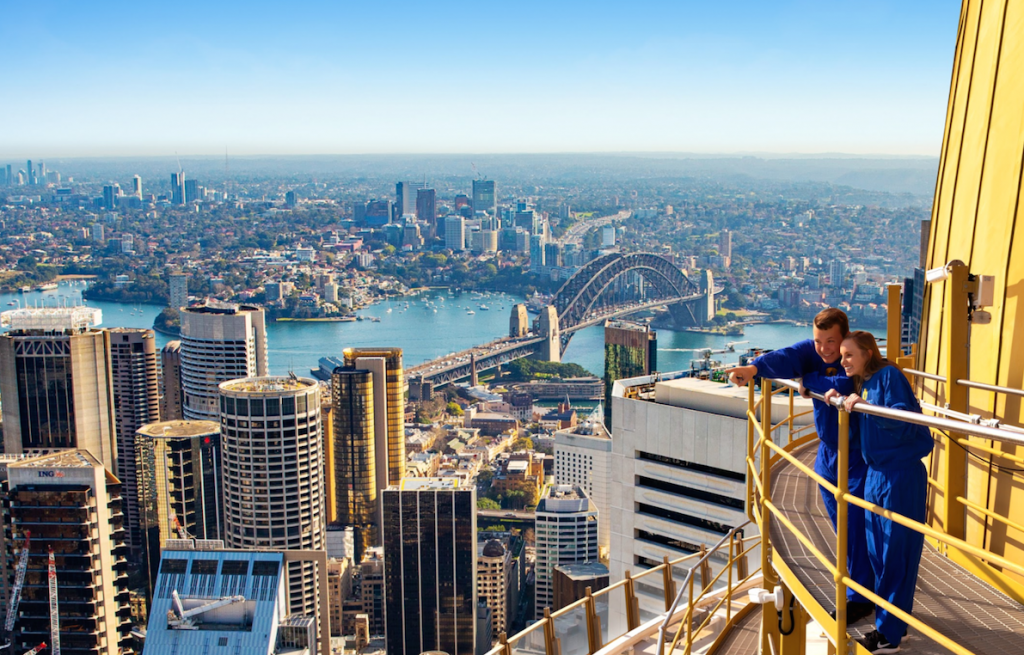 With travel restrictions still in place and international border closures around for God knows how long… I would highly recommend Sydneysiders book their tickets to Sydney Tower Eye's SKYWALK to enjoy and appreciate the beauty of their city from 268m high. It's gonna be a while before we can get out of the country to enjoy a holiday, so make the most of Sydney's sights that people around the world would be envious to see for themselves right now. 
Located inside the Westfield Shopping Centre, Level 5, 100 Market Street, Sydney NSW 2000, you can check out times and bookings here, to experience all SKYWALK at the Sydney Tower Eye has to offer for yourself. You'll be amazed at the exhilarating view you experience when walking around the outside of the tower. You won't regret it!