Here we go again. Bachelor in Paradise is literally a breeding ground for hatred, trigonometry and love. We re-join our Bachelor in Paradise hopefuls where we left off last episode, with Megan Marx entering and Florence having none of it.
Jake the Snake doesn't tell Florence that he hooked up with Meghan before he comes back and sits on a swing with her. We can see hurricane Florence forming and we're all excited to see the destruction that is to come.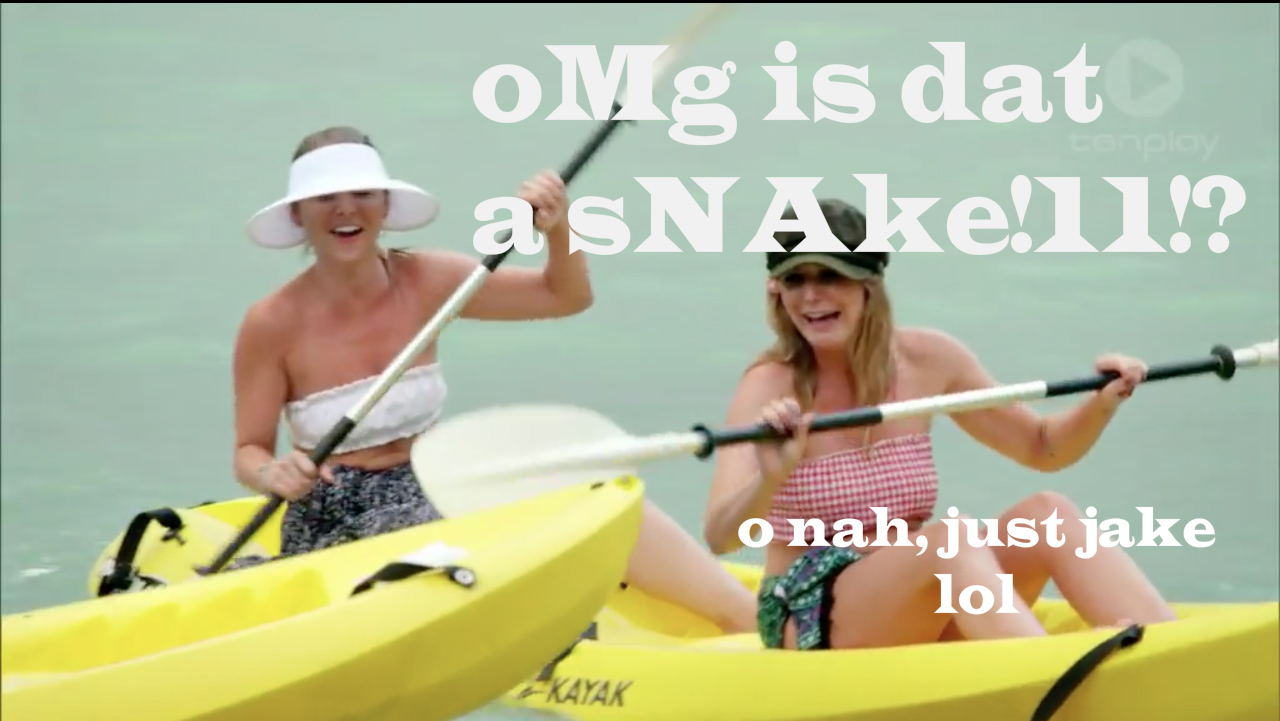 Now it's the battle of the blondes between Ali, Keira and Jarrod. I didn't know this show was about trigonometry because there are so many bloody love triangles that we can't keep up. Signs point to this going downhill, cause some of these fake tans are rubbing off onto Jake's shirt, making Florence suspicious.
Florence the sass monster rips apart Jake and we all really do feel sorry for Flo; she's gotten the short end of the stick twice now. I'm thinking it has something to do with the guys having J's in their name that she goes for.
We then cut to Leah telling Mac that he's not her type but he is, but she likes the look of Michael mixed with Mac but a little bit more of Mac with Michael. Like he is her type, but he's not.
Mac really does enjoy Leah's company and is attracted to her, but he's completely confused by Leah's mixed signals. I have a feeling he's lost the Maccas WiFi password and that's why he's struggling to find a good connection.
We also find out that all the girls like Michael, like not even kidding, ALL OF THEM. Including Jarrod's bae Ali. Okay, we're all a bit confused as to where, who and what these people are doing in this house that is a glorified version of Geordie Shore, but we all eat it up anyways because we want to see Flo EXPLODE.
Jarrod then decides to take Ali on a date which I'm quite excited about. There is cultural dancing and multiple allusions to the Lion King. We are content. We are happy. We are singing the opening song to the Lion King. This is awesome.
They then start white people dancing… Please stop, gouge our eyes out. Anything. Please God almighty.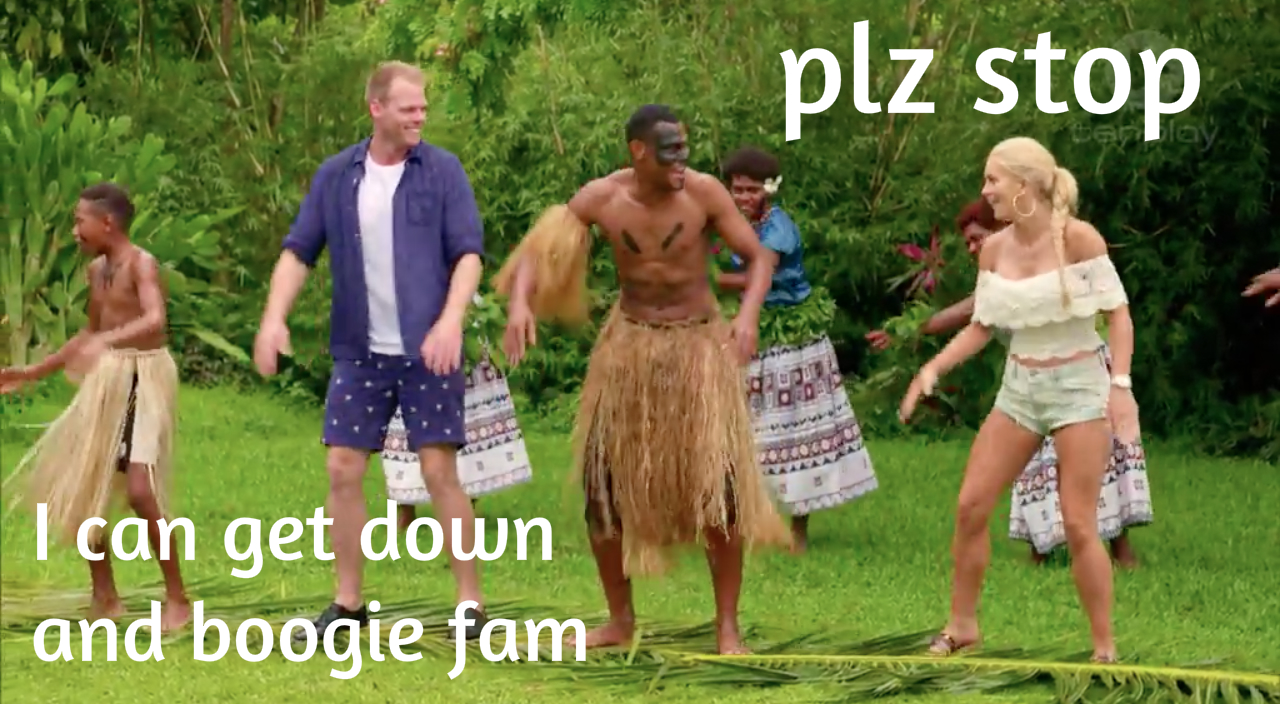 Jarrod's dancing is concerning to say the least.
The Mac and Leah drama evolves into Leah telling Mac that she regrets spending time with him and wants to spend time with Michael. This is completely confusing. Mac, just go down to Maccas, grab a 20 pack of nuggets for $9.95 and she'll be right in your arms, trust me.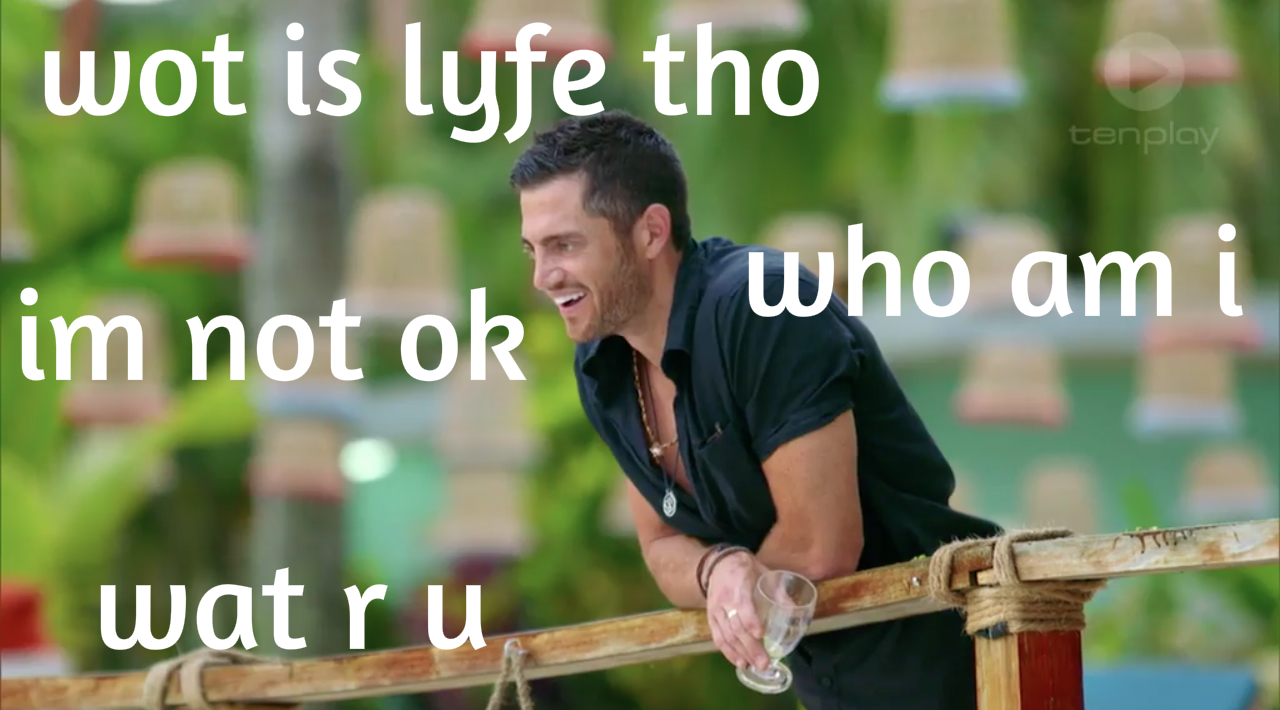 We're then transported to the world of Florence and she is so paranoid that Snakey Jakey won't return the favour and give her a rose. To be honest, Jake seems like, as my mother would say "a slease ball" and I would have to agree with her.
Flo goes on a rampage again, calling Jake a liar while Meghan just sits there being like:
We then get transported back to Jarrod (who looks like he just had a shower) and Ali's date in the Fijian jungle, talk about random shit from their childhood which makes this date seem like some sort of therapy session with Ali. He reeks of desperation and all I can think of are pot plants. If he gives you one Ali, RUN.
We then find out that there is a love square in the mix with Ali, Mac, Michael and Jarrod. At this point we're wondering if this is an episode of playschool learning about shapes or a dating show.
The Florence and Jake arc is quickly coming to an end and we can all see what's going to eventuate in the following scenes. Jake is like a little kid in a candy store who has his father's credit card and just wants to buy absolutely everything. He just seems so ingenuous with Florence and Meghan and basically everyone in paradise.
The girls both see that Jake is a player, but they still bloody go for him. I'm concerned for my sanity and theirs and want to know what this bloody bartender is putting in their drinks, because whatever it is, it's working.
Eden the zookeeper realises that Ali (the lioness) is looking for her next feed being Jarrod, Michael and Mac creating, in his own words, a "cockfight."
Michael also realises he's the most beautiful person on the island and lets Ali know that he is readily available to sign his headshots with autographs.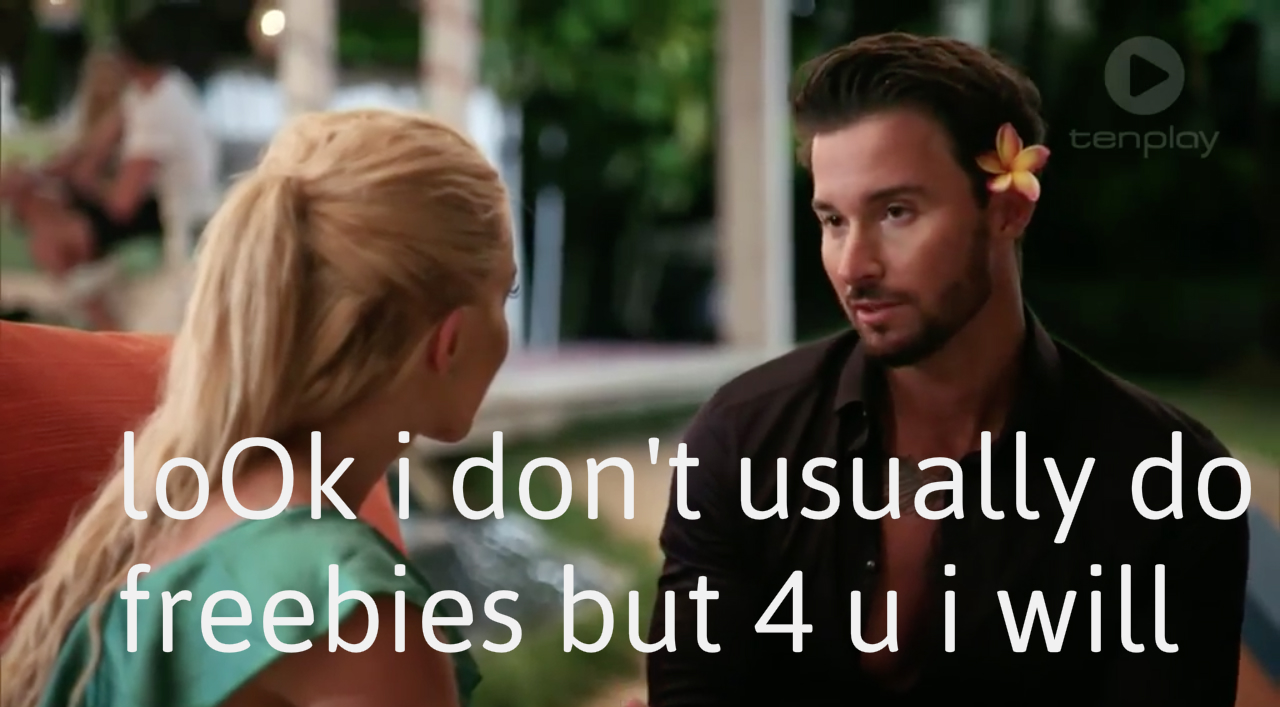 Jarrod then lets Kiera know that he's not really that interested in her. Kiera wants everyone to know that she missed the fried chicken at the buffet, goes back to her room and fixes her makeup. Seriously, we do feel sorry for Keira and we feel like these are genuine tears from her.
Oshkosh then enters the show again and for some reason he's almost only ever in the show to deliver bad news to the singles. To be honest, we're always a little bit excited to see him because pot stirring is fun.
Macca then chooses Ali and WE ARE ALL SHOOK. Most notably Jarrod and Michael. Their faces are priceless and we are all living for the awkwardness they must all be feeling right now.
The other couples get called one by one, being plucked by all the single guys.
Blake then walks up and asks Lenora, oh shit wait, who's Lenora… LAURINA. OMG. SHOOK. Just like completely shooketh. How do you come back from that one Blakey, I'm not sure if he can. It's like calling your teacher mum.
Michael then makes a bold move, the right one in my opinon and takes Leah instead of Florence who we all know will go home. Sleeze bag Jake, then smashes any credibility he could have had in this show and picks Megan instead of Florence. We all expected it, but we wish Flo didn't have to go so soon.
We will miss the storm that is Florence.