Another month, another set of spicy memes to get us through life.
Where did the time go? In just 28 days we had the Winter Olympics, gun law debates in America, celebrity breakdowns and more – and what better way to engage with current affairs than a collection of dank memes to supply us with some quality laughs and giggles? Without further ado, here are the top memes of February 2018:
1. Shady Zendaya
Have you ever given the dirty eye to someone sitting right next to you when they just won't shut up? Well, you and our favourite superstar, Zendaya, have something in common. Our Queen was at the New York Fashion show, seated next to Blake Lively and Emily Blunt. The two ladies next to Zendaya were jabbering away, and our girl was not having any of it!
Zendaya is me around loud people pic.twitter.com/t5OofJ35gJ

— ًًً (@bellaspalvin) February 16, 2018
Apparently, though, it was all a misunderstanding and Zendaya, a mere victim of resting bitch face, says she was just looking at the runway. These tweets are still hilarious, though. I feel Zendaya's stink eye on a spiritual level. GET EM DAWL.
2. Teachers with Guns
Trying to make the best out of a horrific situation, keyboard warriors across the globe highlighted the idiocy of the US government in their lack of gun control. Twitter absolutely flipped out, imagining a world of armed teachers, both fictional and real. The results were somewhat terrifying.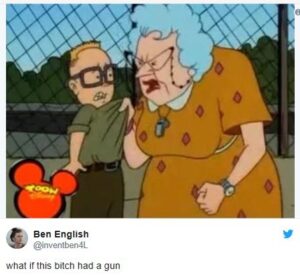 These memes were created after days of endless debate and political attacks over Trumps's idea of arming teachers with guns to thwart school shootings. Needless to say, Miss Trunchbull is destructive enough on her own. She has some endearing qualities I guess, like feeding children chocolate cake, that's about it.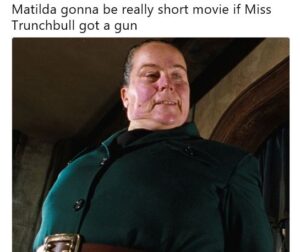 This debate also sparked discussion among teachers as they fought for their right to bear arms in other ways. The #ArmMeWith movement was created to let the world know what preventative measures really need to be taken to protect American students.
3. When the wrong song comes on
Don't you hate it when that song that you don't want your family or housemates to hear comes on while you're in the shower! This can be absolutely disastrous if not dealt with. No, not this time Kendrick. Sit down.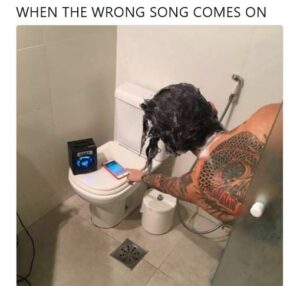 4. Cardi B jamming to Fergie's National Anthem rendition
If you heard Fergie's odd rendition of the American National Anthem you'll understand why this meme is so funny. The footage is actually Cardi B getting down to her own track 'Bartier Cardi' with the sound replaced with various soundtracks and themes. The resulting clips are hilarious.
Cardi B feelinnn Fergie's remix 😭😭 pic.twitter.com/Jw71Oa243l

— Rapchat (@rapchatapp) February 20, 2018
When the seinfeld theme comes on pic.twitter.com/42HOpLbEdp

— Seinfeld Current Day (@Seinfeld2000) February 26, 2018
5. Mario Competes at the 2018 Winter Olympics
Wait – hold on a second. Is that our favourite plumber at the Winter Olympics competing for America in Curling? Matt Hamilton is definitely the plump Italian's doppelganger.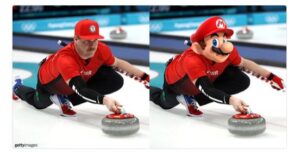 This crazy coincidence strung
a plethora of Mario-inspired memes, including a few from the Mario and Sonic Olympic Games franchise – which was so fitting it hurts. Hamilton even got in on the action. He posted his own meme to his personal twitter page. His fans and the twitter-verse were beyond impressed.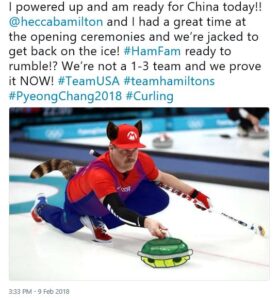 6. Shirtless Tongan Flag Bearer
Tongan athlete Pita Taufatofua competed in taekwondo back in the 2016 Rio Olympics and came back to cross-country ski in Pyeongchang. He was appointed as the bearer of his country's flag and carried it into the chilly arena (0.5 degrees Celsius) for the opening ceremony shirtless, oiled up, and in traditional dress. Because of the temperature, the crowd (and everyone at home) was duly impressed with his – very aesthetic – topless efforts. I don't even leave my cocoon of blankets if it's 15 degrees outside!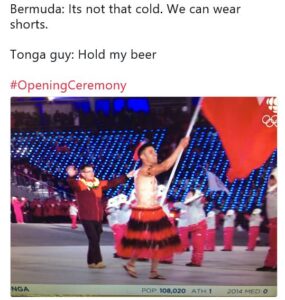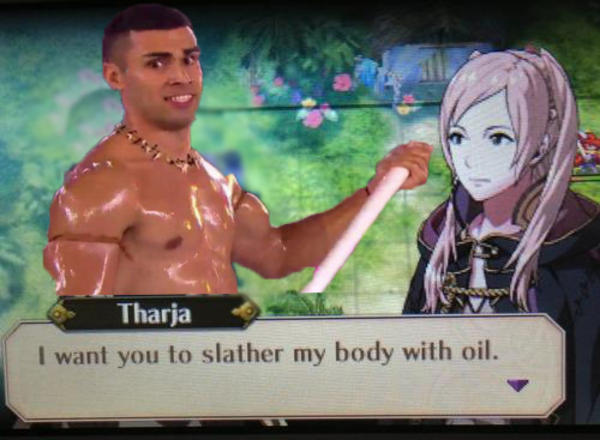 7. Cardi B at the Grammy Awards
Does Cardi B really need an introduction? Of course not; she is utter perfection.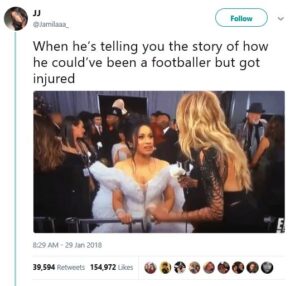 That's it for February 2018, summer and the Winter Olympics. If truth be told, this month's collection was a little milder than January's scorching tide pod trend (because we all love clean eating), but we have high hopes for March!