Stranger Things star, 13-year-old Millie Bobbie Brown, made Insider's "worst dressed list" following the MTV Movie and TV Awards. Brown, who plays Eleven on the Netflix hit, was described by Insider as looking "comfy but lost in a shapeless white dress".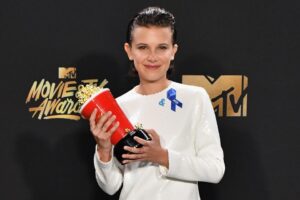 The incident prompted a social media outcry on the sexualisation of children in the media. Brown is only 13-years-old; her sequined white dress, from the Calvin Klein by Appointment line, and spunky cowgirl boots are perfectly age-appropriate. Femail Fashion Finder also disagreed with Insider;
"We love that Millie has deviated from traditional sandals as it gives her outfit a real fun factor and it's the perfect overall look on the young starlet."
After her red carpet appearance, Brown donned two additional accessories before she walked onstage to receive the award for Best Actor in a Show for her portrayal of 'Eleven' in Stranger Things. The first was a blue ribbon, which demonstrated her support for the American Civil Liberties Union. She also wore a pale blue pin to advocate for the Gay and Lesbian Alliance Against Defamation movement.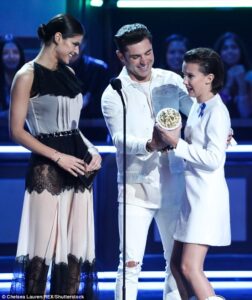 Her Stranger Things co-stars also wore pins on stage when they received the prize for Show of Year. Season Two of the show is scheduled to debut on Halloween this year.
History and research have shown that child performers are at a higher risk of developing self esteem issues and mental illness. They are often overdeveloped in the sense that they are exposed to the vastness and scrutiny of the world at a young age. Therefore, it is imperative that we let our young actors be children; Brown wearing a "shapeless dress" shouldn't be criticised by the media.