October is my favourite month of the year, not only is it my birthday month but it's also Halloween! 
I know in Australia we still have a lot of people spouting that tired, old saying 'this is Australia not America, we don't celebrate Halloween' rhetoric, but to them, I say BOO, stop being so boring and go get spooky. To help get you in the spooky mood here's a list of some of my favourite movies to binge while waiting for All Hallows Eve to arrive. 
1. Hocus Pocus
This is my Halloween tradition. Ever since I was 12, I make sure to watch this movie on Halloween and nothing brings me greater joy than quoting all the words! Go join the Sanderson sisters as they attempt to suck the lives out of the children of Salem. 
2. The Nightmare Before Christmas 
Some would argue this is a Christmas movie at its core, but I argue that anything with Tim Burton as the director is 100% Halloween. Plus, Jack and Sally are so precious as if you can resist giving this old favourite a re-watch. 
3. The Witches 
Who else was terrified of the grand high witch when they were kids? Based on the classic Roald Dahl book by the same title, this movie is a nostalgic throwback to a time before fancy CGI took over the entertainment industry. 
4. The Craft 
A cult favourite with feminist undertones that reminds us not to mess with powerful women! You'll need to brush up on the 1996 movie to prepare for the sequel The Craft: Legacy coming out late October! 
5. IT
Either the original or the 2017 remake are acceptable during the spooky season. What's scarier than Stephen King's Pennywise the child-eating clown?  I wouldn't walk anywhere near the stormwater drains in the street as a kid and honestly still leave myself a wide gap between them and myself.  
6. Carrie 
Another Stephen King book adaption makes the list but this one has 3 remakes to choose from 1976, 2002 and 2013. This movie has everything you need for Halloween, psychic telekinesis powers, a bucket of pig's blood, mass murder – you know, the usual Friday night shenanigans for teenagers. 
7. Corpse Bride 
Directed by the king of cute and spooky movies Tim Burton, The Corpse Bride is the right amount of quirky, fun, with undertones of melancholy and a boisterous bunch of dead people.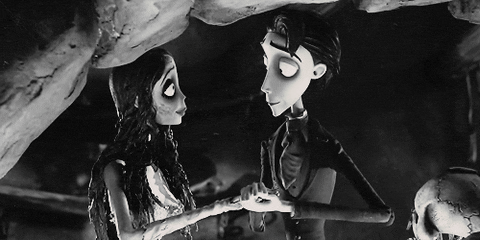 8. The Addams Family 
The original family who lives breathes and dreams in Halloween. Morticia and Gomez are relationship goals and Wednesday Addams can be my best friend any time. You have a lot of content to choose from here too there's the original movie from 1991 and a remake in 2019 both based off of the legendary spooky TV show from 1964.
9. Beetlejuice 
I mean, I think you can tell Tim Burton is my favourite director at this point. Beetlejuice is a PERFECT Halloween movie. Ghosts, poltergeists, a haunted house… need I say more?
10. The Shining 
A list of Halloween movies would be incomplete without Stephen King's The Shining. A fan favourite horror movie that honestly needs no explanation. Plus, those twins? Creepy AF. 
There are so many other fantastic Halloween themed movies and shows, let us know your favourite to watch to get in the Halloween spirit in the comments!