2017 is set to see the further development of VR as a sexually-charged experience.
Porn has been with us every step of the way in regards to technology. With a growing interest in VR, it's no surprise that adult content is in demand. While not a new concept, teledildonics allow us to engage in sexual activity remotely from a technological device.
Popular cam site CamSoda has experimented with VR, and launched in August last year a VR platform that allowed viewers to interact with performers via teledildonics. The President of CamSoda, Daron Lundeen, said:
"We want to provide our users with a unique experience that constantly stimulates their imagination."
Virtual reality sex has been acknowledged in the media for some time now. As far back as 2013 Bustle reported on FriXion, a company that produces robot-assisted sex toys to assist long-distance couples with intimacy. Through the use of haptic devices, FriXion allows stimulation from actions as small as hand-holding to sex; it markets itself as "an intimate experience straight out of science fiction and for a retail price of less than $200."
Other devices have emerged over the past couple of years, from the Tesla Suit to the OhRoma, which has gone as far as adding scents to really spice up the VR porn experience.  The adult industry is growing tentatively, but is looking promising with a variety of toys making their way into the market. Just recently, Terpon SA, a Swiss startup, commenced development of VR webcams specifically for the adult industry. The CEO of Terpon believes that recorded adult content is "dying" due to the amount of free content available. Therefore, the move towards live-cam and adding 3-D content, "is something different they'll pay for."
Even Ian Paul, the CEO of Naughty America, told UploadVR there has been a steady flow of new customers to VR porn experiences.
"New revenue attributable to VR is up 350% year over year, and this year we now plan to offer integrated support for smart services toys from companies such as Kiiroo that offer haptic feedback in sync to the video."
What does VR mean for the adult industry? Total immersion. You can become your own protagonist in the video because of 360 viewing. The experience becomes up close and personal. VR will improve the quality of image frames and depth of field as the industry moves to manipulate its content. As technology evolves, so will the experience.
"This connection to the person on the other end – knowing you are controlling or someone is controlling your device and what you are feeling- is a powerful psychological experience that users will start to embrace as part of the expected VR interaction," stated CAM4VR Co-founder Ela Darling, whose company utilises VR live-sex cameras.
While these changes won't all come at once, Claude Artonne, CEO of Terpon claims,
"This heightened experience will only continue to evolve and mimic real life interactions as more and more companies penetrate the space and introduce cutting-edge technology that defies boundaries."
But what about ordinary relationships? Why is virtual reality sex something that needs to happen? Well, the potential for sexual intimacy in VR is huge. Toon Timmermans, co-founder of teledildonics company KIIROO believes that this technology will heighten intimacy between people and improve sex.
"There are some people who lack the ability to be physically intimate; due to distance, disability etc. Adding teledildonics and Virtual Reality gives them an outlet to explore what had never been possible until now," he says.

"We see several positive implications: Improved sexual health and immunity, lower blood pressure, pain and stress relief and improved sleep are just a few of the aspects of our lives that are improved. We become happier and thus, the psychological implications become more positive."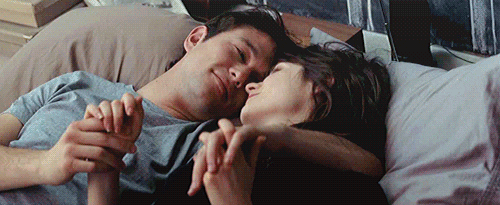 The potential for VR to close the distance between people, emotionally and physically, would be a total game-changer. Imagine being able to hold your lover's hand or kiss their face when you're on opposite sides of the world. Or, if you're disabled, being able to be virtually intimate with your partner. While teledildonics is still working on developing more haptic and body connecting enhancements, it will eventually become commonplace according to Ghislaine Boddington, creative director at body>data>space. She also believes that in order for teledildonics to succeed, it needs to be able to achieve the "enhanced orgasm" – "the potential for extended bodily pleasure."
With so many different forms of touch, it's easy to see how VR can also create an emotional and intimate connection. But what is the future of sex? With the move into virtual reality, sex will become hybrid, an act that can take place physically and virtually depending on one's situation. VR simply opens doors for more immersive and intimate connections online, whether it be with porn or one's partner.