Get ready witches, Netflix's The Chilling adventures of Sabrina brought us all the spooky Halloween vibes we were craving last October. It was just the right amount of spooky to watch in the dark and be able to sleep later that night. The teen dramedy takes place in the town of Greendale as a half-witch, half-mortal Sabrina Spellman (Kiernan Shipka) embarks on batshit crazy adventures with her friends, family, and cat at her side. On her sixteenth birthday, Sabrina is forced to make a life altering decision of choosing between her mortal life or to sign her soul away in the Book Of The Beast and become a full blown witch – which *SPOILER ALERT* Sabrina does – to save her beloved friends and town! Phew, THIS SHOW IS GOOD. With so many questions hanging since we last saw the town of Greendale in the Christmas Special, we can only anticipate what is ahead when season 2 drops April 5.
Warning: Riddled with spoilers from Season 1!
Source: YouTube (Netflix UK & Ireland)
In the much darker trailer for season 2 we are teased with a sexier, more confident, and fiery Sabrina covered in blood, casting fires, spells, setting demons on a light and kissing Nick Scratch; along with Father Blackwood mentioning "levitation, the slaughter of demons, and resurrection of witch's" all in Sabrina's first year at the academy of Unseen Arts!
When season 2 drops we can be sure to expect lots of witchcraft, a new love triangle, and what life will be like for Sabrina after signing the Book of The Beast. Before you start binging, let's get into the juicy titbits we should remember and what we hope to find out in season 2. PRAISE SATAN! SABRINA IS BACK WITCHES!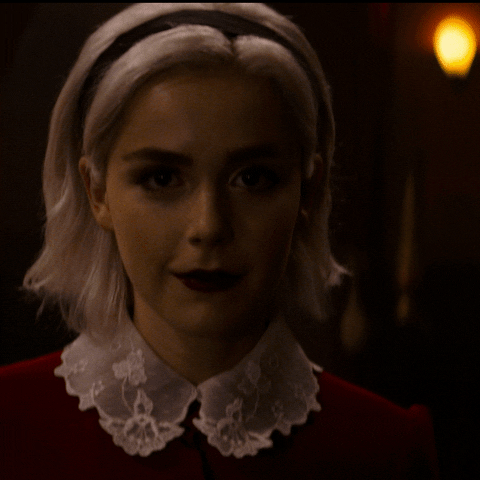 Sabrina's love triangle with Harvey and Nick Scratch
The love triangle you've been waiting for between good boy Harvey Kinkle and bad boy warlock Nick Scratch will finally come to fruition! EEK! Looks like Sabrina will have to not only choose between her witchy-self or human-self, but her love life as well. Will there be a showdown between the love interests? Will Sabrina have to choose? Will Harvey fight to get Sabrina back or will he let her go and live out her satanic destiny with Nick? There are so many juicy possibilities to find out! Like, maybe Nick's down to share like he said season 1. The mortal and warlock BF.
How will Sabrina's dark powers change her?
In episode 10 of season one, The Greendale Thirteen were hung and rose again for bloodlust on the town by summoning the Red Angel of Death to kill all first borns in the town of Greendale. Sabrina brings it upon herself to fight and save her town by signing her soul away and taking The Path of Night. Her new gained power kills the witches and sends the Angel of Death away, saving her town but bringing on a new dark power within Sabrina we have yet to see. Will Sabrina call to Satan's every beck and call now that she has gone to the dark side?
Kiernan Shipka told Bloody Disgusting in an interview:
"Sabrina's life takes certain turns and certain decisions she makes inform the second season…Sabrina definitely changes and shifts a lot. Her growth is very evident and the second season definitely has a different spin on it than the first season. They're very different from each other."
This is leaving us to wonder just how gruesome and life altering season two will be for our favourite Greendale characters.  
Will Sabrina use her new dark powers for good?
We saw Sabrina dabble a little with the dark side on season 1 when she befriended The Weird Sisters – Prudence, Agatha, and Dorcas.
They band together to punish mortal boys from Baxter High for tormenting Sabrina's friend Susie. We see Sabrina enjoying the power to punish these boys and work together with the Weird Sisters. Will this continue into season 2 now that she has followed The Path of  Night? If so, will it be for Sabrina's own benefit to once again help those she loves? Or will she use her power and friendship with the Weird Sisters to hurt and torment with dark intent?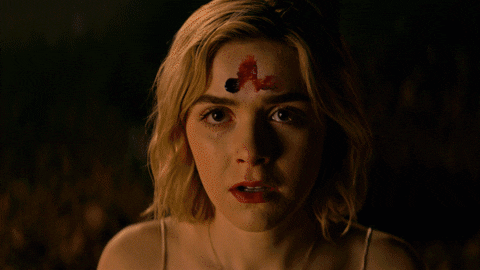 How will Aunt Hilda, Zelda and Ambrose react to Sabrina's dark side?
We know from season 1 that Aunt Zelda wants nothing more than for Sabrina to follow the Path of  Night and sign the Book of the Beast; which leads us to believe she will be thrilled with Sabrina's new path. Aunt Hilda and Ambrose, however, may want the old mortal side of Sabrina back. How will the family react and deal with the satanic shenanigans Sabrina is bound to stumble upon in season 2? Will they come together as a family to stand up to any evil in their way, or will they abandon Sabrina when they see the true nature she may develop?
What does Father Blackwood, Mrs. Wardwell and ultimately Satan have planned for Sabrina?
We see Father Blackwood and Miss Wardwell plot together in the whole of season 1 to ensure Sabrina signs the Book of The Beast as being directed by Satan himself. We have yet to know the reason behind their dark bidding against Sabrina.
Perhaps the reason they are so invested in Sabrina taking the Path of  Night is to please the Dark Lord. What is the motive behind this move and why are Father Blackwood and Mrs. Wardwell carrying out his bidding specifically on Sabrina? It's all very curious, and we have a feeling it's leading to a reveal of demonic proportions!
Will there be a Riverdale Crossover?
Fans of the popular Archie Comics will know that showrunner Roberto Aguirre-Sacasa is behind turning the Riverdale, and CAOS comics into these two TV shows. The town of Greendale is just right across Sweetwater River from Riverdale, meaning the shows are ultimately taking place in the same fictional universe! We can't help but wonder if one of the Riverdale characters will wonder into Greendale and experience the spooky town's witches for themselves.
Ross Lynch who plays Harvey answered fan theories when he was asked about the possibility of a crossover. He shared with ELLE:
"Man, people really, really want these shows to collide. I'm about it. Like I think that would be fun… We'll see. I don't have any information about it."
There was a sneaky mention about Riverdale High on CAOS' season one, so we just have to wait and see if some familiar faces make an appearance in the new season!
How will season 2 be different?
In one word, darker. There seems to be a lot of character growth and development with each character taking on a more mature narrative, and coming into their own with all the satanic drama they've had to deal with in season 1. You witches better be ready for a spooky ride, new season drops April 5 on Netflix.