It has been a decade of gags, death drops, mouth pops and gentlemen starting their engines. Here we are, in Season 10 of RuPaul's Drag Race, with 14 of the hottest, campiest and fishiest queens yet. Squirrel friends, we're in for a bumpy ride because these gals are 10s across the board!
We saw not only the premiere, but  an extra  20 minutes of glorious sass! Even though AS3 finished last week, I've still been having withdrawals after the horror finale. The shade, the shade of it all!
When the season starts off, we see that the workroom has been refurbished. The broken mirrors have been uncracked after Shangela didn't make the top 2 in All Stars 3 (we'll never forget). Eureka from Season 9 is back, with her iconic fiery phoenix look!
The procession of queens then follow, with Asia O'Hara working those southern fringes as the "superstar of Dallas, Texas", high up in the drag pageant circuit. Miz Cracker (if you're nasty- and she is disgustingly good), previously known as Breanna (bree-on-a) Cracker, is serving us high class hair in fish bowl realness. She truly is "thin, white and salty" and we are all living for it.
Yuhua Hamasaki is up next and she is living my Japanese geisha fantasy, all while being "fucking fierce". She looks stunning with her parasol, kimono and face beat for the heavens. It is sickening. Another one of my favourite entrance looks was Blair St Claire. Simplicity sometimes beats being over the top, and in this case it worked well. Our Broadway diva extraordinaire is definitely going to be one to watch.

Monet X Change then waltzes into the workroom with a broom to "sweep up the competition" with her drag being eclectic and eccentric. Finally, the first muscle queen EVER walks into the room and I'm literally gagging. Kameron Michaels is EVERYTHING, so fishy, so handsome, so everything. She is serving us extremely feminine body builder who isn't afraid to cut a bitch who pushes in front of her at the clinic. She's my top.
Mayhem Miller walks through the door and we are all stunned. What a queen! Her red dress is giving me a mix of Kennedy Davenport fishy pageant realness. She truly is "the queen of the party." Queen number nine is Kalorie Karbdashian Williams. She fits the family name, as her ass is padded to the gods. Once Kalorie is done twerking, it's Monique Heart and all we can think is, 'Damn, there are some fishy queens this season!' She's stunning from head to toe. I wonder how her head is. Dusty Ray Bottoms struts in and looks like she's a bit lost after her Mum took her to ballet class. Not my favourite aesthetic or look. The Vixen arrives next, showcasing
her political and artistic sensibility and proudly representing Chicago's scene.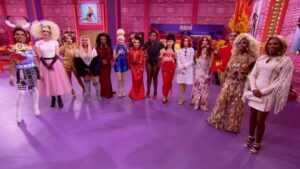 And BAM – Vanessa Vanjie Mateo walks in as the drag daughter of alum Alexis Mateo. Her bubbly personality is so endearing and her comments are downright hilarious. Lastly, we are introduced to Aquaria. She's the confident queen who is tipped to win the whole competition, serving gender-bend realness. This look also wasn't one of my favourites, however.
All the avenge- I mean drag queens – have assembled. It's time for the first mini challenge! 10 years in the making, this challenge features all of our favourite queens from previous seasons, including Bob, Kim Chi, Detox, Jujubee, Raven, Chad Michaels and Jinx Monsoon, to name a few.
Monet X Change got her dollar bills in at the right time because she absolutely shit all over the runway and killed it to win the mini-challenge. These other hookers had better watch out.
Now, I think we were all speechless when Kameron got out of drag. I mean, WOW. Who wasn't shook when he stepped up to the plate? Not me, I'd be eating that up ALL DAY for breakfast, lunch and dinner. Mhm mhm, what a meal. I think Kalorie summed him up well when she said "I found my new crush, with a K."
Blair looks like she's 12 years old and Yuhua has trouble telling the black queens apart. Miss thing is completely confused by all these queens out of drag. Okaurrrrr.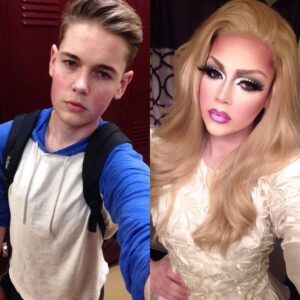 Ru then tells the girls they are going to be creating the classic 'Drag on a Dime' look. Remember that moment from The Hunger Games when they run for the cornucopia? Yeah, that was the girls rushing to get all of these cheap ass supplies.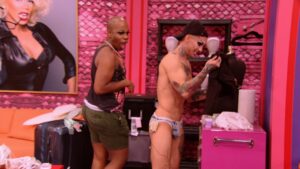 While the girls are getting ready for their runway, the tension between Aquaria and Cracker reaches a pinnacle as they both paint similar faces. They've been compared before, so the tension is pre-existing. I'm feeling the Alyssa and Coco ark coming. I mean Jinx was present in this episode, so it could be monsoon season and I am here for it.
We are then ushered to the runway and these queens have absolutely outdone themselves. Most notably, Blair, Yuhua, Cracker and Mayhem look incredible – my tops all day, every day. Blair is serving high fashion sun-shade couture with a modern day space mother realness. Yuhua is looking sexy and dangerous in her caution tape which was a "bonk!" in my books. Cracker was cracking me up with her solemn blue look after working with very few materials.
After the runway, we find
out that based on their scores, Dusty, Cracker, Yuhua, Vanessa, Blair, Kalorie and Mayhem represent the tops and the bottoms of the week. Then, Ru decides to gag us again! She says another queen is entering the mix, and it's Farrah Moan. Wait, no. It can't be. Oh, it's just Christina Aguilera serving Farrah Moan realness! Slay my queen, slay! She quickly joins the judges to critique.
They start by shooting Kalorie's look to smithereens. Apparently her creativity and design skills with the money she used just weren't enjoyable to look at. Blair's look was outstanding, though. Christina called it chic. Poor Dusty's was not so chic. The dots on her face were nots for Michelle and her head piece looked like an antenna. This look for me was out of this world bad.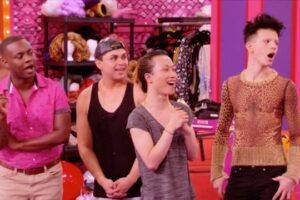 Mayhem's glove look gets raves across the board and we are all so thankful for her success. Vanessa's personality shone, but her shape was lost inside her dress and daffadidn't poppy enough for the judges. Caution because Yuhua is going to be dangerous in this competition! The real barbie on bath salts, Miz Cracker, is safe after serving one of the most extravagant looks and faces in drag race herstory. We came for the face and we are definitely staying for the crazy.
After a quick deliberation, the judges award Mayhem Miller with the first win of the competition and decide the bottom two queens are Kalorie and Vanessa. In my opinion, Dusty's look was more disjointed and didn't work as well as Vanessa's, but who am I to judge?
So, the two begin to lip sync for their lives to "Ain't No Other Man" by Christina Aguilera. Kalorie absolutely kills it on the runway! Balancing the perfect amount of camp by shaking her money-making ass, and then throwing dollar bills out of her bra and making it rain all over her. We are all eating her up! In this situation, Kalorie is the 10-pound Black Forest Cake and Vanessa is a low carb energy bar. I think you know where this is going.
With gags across the board for Kalorie she got a "shantay you stay" and eliminated Vanessa.
And BAM! Goodbye Vanessa Vanjie Mateo. You will be missed Miss Thing. BAM! Another one for good luck.
Which queen this season are you living for?