Last week we said goodbye to Dusty Ray Bottoms after a fierce lip-sync. Monet is all shook up after winning her spot to stay in the competition and sits down with the girls to talk about untucked, in which The Vixen and Eureka were throwing some real shade, girl. Eureka is a big girl with an even bigger personality, she loud, she proud, and she gonna stir up some shit when she gets the chance. The Vixen obviously enjoys confrontation, so when Eureka came for her and Poke's The Bear™ all hell broke loose.
To try and diffuse the tension for another drag filled day, The Vixen decides to bury the hatchet, in her backyard, without Eureka's knowledge. Now that we think about it, she probably stole the hatchet from Eureka. Basically, The Vixen is ignoring Eureka.
Starting a new day in the workroom, Ru lays down the mini challenge. The girls have 15 minutes to get into quick drag with the theme of enlistment into America's Drag Army, "Fierce Military Drag Queen." These mini-challenges always have the girls looking ratchet as fuck -but it's a time for the girls to be silly, weird and coo coo crazy!
Commander @KameronMichaels tell us more about operation booty blaster? #DragRace pic.twitter.com/kNrOpRW11P

— RuPaul's Drag Race (@RuPaulsDragRace) April 20, 2018
The Vixen wins ANOTHER mini-challenge after enlisting in the Drag Army to stand up for resting bitch face, fighting off the haters with tongue pops and eye rolls. This bitch is ready to FIGHT! This we had to see. We find out that she has won the power to assign the girls into pairs for this week's maxi-challenge. Girllll, do things get shady.
The pairs flow smoothly until The Vixen gets to Eureka and Aquaria, slamming them together like sardines in a tin can. We are going to see some fire today because, from the looks of it, this team is going to burn down to the fiery pits of hell. Miss Vanjie will greet you well ladies!
Vixen assigns the other teams as follows: Monet and Kameron, Blair and Monique, Cracker and Mayhem, Aquaria and Eureka, with Asia going with Miss Vixen. How lovely.
We find out that the maxi-challenge will be to improvise a comedic scene which is set in the world of a trashy, cheap, conflict-heavy daytime talk shows which are Jerry Springer and Oprah-esque. Ross Matthews steps up to centre stage as he is introduced as the host of The Bossy Rossy Show! We can't wait to see how this turns out.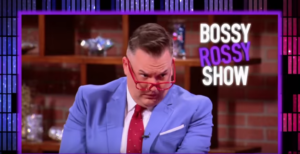 The show begins with Blair confessing her love for her prick of a husband, Lloyd. Did we mention that he was a cactus? "I Married a Cactus" starts with a great southern bell from Oklahoma, Blair, who just wants the adoration of her husband. We later find out that Lloyd had been cheating on Blair with another woman. Enter Monique, throwing shade, stealing mans, getting pricked, snatching wigs and Miss Vanjie-ing the house DOWN. Her performance was EVERYTHING, she slayed the talk show, Ross and Blair. The pairs 'Vanjie' safe word turned it out to steal the show completely. We were on the floor, laughing our padded asses off.
Next up was Monet and Kameron. This challenge should've been a cake walk for Monet. She even brought a bloody cake to The Bossy Rossy Show with her! It's a shame that her cake walk couldn't rescue her performance in the challenge. Monet was slow, sloppy and everything that a cake really shouldn't be! "My Freaky Addiction is Ruining My Life!" turned into Kameron stealing the show with her panty sniffing addiction while Monet was just kind of sitting there, chewing away at her hip pads. Not classy.
Mayhem Miller's performance was average and, let's just say, we think she'll be in a pickle come runway time. The "Save Me from My Deadly Fear of Pickles!" segment is now upon us. Mayhem's entrance was quite strong but then quickly fizzled out into a sour and salty pickle induced laugh fest when Miz Cracker entered the mix. Cracker was armed with perfect pickle puns for their segment and best of all, she was THE PICKLE. She sticks to her brand of crazy and it completely works in this challenge.
Pun game, so strong rn. #DragRace pic.twitter.com/GrCGJ9gatc

— RuPaul's Drag Race (@RuPaulsDragRace) April 20, 2018
Our televised Aquaria and Cracker conflict is now upon us with The Vixen and Asia serving, well, not much. It's like paying for a full buffet and all that's there is some pasta and ice-cream. It wasn't good. It was giving me shit-smeared TV realness. There was no allusion or relation to Aquaria or Miz Cracker, which is  definitely a missed opportunity of the two queens.
Lastly, we have "I'm A Very Sexy Baby" with Aquaria and Eureka. They are giving us horny sex baby realness with all the drama that a tiny baby should bring. Tantrums, crying, fighting, the sex babies were brought, and they played the idea for all it was worth.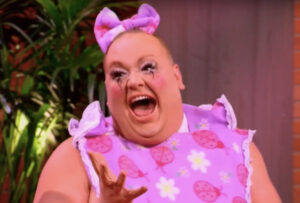 Their diapered sex costumes gave us so much camp and comedy that we just couldn't stop laughing. Surprisingly, Aquaria remained consistent in this challenge and supported Eureka brilliantly while Eureka absolutely stole the show. There's only room for one sex obsessed baby in these parts.
Bring it to the runway! Denim and Diamonds extravaganza! This runway was lit, shining, euphoric. It was EVERYTHING and more. My tops and bottoms are:
Tops
Miz Cracker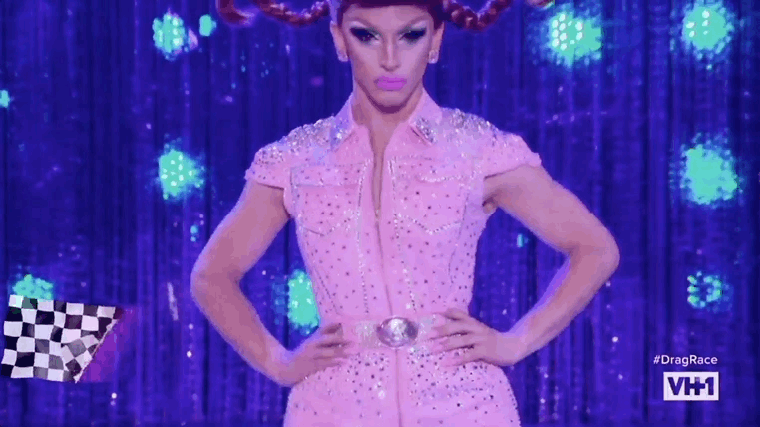 Stunning, Sexy, Stupid. This bitch knows how to work it with those diamonds and denim with a whole lot of camp. She reminds me of Hannah Montana before she got her big break in Hollywood and the judges are LIVING for it as well. Giving me young redneck Bessy realness.
Aquaria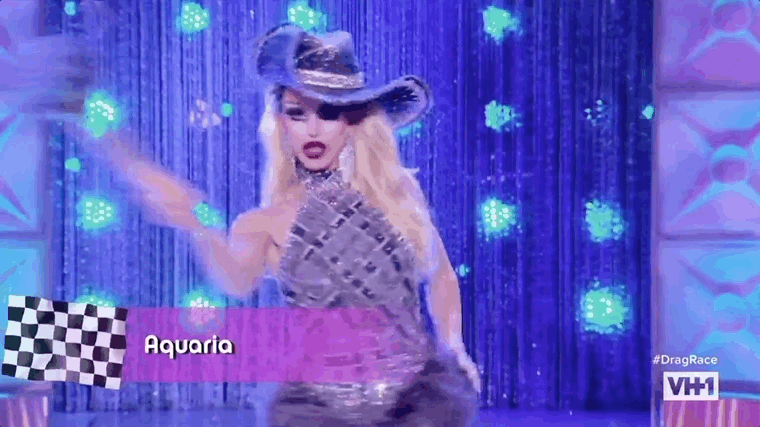 Denim? Check. Diamonds? Check. Saloon girl with a 'throwp' fan realness? Ding ding ding we have a winner! This look is absolutely incredible, I love it. I need to see where I can get that fan because it is my favourite thing ever. Yassss Aquaria, slay that runway girl. The cowgirl aesthetic really suits her.
The Vixen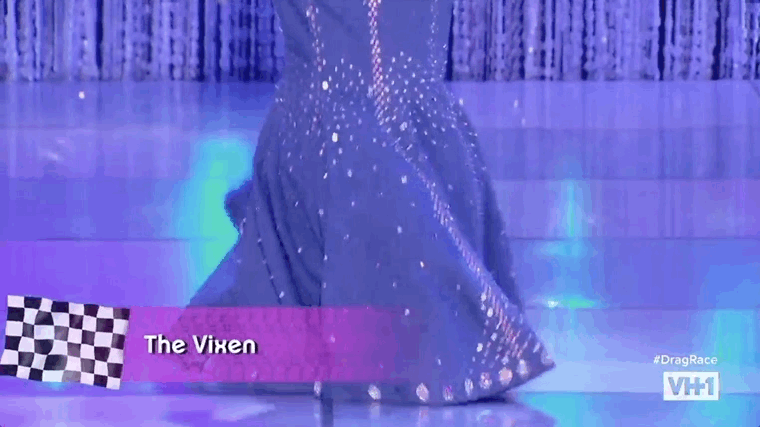 As of late, The Vixen has actually been turning out some pretty good looks and this one is no exception. It is reminiscent of a mermaid from the 90s who got up out of the ocean and tried on some denim. It was booed by the judges for not being an OUTSTANDING look, however, it was still beautiful, clean and classy. Well done.
Bottoms
Blair St. Clair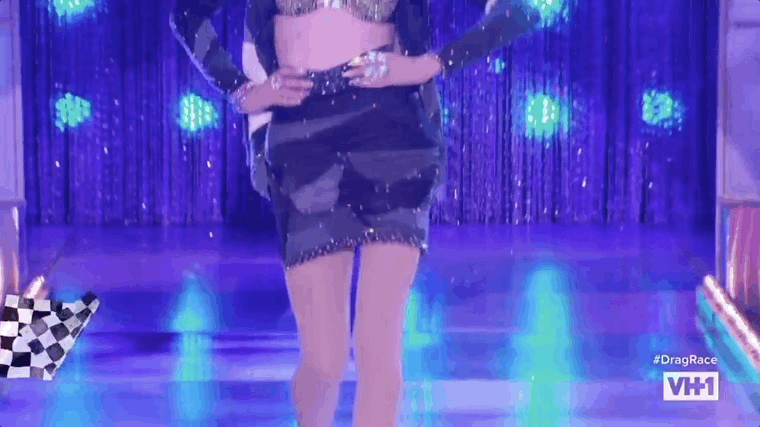 It breaks my heart to say, but I just don't think this look was on par with some of the other girls this week. I understand that she is giving camp, big hair and big personality, but it just wasn't enough for me. The multi-coloured skirt looks gross and the diamond bikini is a no-no.
Asia O'Hara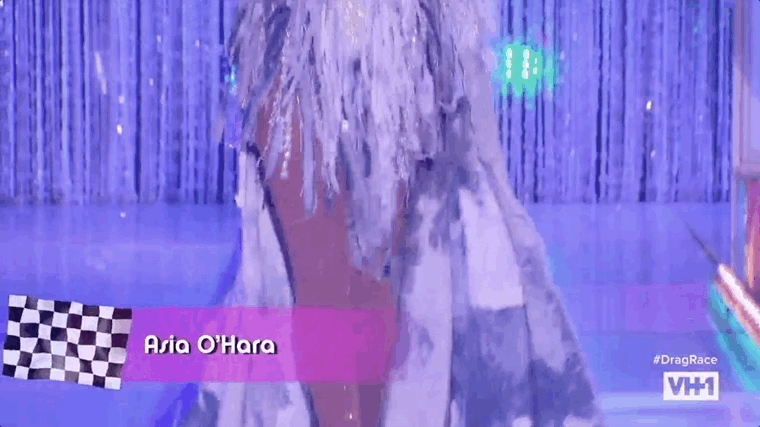 There was just too much denim. Her makeup wasn't the best, the body suit didn't really do anything for her body line and there was just way too much fringe for my liking. Props for the denim shoes though, they look better than Kalorie's from the premiere. Oops, shade.
Mayhem Miller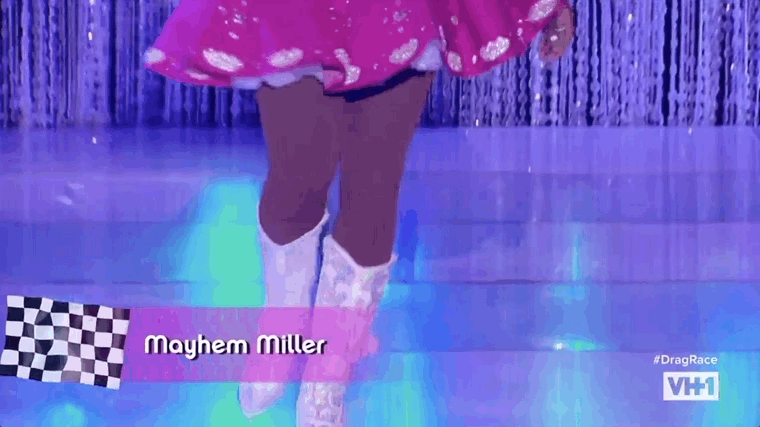 Mayhem's look tonight was just like her performance in the challenge, quite bland with not enough seasoning. She felt kind of undercooked in this runway, not being on par with the other ladies and standing out quite a lot. The pink didn't do her any favours in this circumstance and led her straight into the bottom two.
So, our bottom two this week are Mayhem and Monet, and boy were we in for a fierce lip-sync. Both have proven their skills in previous episodes as their passion for drag and this competition come to a pinnacle.
Both girls give it their all, however, Monet gives us references, comedy and bang on lyrics which Mayhem just cannot compete with. In the end, Monet chanteys and Mayhem sashays away.