Sugar-free ice-cream brand, Denada, has been making waves at our local supermarkets. The all-natural desserts – that come in a range of flavours – are just as delicious as they are naughty-free.
This month, Denada celebrates 1 million tubs of sugar-free ice cream being sold in Australia in just under three years. 
In light of their success, Chattr sat down with the founders (Charlotte Haygarth, Jayde Taylor and Sophie Lawrence) about how they started up the ice cream brand, some business highlights, and their personal favourite flavours!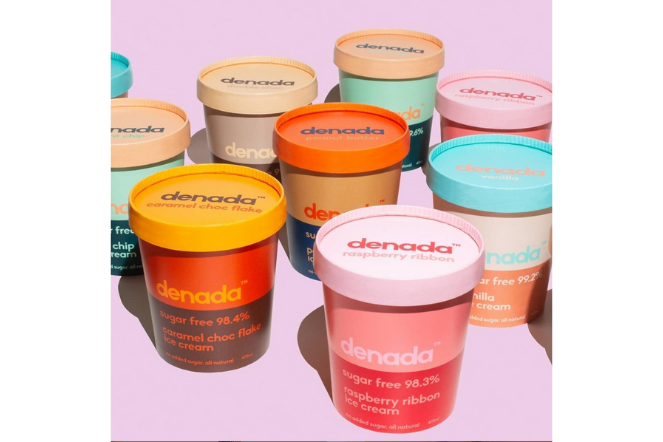 When and why did you guys start up Denada?
Charlotte: I had studied and worked for a couple years in New York and after coming home to Perth I decided I wanted to pursue a healthy lifestyle. Quitting sugar was a part of that pursuit which led me to experiment for hours in the kitchen with all types of sugar-free recipes. One of the things I really missed going sugar-free was ice cream and there was no sugar-free product on the market, so when i landed on the recipe for what is now Denada I had a feeling that it was something that other people would also want. I brought the idea to Jayde and Soph in late 2017 and together we worked out how to commercially manufacture, brand and market it. Within four months we had launched our first four flavours in a few local supermarkets in Perth. The three of us are united in the belief that no one needs added sugar in their diets but everybody deserves dessert!
Jayde: Upon finishing my hockey career, eating a high carb, low-fat diet; my body really struggled with the sudden drop in physical activity, which is only normal when you retire from being an elite athlete.  My weight was more difficult to manage and I knew something needed to change.  Through mutual friends, Charlotte and I became close and I really admired her passion and knowledge when it came to diet and nutrition and particularly the sugar-free movement.  I started my journey and learnt the ropes, I loved the way my body responded to removing sugar and high carb foods from my diet so when Charlotte brought the ice cream idea to me, it was a no brainer. 
Not only was the product sugar-free but it was also low carb and I knew there was a growing community of people following a low carb, ketogenic nutrition that would LOVE this product, so I was all in for bringing the Denada product to Australians ASAP.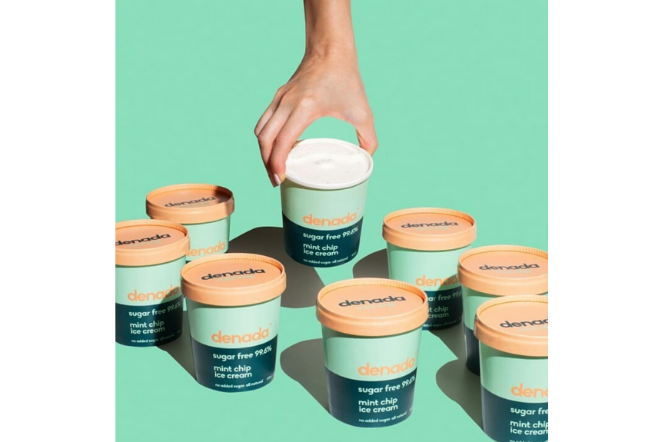 Is Denada seriously all-natural? 
Charlotte: Yes! Part of the challenge in creating Denada was not only that I was making it without sugar but also that I didn't want to use any artificial sweeteners or flavours and I wanted to keep the ingredients list as clean as possible.
Anyone can put sugar, chemical emulsifiers and cheap ingredients in ice cream and make a product work! Denada is made with only high-quality ingredients and we sweeten it with a naturally derived sweetener called Xylitol. Xylitol is great as it doesn't spike blood insulin levels which is beneficial for diabetics. In fact, one of the real joys of Denada is being able to see diabetics enjoy ice cream again.
Can you share some brand highlights?
Sophie: This month (February 2021) marks three years since we sold our first Denada tub at a local store in Perth and in the same month we have just surpassed 1 million tubs of Denada sold. We can't believe we have gone from 0 to a million in three years.
Our biggest highlight so far has definitely been getting the Coles contract after only 12 months on the market.  We also then later doubled the range from 3 to 6 flavours in October 2020, which was huge for us. Expanding the range meant that the product was selling and so customers were really loving what we were doing. It is so great to see such a positive response to the sugar-free product. We were told early on that a sugar-free ice cream was not going to sell, especially at a premium price point – so it's nice to think we have proved that person wrong!
What flavours are available? And which are your favourites?
Jayde: We currently have eight flavours all in a 475ml tub format.  Six flavours are available through Coles – Double Choc, Mint Chip, Peanut Butter, Vanilla, Caramel Choc Flake and Raspberry Ribbon.  We have two plant-based flavours which can be found in independent retailers around Australia – Salted Caramel and Espresso Choc Fudge. My fave at the moment is the Caramel Choc Flake.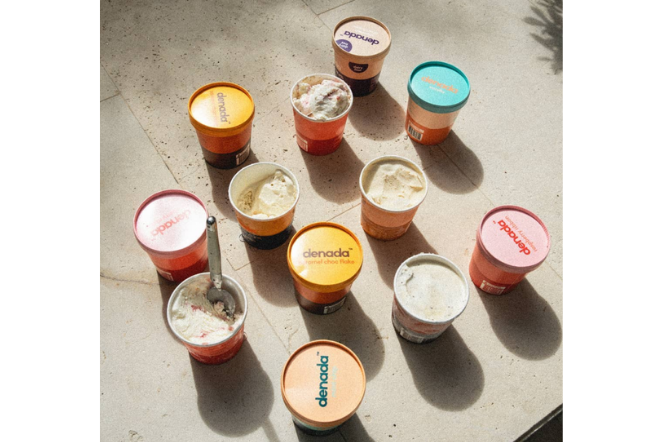 Charlotte: Making an all-natural sugar free ice cream is hard work. Some flavours just don't work as I have a super high standard when it comes to the taste and texture of our product – it has to rival the full sugar version otherwise IU wouldn't put our name on it. So for me, it is really hard to pick a favourite because each one is a labour of endless trials and love. But if you made me pick then I might say our Peanut Butter.
Soph: My favourite is our Denada Double Choc which is also our biggest seller. It's hard to believe this chocolatey, creamy masterpiece is a healthy option – but it really is.
What flavour do you want to try next? Tell us in the comments below!