Optus has found us a new way to get closer to our favourite singers – without having to brave a crowded, sweaty mosh pit!
Closer is an original new series which shines the spotlight on global artists in their most relaxed and honest environments. It's a beautifully authentic insight into the lives of celebrities we only know from the stage and red carpet.
The series launched this week. It aims to bring Australians 'closer' to the artists they've come to love. It gives us access to the moments which would normally be reserved for that artist's family and friends. We can now get a homely taste of the real lives of these artists, and experience their true personalities.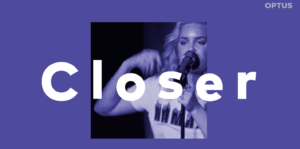 Corin Dimopoulous, Optus' Head of TV and Content, says the series will help to expand Optus' entertainment services:
"We created this original series as another addition to Optus' music and entertainment portfolio. We're delivering engaging content that can be streamed on the move, which is what Australians are looking for more and more."
The launch of the series is the latest demonstration of Optus' commitment to creativity and to bringing Australians closer to the music they love. Optus also provides its customers with data-free music streaming of Spotify, Google Play and iHeartRadio.
Internationally-renowned singer, Anne-Marie (most well-known for her multimillion selling summer anthem with Clean Bandit, Rockabye), features in the very first episode.
We experience the artist both in her relaxed home environment and within an intimate gig, where she performs her song Heavy for the first time. Anne-Marie also talks about her personal feelings, including her daily anxiety, which she overcomes through music.
Artists will also launch the content via their own social media platforms – so keep your eye out!