Breaking news: your social life is not over! Who knew? 
Melbourne Central has got all your self-isolating needs covered with the launch of MCTV — a virtually lead entertainment program where art, lifestyle and culture collide. 
In a bid to bring the urban community together in new ways, MCTV connects Melbourne Central's dynamic customers to the local retailers, musicians, artists and creatives they know and love, to discover. The fresh vertical has featured an incredible panel of popping personalities so far including Melbourne-based writer Alyce Greer, Sephora's national artistry lead Alphie Sadsad, and musical artist Al Parkinson.
The virtual channel boasts an ever-evolving program of gigs and how to's, with local partners and emerging talent; from their living room to yours.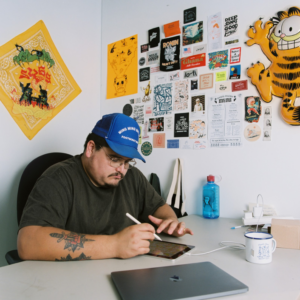 So, what's on the MCTV schedule this week?
SATURDAY 30TH MAY: Drawn Together — tune in LIVE to Melbourne Central's Instagram to watch Marcos Diaz transform plain simple words into a meaningful illustration.
Melbourne Central fans have been busy submitting their favourite quotes via Melbourne Central's website. On Saturday 30th of May, Marcos is going to work his magic and recreate the winning quote into a magnificent illustration, which will be available for purchase with all proceeds going direct towards the artist.
Whether you're known for your creative flair (or not) you're guaranteed to learn a thing or two from the emerging artist.
Keep your diary free… A new MCTV schedule will be released each week on Melbourne Central's social channels (Instagram @melbournecentral and Facebook @melbcentral) and website.