You're blindfolded and left in the dark, gripping onto the shoulders of the person in front. Deprived of your senses, you find your footing and are led somewhere unknown.
All you know is that you have to escape before time runs out.
You open your eyes and you're in a laboratory. You search around to find a trail of eerie clues. You learn that a deadly virus has become airborne. You're infected and the time is ticking.  If you don't find the antidote and a way out of this room you won't survive.
Okay so it's not as dramatic as this.
If you haven't heard about the 'escape room' trend that's been gaining popularity recently (they've actually been around since 2006), then here's your next adventure sorted.
Escape rooms are physical and interactive games where players are locked in a room. Players must work as a team to discover and solve a series of clues and puzzles so that they can escape the room within a set time limit (usually an hour).
These games vary in difficulty, and have a variety of themes and settings.
Recently, I played the Viral Outbreak game at  Ultimate Roomscape in Perth. I'm now hooked, I have to do them all.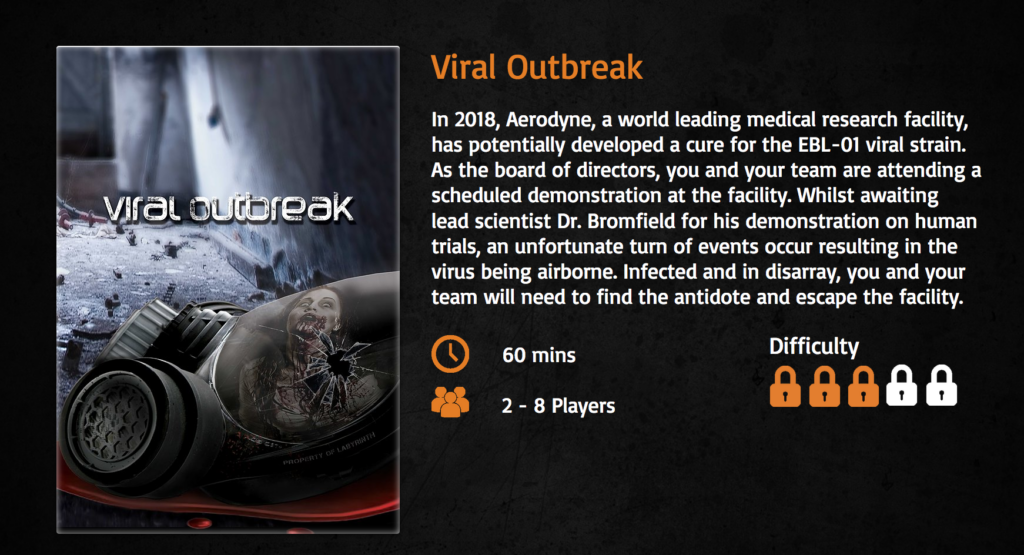 Of course entertaining ourselves with escape rooms isn't a new phenomenon; they go back as far as 1988 and first appeared as PC games. Since then, many variations have been created and suited to different modes of technology. Escape rooms have even been made into a TV show.
The sheer physicality of escape rooms adds to the experience, making the game so much more immersive than a PC game. These rooms contrast the new norm of digital entertainment, bringing us back to when we played imaginary games as kids, except with more teamwork, logic and puzzle solving.
With entertainment now primarily digital, technology increasingly seeks to bring a sense of reality into interactive mediums, most notably – virtual reality.
With virtual reality, we've seen huge growth in the number of users seeking experiences that scare and frighten them.
Or to freak out their friends with pranks like this:
When I was choosing between games, there was the option of one called 'Kidnapped' that involved clowns. After last year's creepy clowns fad, I would have definitely freaked out if there was someone dressed as a clown locked in the room with my team.
If you want to practice before trying out a physical escape room game, virtual reality is as close as you'll get to the real thing. It's also not hard to find a number of new escape room apps you can download onto your phones. A good one I've just gotten into is called Spotlight: Room Escape.
Escape rooms have definitely become more innovative, and much like virtual reality, they're on the rise.
So yes – board games are now a bit retro, and we've clearly moved on to a new era of games. But escape rooms are the sort of game I'd actually want to play with my parents, one where you verse them and see who gets out faster. They might just be advertised as entertainment, but they're the kind of entertainment that involves engaging in critical thinking. They've even found their way into classrooms.
Let's just hope that the scenarios of these games don't actually turn into reality.