Tucked away in pretty Potts Point is Lot. One restaurant; your ultimate infusion of modern Australian cuisine and Mediterranean flavours. Eating out at fancy restaurants as a twenty-something definitely feels more nerve wracking rather than relaxed and mature –  every bite we take means there's a huge chunk taken from our bank accounts too. At Lot. One, not only are you going to explore all types of foodgasms you've never experienced before, you'll also finish nicely when you take a look at your bill; especially if you're using First Table where you get a sweet 50% off your food bill.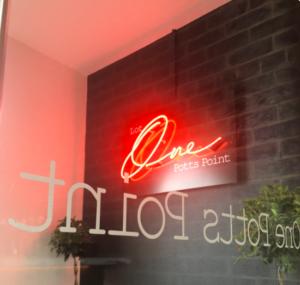 I felt that the vibe at Lot. One is very… Brooklyn NYC; the Zebra art and rustic brick walls was an interesting choice, and definitely 'chic and unique'. It was like Dan Humphrey's dad's dream man-cave. I was impressed. My friend who I dined with was especially in awe of the wild decor that included a corner of the restaurant where there was a chandelier, arched windows, and a collection of square paintings; one including a woman being touched in her nether regions. The feng shui was on point!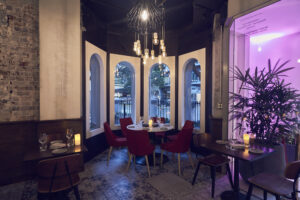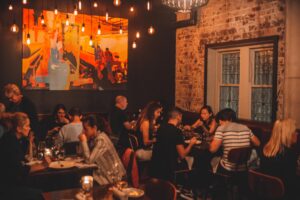 Let's slide into my favourite topic now – alcohol. The cocktails at Lot. One aren't your average classics. Instead you're given an array of eccentric choices with quirky names like Wake Me Up and Roses Are Red; funnily enough the first two things I say in the morning. I dared to drink the spiciest option of them all – the Spicy Passion Margarita – a concoction of tequila, cointreau, passion fruit, lime, tabasco, and a jalapeno for garnish. I was sold! It was definitely punchy, and this was the first time I didn't finish a cocktail under thirty seconds, which was a refreshing change. My friend Ali drank one of the more traditional options – an espresso martini – as she not-so-secretly has a mild obsession (or hobby as I like to call it) to try an espresso martini at any bar she visits, and then compares scores. It wasn't her fav, but it was up there.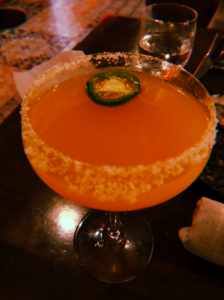 Because we're only 22-years-old and work doesn't start until 8am the next morning, we dared to try another cocktail each. I decided to be less wild this time and go for something sweeter. I ordered a My Beautiful – this consisted of lavender infused gin, elderflower liqueur, butterfly pea, citric acid, and sparkling wine. You're welcome. It tasted like flowers and melted jelly. I don't know how to better describe it. And yes, that means it was good, no, great! 10/10. Ali tried the Appletini – a fusion of Zubrowka Bison Grass Vodka, apple liqueur, green apple and lemon. To say she loved it was an understatement.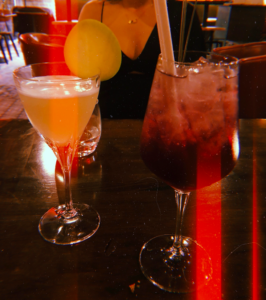 Sampling the Autumn menu was honestly so much fun. Autumn food is basically light comfort food; it's not as heavy and hearty as options that are more popular in winter.
We started off with the hazelnut truffle arancini balls, and obviously they were insane. Ali can't handle oysters, but because I like to brag that I have the taste buds of a fifty-year-old, I just had to order them to prove my point. They are Wyong oysters and I can say without a doubt the most delicious ones I've tried so far in my life. They weren't actually that salty – they tasted quite sweet.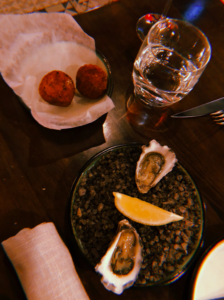 Next we tasted the duck liver parfait. Ali and I agreed that this was a stand out dish for us. We couldn't get enough of it. It probably sounded like I was having a public foodgasm, but that's okay, it was worth it. It was awkward for a moment when they brought it out to us because we thought they brought out a chocolate ice cream with a dark chocolate sauce on top with bread on the side. I was thinking 'mate, you really fucked up with this one' but no, it wasn't ice cream, it was the duck liver parfait. Was Heston cooking in the back? (All Masterchef fans will get that reference). We also tried the tuna sashimi that came with watermelon and tomato. It was a very attractive dish and we were told this was one of the best small dishes from the Autumn menu, and they were right.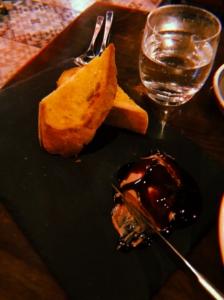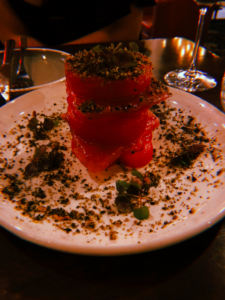 For the main I chose the corn and saffron risotto, sprinkled with popcorn on top. As much as I believe popcorn deserves to be featured in any dish – sweet or savoury – I'm not sure it needed to be in this one. I still really loved all of the flavours, it was definitely a good choice. Ali ordered the fettuccine carbonara. We both agreed this pasta dish was better – it was warm, light, and it had great flavour. Call me Matt Preston.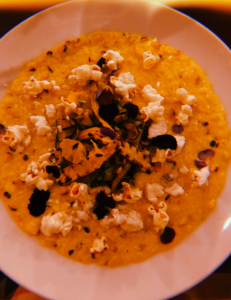 We were stuffed by the end! Some of the food was definitely quite rich and not what we were used to, but it was a delightful change to see in Sydney's culinary scene. It's definitely the type of restaurant that would attract any millennial on a Thursday night after a long day at work or uni.
You can visit the Lot. One website here to make your booking.