Pennywise the clown is back to give you nightmares in the long awaited trailer for the remake of It.
The first preview for It, based on Stephen King's novel of the same name, dropped on Thursday. If you haven't watched it yet, make sure you do it with the lights on.
It, is the story of a group of children who are forced to face their fears after people in their neighbourhood begin to disappear. The group who call themselves the "Losers' Club", are up against Pennywise, a killer clown who kidnaps and devours children.
King's novel was previously brought to the screen in 1990, in a terrifying TV mini-series. Tim Curry starred as Pennywise and was responsible for many cases of coulrophobia- fear of clowns.
The trailer shows similarities and differences between the two versions. The time period shifts from the original 1950s setting to the 1980s and Pennywise seems to have gotten a much more terrifying, court-jester style makeover. Despite this, the film appears to remain faithful to the original, with some of the trailer's scenes directly mirroring ones from the 1990 version. It seems that in this remake, Pennywise will continue to lurk in the sewers, emerge from drainpipes, and use red balloons to lure children away and terrify members of the Losers' Club.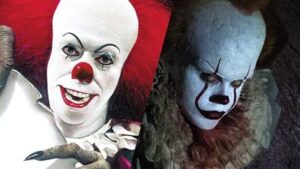 Bill Skarsgard will take over killer clown duties in the 2017 version, alongside a cast of young actors including Finn Wolfhard (Stranger Things), Wyatt Oleff (Guardians of the Galaxy) and Nicholas Hamilton (Captain Fantastic).
A sequel based on the 1990 version could also be in the works. The success of the film will determine whether plans for a second part, featuring the children as adults, will continue.
It creeps into Australian cinemas on September 7 2017.