Sydney-based songwriter and producer Fluir has released her newest single 'Higher Ground', a driving dance track that is sure to be a floor-filler with its smooth vocals and rhythmic synths.
The release follows her two previous singles 'Change' and 'Feeling For You', with all three tracks co-written and produced by PNAU's Sam Littlemore.
Source: YouTube (Uploader: Fluir Music)
What's it like to collaborate with one of the biggest artists in your genre? Pretty surreal, says Fluir:
"I'm still pinching myself having had the opportunity to work alongside Sam. I'm a huge fan of his work. Being a self-managed independent artist is sometimes difficult in that you don't have as many resources or an extensive team to easily bounce ideas off. Sam really took me under his wing and taught me a lot about the industry and helped me focus in on what I really wanted to achieve with my project."
Fluir has been making music for quite a while now. After reluctantly learning classical piano as a kid, she ended up at AMEB eighth grade (that's huge for y'all who aren't familiar with piano grading). At age 13, Fluir discovered pop-punk; she made the switch to guitar and did the open mic circuit around Melbourne, performing her own pop/folk tunes. Fluir said that the real moment she decided to become an artist was when her sister won two tickets to see Missy Higgins for triple j's Live at the Wireless.
"I was only around 15 at the time and my sister let me go with her. It was my first-ever proper gig. It absolutely blew me away. To see a home-grown artist making a career out of music and not some far-removed band from overseas, that's when it really hit home. From that day on I knew I wanted to be an artist."
So how does a Grade 8 classical pianist with a love for pop-punk and Missy Higgins end up in the electronic dance scene? By turning 18 and going clubbing, of course.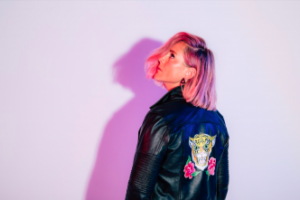 Drawing inspiration from Rufus Du Sol and Kilter, Fluir's 'Higher Ground' ditches the classic acoustic sound she grew up playing.
"I've always wanted to write a dance record. In the past I've spent unnecessary energy worrying about what to say and how to say it lyrically. For this song, I wanted to be free from that and allow the music to be at the forefront. This song is about the freedom and excitement of getting lost in the music and chasing the night with friends, wherever that may lead."
Having made her festival debut at Groovin the Moo and touring alongside Nyxen, Fluir is definitely one to watch for the near future. If 'Higher Ground' already has you dancing, you can catch her May 26 when she plays at Yours and Owls at North Gong Hotel.
In the meantime, you can stream all 'Higher Ground' and Fluir's other bangers on Spotify.