Spoiler alert: this article contains spoilers for Gilmore Girls: A Year In The Life.
A lot can happen in nine years, and the Gilmore Girls revival is living proof. The last time we saw the Gilmores, Rory (Alexis Bledel) had left to work on the 2007 Obama campaign, Luke (Scott Patterson) and Lorelai (Lauren Graham) kissed, and it seemed like the Gilmore family were finally getting along.
Since then Richard Gilmore (Edward Herrmann), Lorelai's father, has passed away. His death is how the story starts, with Emily Gilmore (Kelly Bishop) now trying to work out how to live without her husband of 50 years. Rory is also struggling with life as a journalist, without a home, with a boyfriend who she doesn't love AND having an affair with Logan Huntzberger (Matt Czuchry).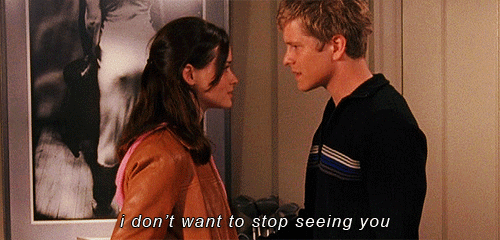 Lorelai is doing the same old thing. She's living with Luke and running the Dragonfly Inn, but is devastated that her best friend Sookie (Melissa McCarthy) is off saving the world. Oh, and she now has a thing about dressing up Paul Anka – the dog, not the human.
It really feels as though we never left Stars Hollow. And while I'm personally very bitter that Rory and Jess did not end up together, I'm still really happy with how it turned out. The revival has all the best parts of Gilmore Girls: Emily and Lorelei fight,  Lorelai and Rory fight, both women need to 'find themselves', Jess (Milo Ventimiglia) points Rory in the right direction, Logan is there for a good time (along with the Life and Death Brigade), and Dean (Jared Padalecki) is there for some reminiscing.
Fans will not be disappointed as we see what everyone in Stars Hollow have been up to since we last saw them.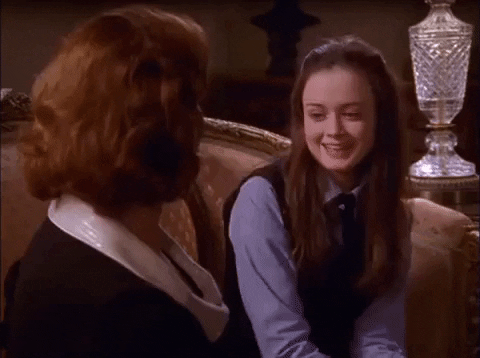 More than anything, the story line is realistic. Lane Kim says it best when she says, "this adult stuff is hard." Sometimes, it spits you right back out and that's exactly what happened to Rory. After some great articles, Rory just can't catch a break (or find her underwear). So, she returns home and becomes the editor of the Stars Hollow Gazette, until Jess reminds her that she has an even better story to tell; the tale of the infamous Gilmore Girls. So, she's at a crossroads. Does she continue pursuing journalism, or become a novelist? Does she keep things going with Logan and try to break up his engagement, or quit him all together?
She makes her decisions, all while Lorelai is trying to do Wild (the book, not the movie). Does she want more kids? Does she want to marry Luke? Does she want a relationship with Emily?
Emily's journey is probably the most interesting on the show. She goes from the grieving widow, to adopting her maid's family, to wanting to get rid of all her possessions before moving from her home. Kelly Bishop says that through all this, she finds her serenity.
"She starts to get herself back into focus, but at first she's really way off," Bishop explains.
However, it's the last four words of the series that has everybody buzzing. Rory and Lorelai are sitting in the town gazebo, with Lorelai sipping on champagne to celebrate her marriage.
Rory says, "Mom?"

Lorelai turns to her, "Yeah."

There is a pause before Rory says, "I'm pregnant."
What? Rory is pregnant? Without being married?
If that wasn't a sign of more to come, Amy Sherman-Palladino, the show's creator, said in a interview with The Hollywood Reporter that,
"We really had a very specific journey in our minds and we fulfilled the journey. So to us, this is the piece that we wanted to do. And the whole thought about, is there more, is there more, is there more – this has to go out into the universe now. We've got to put this to bed. And then whatever happens, happens."
And, the actors appear all for it. Scott Patterson said,
"It'd be nice to do it every year. Maybe every two years, do a three-month thing, do four more chapters. It was easy to do. It was fun. It was really rewarding and people got a sense that if this was going to be the last thing that we now have some closure."
Wouldn't that be amazing, to get more? Will Rory follow in her mother's footsteps and raise her child alone? Alexis Bledel herself said that Logan was probably the most like her father, and it seems likely he is the father of her unborn child. Will Emily be happy in Nantucket, after selling her and Richard's home? How will expanding the Inn go for Lorelai? Will it make Michel stay?
It seems that the close of Gilmore Girls: A Year In the Life brought more questions that answers.