The creators of Harry Potter and the Cursed Child are attaching corks to the sorting hat!*
The Potter stage production we love to hate is due to reach Melbourne's Princess Theatre in early 2019. So far, the play has only been staged in London. It is due to open in New York in April 2018.
Producers of the play, Sonia Friedman and Colin Callender, have said that getting the production to Australia has been a long-standing goal of the production:
"You can't ever assume a new play is going to have a further life, but we knew if Harry Potter and the Cursed Child did have a life beyond London and Broadway, it would be (Australia)."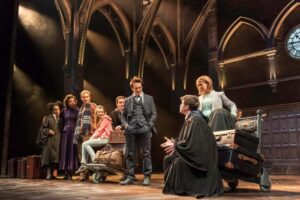 Despite winning 22 major theatre awards since its opening night, Harry Potter and the Cursed Child is openly hated by passionate Potter fans. The script, which was released in hard copy in 2016, is only "based on" a J.K. Rowling story, and it really shows in the awkward, unauthentic character development and far-fetched, implausible plots. The script reads like a fifteen year old's fan fiction.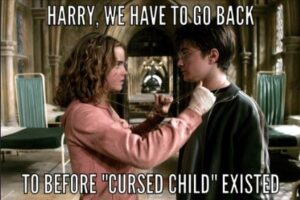 J.K. Rowling ended the final book in the series, Harry Potter and the Deathly Hallows, with a beautifully open epilogue. It details one bright September morning in which Harry, Ginny, Hermione and Ron are farewelling their children as they board the Hogwarts Express. It was specific enough to give readers a general picture of Harry's adult life, but vague enough to let readers imagine the rest. The Cursed Child has absolutely ruined that.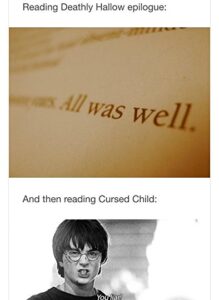 It's painted a very specific (and utterly ridiculous) picture of Harry's mundane adult life. Here's the blurb:
It was always difficult being Harry Potter and it isn't much easier now that he is an overworked employee of the Ministry of Magic, a husband and father of three school-age children.

While Harry grapples with a past that refuses to stay where it belongs, his youngest son Albus must struggle with the weight of a family legacy he never wanted. As past and present fuse ominously, both father and son learn the uncomfortable truth: sometimes, darkness comes from unexpected places.
Disclaimer: Cursed Child spoilers alert
In a nutshell, Voldemort did the frick-frack with Bellatrix Lestrange right during the war, which resulted in Lestrange giving birth to a secret daughter. Delphine turns out to be the villain in the novel, manipulating Albus Potter and Scorpio Malfoy to mess with time travel to 'save Cedric Diggory' (help Voldemort win the war). The time travel consequences are the bulk of the plot, and it just gets weird and extremely far-fetched. This whole story should never have come into being – but as an avid Harry Potter fan, I'd pay to watch Harry paint a wall for two hours. As much as I can't stand the plot of this story, I'd rather die than miss it.
Performance dates and ticket information are yet to be announced.
*There will not actually be corks on the sorting hat!