The much-awaited second album of electronic trio Crooked Colours is fast approaching, and with it a jam-packed tour. If the debut single 'Hold On' is anything to go by, Langata is set to be atmospheric and dreamy with soft vocals and rhythmic drum beats.
The completely self-written, recorded, and produced album promises a wide range of sound that will resonate with audiences listening at home or seeing them live.
I caught up with the WA boys to talk touring, their folk-dance hybrid genre, and dream collaborations.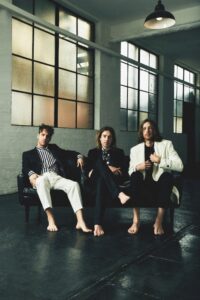 LJ: You had a huge 2018 touring internationally, how keen are you to get back on the Australian road?
CC: Very keen! Our crowd in Australia is growing so fast – each tour is completely different. They build in size and energy and it is always such a big adrenaline hit! Adding the new music, it will be great to see the reaction.
LJ: How different is the crowd vibe internationally to locally?
CC: Australians definitely go nuts when they hear their favourite song, although they tend to reserve that energy until the right moment. Whereas international crowds give a nice even tempo of appreciation.
LJ: Your debut album really established the Crooked Colours sound. From the singles you've already released, there seems to be a definite shift into a more dance driven sound than some of the acoustic-fused stuff we heard on Vera. How different or similar can we expect Langata to be?
CC: We actually have our most acoustic song to date on Langata! Although generally it does have a very strong electronic and dance driven feel to it. There are songs with such big variations between them, but you will be able to tell it's a Crooked Colours album. We haven't completely left the Vera sound behind, this is just the next step.
LJ: What are you most excited for people to hear on the new album?
CC: Our collab with LadyHawke. I'm really excited to play that song live – it's quite euphoric and I am excited to see how the crowd reacts.
LJ: You've just played Groovin' the Moo after touring internationally. Now you've got your own headline tour where you'll be dropping by Wollongong. Do you have a favourite place to visit or perform? Either for the location or the crowd?
CC: A few years ago, we were support at The Enmore, and ever since then we had dreamed of headlining our own show there. It seemed unattainable but now it is becoming a reality for us! I'm sure there will be a lot of happy emotions that night.
LJ: What Australian music are you loving lately? Any dream collabs?
CC: So much good music has just been released! Flume just dropped some great tracks. Mansionair's album is wild! Running Touch and Mickey Kojak also released some incredible singles and Methyl Ethel's album is great! Seriously so much great Australian music!
As far as collabs go, if we could buddy up with Kaytranada and Tyler, the Creator. I have no idea what that music would end up like, but I know it would be a good time.
Langata is available for pre-order now. Crooked Colours will be dropping by Wollongong to play at UOW Unibar on June 8th. Don't miss out!