When I heard about a Charlie's Angels film being released in 2019, I was very excited. Ecstatic, if you will. When I was growing up, Charlie's Angels was my first impression of female badasses in a world of male dominated action films. I was even more excited to learn that it was not a reboot. Check out my article about reboots to understand my feelings about them. Charlie's Angels not being a reboot was the motivation I needed to watch the film. Yes, all the actors had changed and yes director Elizabeth Banks was adamant to let the press know that this was not a reboot, it was a continuation of the story dating back to the television series and the previous Charlie's Angels films.
Even though most reviews were average and it was considered a box office fail I was still keen. So keen that I opted out of paying full price and used my Cinebuzz membership which gave me two free tickets. I know…I am the problem. Nevertheless, I still went to the movie and enjoyed it. 
Believe it or not, the cinema was full of girlfriends with their boyfriends as well as a few married couples. So any sense of the movie being a blowout with empty screenings across the board was a feeling that soon faded away. Charlie's Angels proved to be a force to be reckoned with in the postmodern era of female empowerment.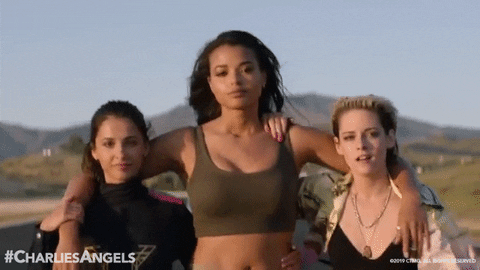 Warning: Spoilers ahead!
The opening scene highlights the struggle of women being boxed in and stereotyped as arm candy for men; as well as objects who should not have 'unrealistic' goals. Kristen Stewart is undoubtedly a powerhouse within this film. Now, that is not to say that she delivers an Oscar-worthy performance, but she does deliver some empowering scenes. She is constantly letting men know that women are in control of their own destiny and that a man cannot just slide into her life and expect her to drop it all because his ego is too fragile to handle a powerful woman. 
This message is felt across the film with all three central characters, and if you didn't know who they all were you could not be blamed because all marketing seemed to identify this iteration of Charlie's Angels as Kirsten Stewart's film. This is understandable because she is undoubtedly the biggest box office draw and is handed some of the more impressive scenes and dialogue. 
Anyway, the three Angels were of course Kristen Stewart, Naomi Scott and Ella Balinska. All three actresses put on admirable performances and each of them has a different story to tell. To be honest, if each story was looked into more the film would probably be a better commercial and critical success. All three hint at their pasts, which seem to be full of excitement and would create an amazing backstory. However, Charlie's Angels opts out of exploring their pasts further in order to tell us the story of three spies who are trying to stop a rogue agent from being able to weaponise a clean energy source. 
Delving into the Angels' past, it is stated that Kristen Stewart's character was a troubled youth who spent time in prison. Naomi Scott's character was undoubtedly the brightest mind within the organisation she worked for, however was a victim of an inappropriate workplace culture. The most interesting of them all – Ella Balinska – was a MI6 Agent who due to her gender was not respected by her superiors and made a grave mistake which is only hinted at what it was (however it is clear that it was serious enough to make her leave MI6). 
Their own backstories are three separate films on their own. I have no idea why they were not explored further. The story was fine. That's literally the only word to describe it. The film has the comedy chops of the first iteration of the films, however offered much better action sequences. The message overall was important and powerful. I found myself in tears when it was revealed during the climax of the film that a bulk of the extras within the film were not in fact extras, but were actually Angels trained in secret to go against the male dominated chain of command.
The film's message was pure, the acting balanced brought a fair amount of comedy and badass action, and the story was fine. Female-led films need to be supported more. Women and men like myself clamour for female-led films. However, when we finally get it they are always considered box office failures, which does need to be changed.