Ooooohhhhh my god. Ok. Here we go. If you haven't seen last night's episode of MAFS, then I'm just going to slap a big ol' heads up that this article is going to discuss a sexual assault that happened on national television.
And if you're thinking "isn't the term sexual assault a bit much?", then nope. Kissing someone without their consent is the straight-up legal definition of sexual assault.
Righto.
So on last night's episode all of the couples had been sent on a relaxing retreat, and naturally, there was tons of drama. Groom Bryce has been this season's stand-out knob ever since Sam and his love of boobs left the experiment. He's also got it out for another couple – Bec and Jake – for supposedly starting rumours about him and a secret girlfriend. This definitely makes a lot of sense, because Bryce was the one that told Bec about his secret girlfriend in the first place.
And so we find ourselves last night, watching Bryce make another song and dance about how he's the real victim here when Bec's husband Jake tells him to piss off. In retaliation, Bryce goes to passive-aggressively shake Jake's hand, then grabs Bec and goes in for a kiss on the cheek which she clearly, absolutely does not want judging by both her face and the fact that she then breaks down crying.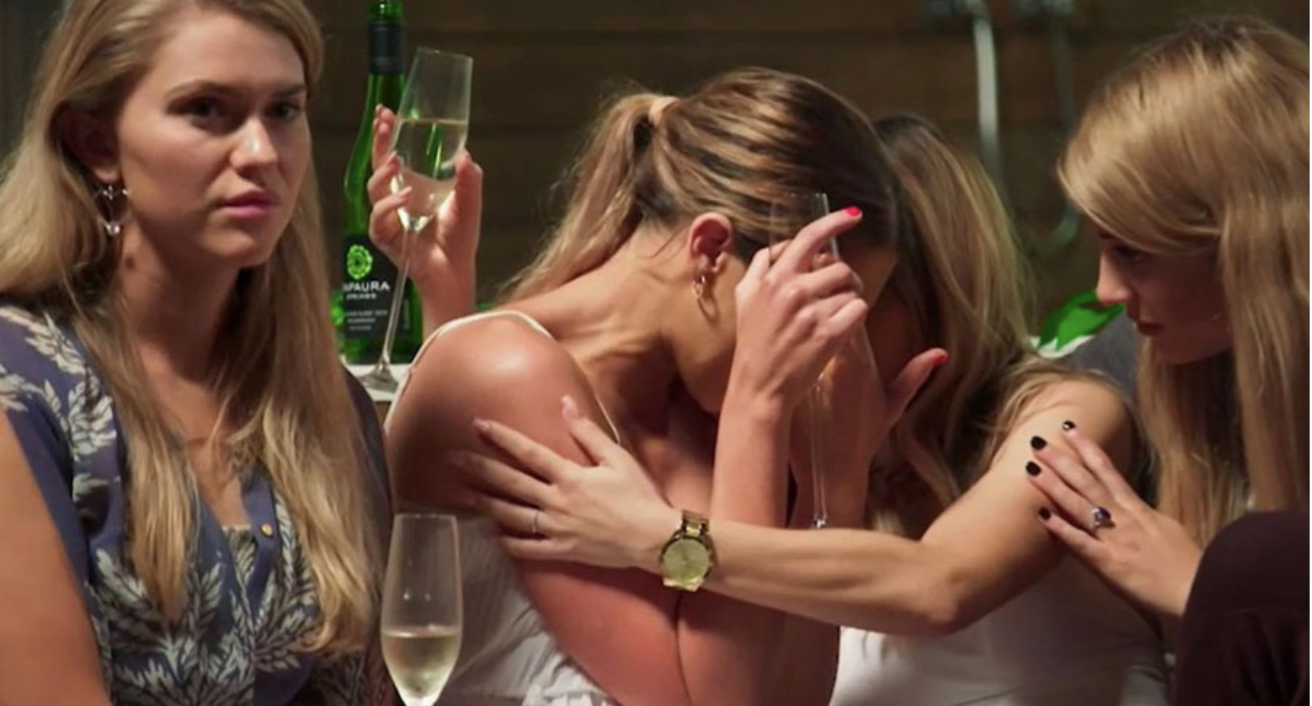 Overly aggressive men using sexual touch to overpower women and prove a point to those women and the men that care about them is nothing new, but holy crap is it awful to see play out on TV.
I don't think it's a stretch to say that almost every woman watching would know the knot-in-your-stomach, whole-body-heaviness feeling that comes with behaviour like this. Hell, there are probably a lot of men who know it as well.
That's probably why they didn't show the moment in the promos.
This morning Bec joined 2DayFM's breakfast show The Morning Crew with Hughesy, Ed & Erin to talk about what happened.
"It only showed one angle last night but my face said it all," she said, and she isn't wrong.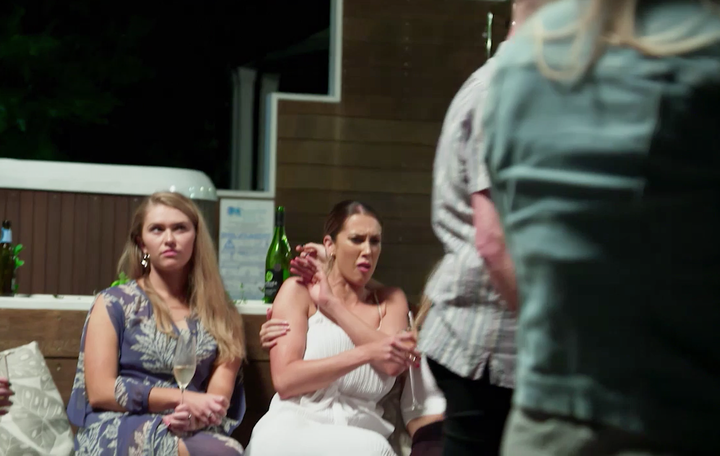 "I didn't want him near me to begin with. Him coming over to me was quite stressful for me, but then as soon as he grabbed me and went in. I think I just blacked out and freaked out about it, a terrible moment," she explained.
Bec said that the incident was serious enough that she reviewed the contract she had signed to appear on the show.
"It was one of those moments like, bring the contract up and find out what your rights are because I didn't sign up for this."
"Where do we draw the line?" she asked.
She also said that the show's production was impacted by the assault.
"We shut production down from this for the next day."
Before this episode aired, the Australian Communications and Media Authority had already reportedly received 14 complaints about this season of MAFS, with four of them directly related to Bryce and the way he treats his wife, Melissa.
There is currently a change.org petition doing the rounds demanding that Channel Nine "apologise for failing duty of care" to "Melissa during filming of the show, allowing her to remain in a toxic and dangerous environment with her partner for the 'benefit' of the network".