Another year, another end to The Bachelor and another series where Australia is left heartbroken.
Why you may ask? Because The Bachelor is created to MAKE SURE that the winner is ALWAYS HATED. Why? Because life and love is stupid and we don't even know why we watch this idiotic show anyways. But we do, and it was a baller tonight.
Following up from last episode, we know that last night was the penultimate end of our favourite girl from this series of The Bachelor, Tara. She will be having sausages elsewhere with a man that truly appreciates a good sausage, ass and Movie World. Tara will be missed.
Tonight's finale was nothing short of spectacular. The atmosphere was great, the questions asked by family members were excruciatingly awkward and the winner was… satisfying enough (not really).
We start off with our boy Osher giving us the low down on the season so far and that Matty has FINALLY brought it down to two girls. Secretly, Bachelor fans around Australia just want this episode over and done with so that we can get Sophie Monk on our screens. Yeah, it's going to be a ripper.
Once Osher explains and recaps the obvious (leave some for me mate), we are taken to a table with Matty's family. They all seem so lovely and sweet, apart from when they call him Matt. Pls. No. His name is Matty J.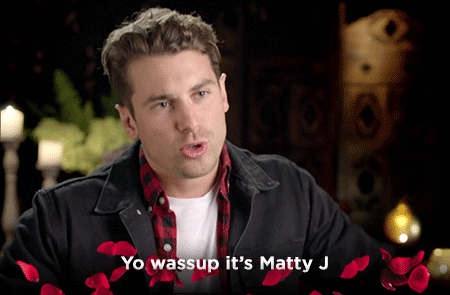 We then realise that we are in Thailand (because you know, why not) and that Matty's family has not been kidnapped by Network Ten (this time), but are there on a holiday to meet Matty's girlfriends. For some reason, the prospect of dating multiple women isn't foreign to them and they actually enjoy the idea of it. Interesting indeed.
Elise is up first and by golly is she ready to start a fire in Mrs J's pants. They start casual talking about life and stuff until Matty's brother steps in and asks to take Elise away. Usually when this happens on The Bachelor, another girl will come swooping in to steal him for more time to talk. Sadly, you may have missed the boat my friend. Hey, maybe Matty can set you up with Jen.
He asks Elise about her past, her sex life, her future with Matty, and if she has any STD's. You know. The casual type of in-law conversation.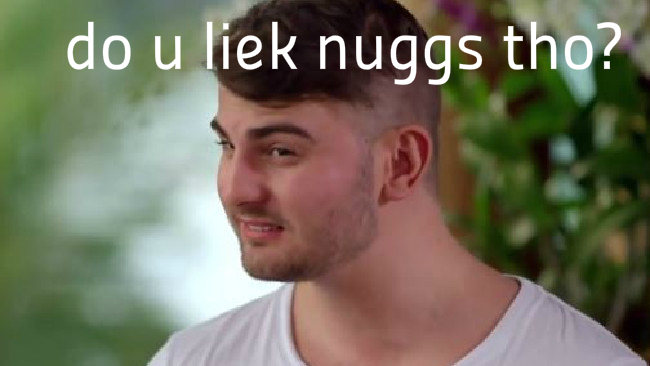 After Elise is returned to the table unharmed and extremely uncomfortable, the two ladies of the group then go find a 'private place' to go sit down and talk about boys. Having this conversation with my own mother is hard enough, imagine talking to the mother of the guy you're dating about your love life. What's even worse is that there is another girl in the mix.
justify;">For some
reason, Mrs J absolutely LOVES Elise and has more reason for dating her than Matty. Both hockey players, both have blonde hair, both remain forever alone (I'm sorry that was rude, but true).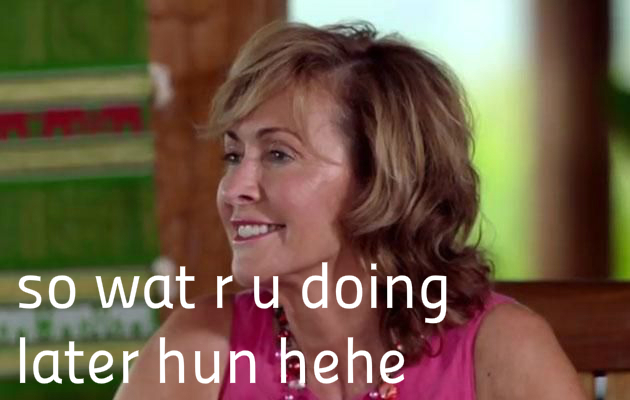 It's then Georgia Love Laura's turn and by this point I am already so over all the spoilers that hearing her voice makes me want to throw up. Legit, verbal diarrhea exploded from her mouth, Matty even had to stop her at one stage. Yes. This seems like it is going to go well in the future.
The same events unfold, Laura is asked awkward, confronting questions, she is told she is lovely and cries about her feelings for the 9218th time this season and FINALLY leaves.
Now comes the family bitching. I don't know about other families but this is a TRADITION for mine. They begin discussing who they like the best and why. Elise turns Mrs J on so her vote is for the hockey player, the others like Laura and some are on the fence. WHAT ARE YOU GOING TO DO MATTY J? (lol jk we already know).
Once the family has told Matty what they think, they disappear into the wilderness of Thailand never to be seen again (Network Ten couldn't afford their flights back).
We are then exposed to what seems like a salute to Elise as the only thing that is involved in her date is kissing, beach yoga/swimming and more kissing.
Laura definitely got the better date. She got a clean from Matty and a girl that was with him! How good is that! Before the final ceremony she gets to be washed and spend time with Matty and then gets a romantic gondola ride through a river. The winner is clear, and we are all slightly disappointed.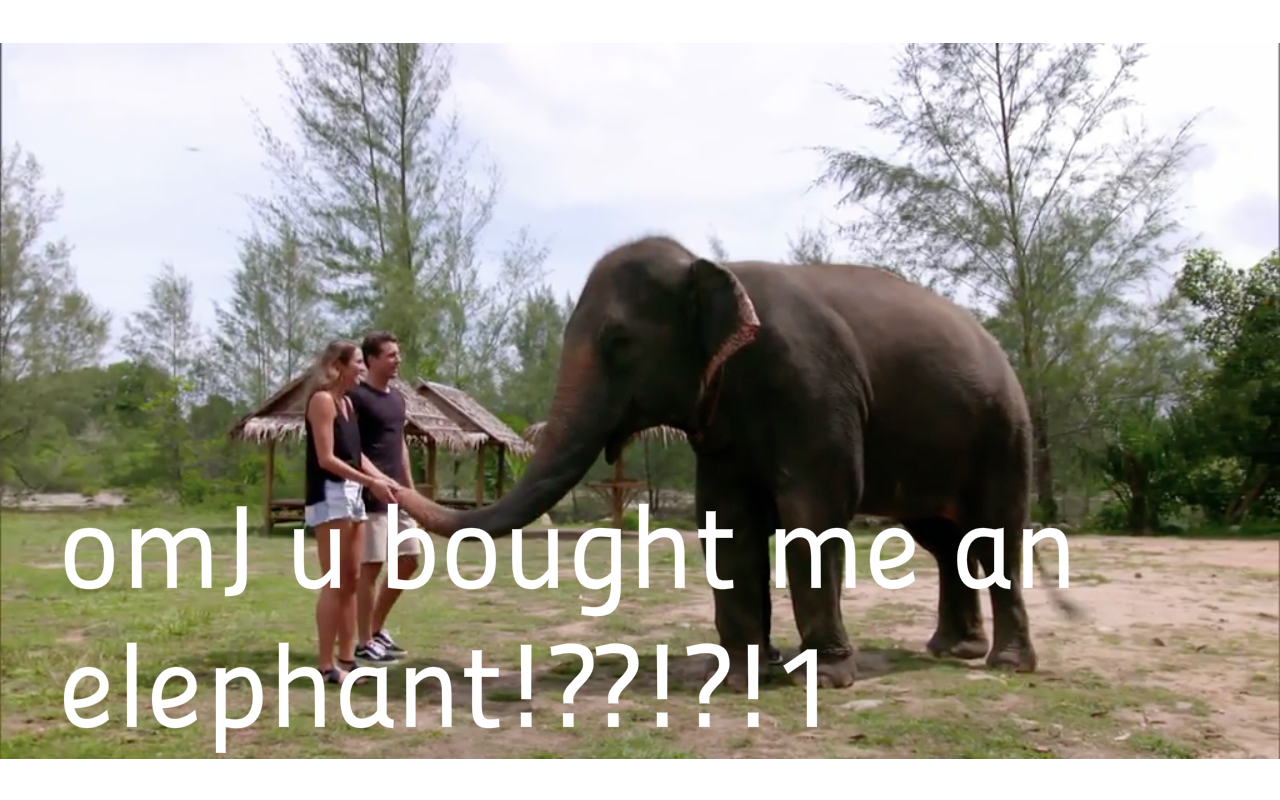 THE BIG REVEAL
The moment of the season arrives and the switching perspectives has us on the edge of our seats. We want Elise to pull through and for Laura to be crushed under the weight of rejection. But, we are greeted by Elise first, and Osher gets his revenge for almost being left in Australia and sends Elise to Matty where she is eliminated.
Elise gives Matty her final goodbyes and attempts to fix her makeup before she leaves, slamming the car door harder than any of her other adversaries. Well done, Elise. Wish there was a hockey stick in Thailand so you could smack that dirty Bachelor!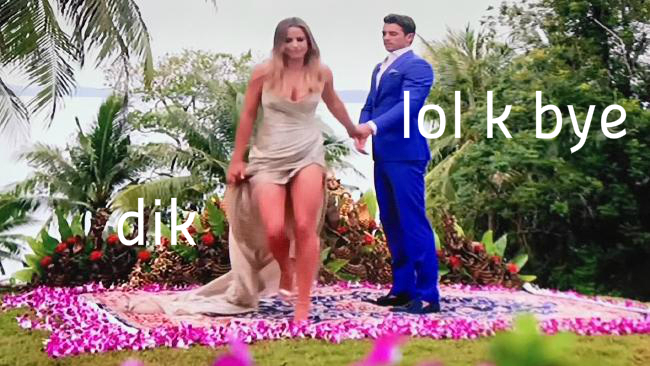 So, we are left with the jewellery designer, Laura, as our winner of Matty J's heart. Ironically, she is given a piece of jewellery which is not her own and she secretly hates it, but wears it anyway.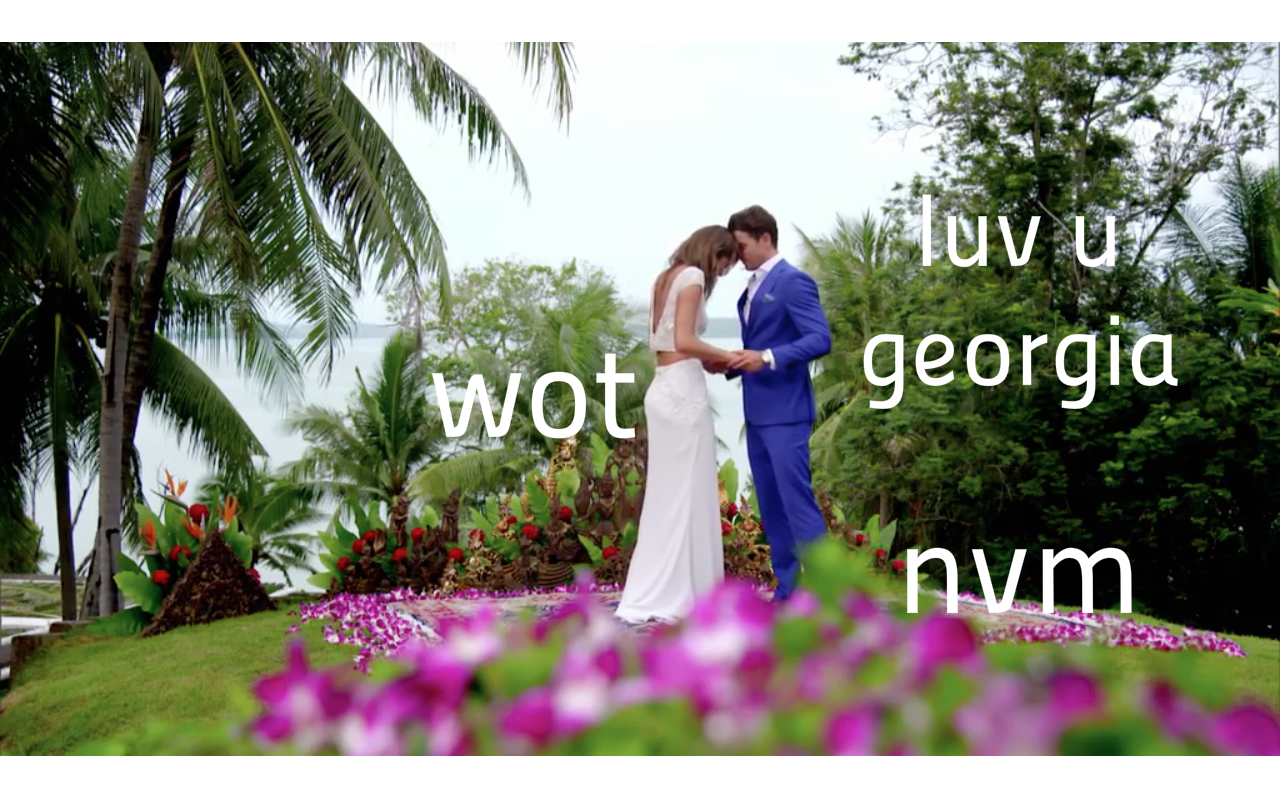 Georgia Love 2.0 won. We all saw it coming. At least it was a nice season.
THAT'S IT! This year's season of The Bachelor is done! We will be expecting The Bachelorette next Wednesday and Thursday at 7:30pm on Network Ten. To catch up on the whole season, jump onto Tenplay.