Disney is being roasted on social media after creating a white character to feature in the highly anticipated live-action remake of Aladdin.
It's going to be a delicious elixir of Middle-Eastern culture, with a shot (or twenty) of the American ego. It's a whole new world – but not one we want to be in.
Aladdin to compete for Jasmine?
Billy Magnussen, who played Rapunzel's prince in Into the Woods (2014), has been cast as Prince Anders. Anders will 'compete' with Aladdin to win Jasmine's heart. My inner feminist is cringing. This is a Disney film, not The Bachelor.
Just when I thought Elsa from Frozen had ignited the start of a new era of strong women in Disney films, the patriarchy makes a shock return. Cry. The story already has a strong plot, why add in a tacky love triangle, which has no relevance to the plot, and to objectify Princess Jasmine's beauty?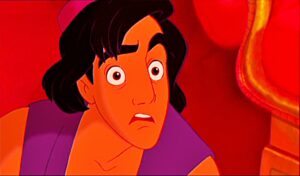 Aladdin: A Victim of White-Washing
Infuriated social media users have accused Disney of "white-washing" the film. The original Disney animation film (1992), which was made by a bunch of white men, attempted to gesture towards Middle-Eastern identity. Characters were depicted as being of Syrian descent.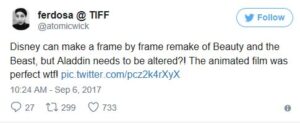 Prince Anders is not the first casting controversy of the film. After an international search (which some labelled as "staged"), Disney cast Naomi Scott, a British-Indian actor as Princess Jasmine and Will Smith as Aladdin. Funny how impossible it is to cast an authentic, Middle-Eastern cast, yet so simple to cast an American white guy – especially for a role that doesn't actually exist in the original.
In early August, the producer of Aladdin made a statement confirming plans for a diverse yet authentic cast.
"We want to make a movie that's authentic to that world", said producer Dan Lin.
What world, Dan? Your own?
A release date is yet to be confirmed.
Let's hope the production of the film at least attempts to stay true to the original, despite its casting (and the whole extra white character plot). If not, disgruntled audiences may fly their magic carpets right out of the cinema.